NBC Insider Exclusive
Create a free profile to get unlimited access to exclusive show news, updates, and more!
Sign Up For Free to View
The Last of Us Star Pedro Pascal Talks Hosting SNL
"It's a very well-oiled machine," Pedro Pascal said about his SNL hosting debut.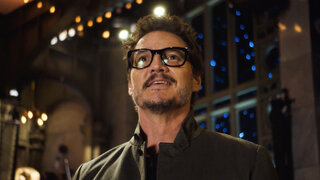 Seasoned actor Pedro Pascal is set to host the February 4, 2023 episode of Saturday Night Live, and fans couldn't be more excited. Better yet: Telemundo interviewed the Last of Us star to get some inside details on how he's been handling his first stint as an SNL Host. Read all about it, below.
Telemundo: You're starring in two high-profile projects that are in larger-than-life settings. What do you make of being a part of this setting [SNL] so far this week, and what excites you the most about this opportunity?
Pascal: I feel like "larger than life" wouldn't exist if it weren't for where I'm standing right now. All of the practical pieces that go into world changing, world building, everything that takes some people a year, they do in a few hours here, which is an incredible lesson to learn, and I think, like, a standard of the highest kind, which is why nobody will leave! Everyone I meet has worked here for decades. I can understand.
And [can you tease] anything about what we'll see on Saturday? Anything you can share with us?
Yeah, I'll tell you the whole show [laughs]. I think what's amazing in this experience is that it's a very well-oiled machine. Everyone knows what they're doing. I think for a lot of guests that step into the experience, there can be a wall of sheer terror that everyone here just breaks down for you and makes it nothing but fun to experience. And [they're] also very interested in what works for you, what you have to offer, and it's kind of a very magical combination of tradition and newness every single week. It's amazing.  
It sure seems amazing, as Pascal's The Last of Us sketch is already going viral. In the hilarious video, Pascal is in full zombie-fighting mode, almost taking a hammer to the head of a new cast member named Matt.
And in some more behind-the-scenes previews, viewers are gushing over the post of Pascal smiling at a read through. We can't wait to see what he has in store for us this Saturday!
Watch Saturday Night Live on NBC Saturdays at 11:30/10:30c and next day on Peacock.