NBC Insider Exclusive
Create a free profile to get unlimited access to exclusive show news, updates, and more!
Sign Up For Free to View
A New Villain Has Arrived to SVU Who Is Benson's Total Opposite
Benson has her work cut out for her.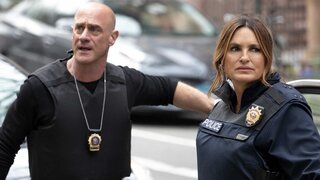 Law & Order: Special Victims Unit's Captain Olivia Benson (Mariska Hargitay) may be used to throwing the bad guys behind bars, but the latest SVU villainess has proven to be more difficult. 
Season 24, Episode 6, "Controlled Burn," begins with viewers meeting Spencer Lewis, a CEO of White & Jansen Equities. Spencer Lewis invites one of his bookkeepers, Maggie DiAngelo, to a "work event" that night because he needs a plus-one. Maggie is an accountant organizing the $2 billion sale of their company. 
The work event turns out to be a sex party among NYC's elite, with some serious Eye Wide Shut undertones. Things go south very quickly when Maggie is abandoned by Spence and later drugged by a random stranger in a crow mask. The following morning, Maggie wakes up in a hotel room and silently evades her assailant. A man on the street helps her after she passes out and coughs up a pair of underwear stuffed down her throat.
Maggie is initially apprehensive about working with the authorities, unwilling to allow "one bad night" to jeopardize her company's sale. But after Detective Amanda Rollins (Kelli Giddish) and Benson reveal to Maggie that the lab found signs of sexual assault, Maggie begins cooperating. Rollins and Benson initially suspect her boss, Spencer, is the main culprit. While confronting Spencer at the office, Detective Grace Muncy (Molly Burnett) and Fin (Ice-T) meet the woman behind the $2 billion deal with Spencer: Lena Hess. She gives them her card and insists that if Spencer is involved in any criminal activity, she would like to know. 
Spencer leads the SVU to another sex party, where they find a massive security system with cameras filming every corner of the party. This means there may be a video of Maggie's assault from the other party. The SVU realizes someone out there is going through a ton of trouble to catch Manhattan's elite with their pants down. Someone is gathering evidence of their own out there! 
The SVU looks to the owner of the buildings to figure out who set up the security when it all leads to one company, Tectonic...owned by, you guessed it, Lena Hess. 
"That is one hell of a coincidence," Fin said. 
"Or," Benson corrected. "One hell of a motive for blackmail."
Benson and Fin head to the main lady herself to confront Lena about Maggie's sexual assault. Lena plays dumb, saying the large-scale surveillance is only to provide security for her high-profile clientele. Lena insists that her security team is getting to the bottom of it, but Benson doesn't believe her. She straight-up accuses Lena of blackmail, but Lena shuts her down. 
"I've been the victim of that once or twice myself," Lena revealed. "My world is dog-eat-dog and doing business at a scale like my own is a never-ending game." Lena explains that illegal parties would be a significant liability for her and insists to have a copy of the footage gathered. But that isn't happening.  
"If we find out you have any connection to this assault, I'm coming back here with a gift," Benson told Lena as she left her office. "A pair of bracelets." We love a Benson zing! 
After the SVU go through the footage, they find a video of Maggie's assault, as well as a video of Spencer at the party (insinuating he knows more than he is letting on). They show Spencer the video and insist he tells them more about who assaulted Maggie. Ethan Schmidt is finally identified, and the SVU confirms he's the culprit after finding the crow mask at his home. 
Ethan buckles during his interrogation, quickly offering up information in hopes of striking a deal with the DA. Ethan reveals that the person throwing the parties is a donor of the orchestration he works. The donor and the person responsible is one of the "most powerful women in the city." So, who is the mystery woman?
Lena Hess. She provided the venue, the drugs, everything. Looks like Lena is creating the perfect atmosphere for debauchery in hopes of gathering dirt against her rivals. The SVU gets a search warrant for Lena's home and office. During the arrest, Benson approaches Lena and demands to know why she has done this. 
"All your years investigating sex crimes, you should know better than anyone, Captain," Lena said. "Tell me, what do the perpetrators of all the most savage things in the world have in common?"
Benson doesn't take the bait, but Lena swiftly revealed her intentions. 
"You can't tell me you don't see it," Lena insisted. "If men disappear tomorrow, so would war. And rape. And just about every other ill of mankind."
If there is anyone that knows dangerous men, it's Benson. But Benson also knows a thing or two about grace and tells Lena that she is raising a son with integrity. 
"I don't make them light the fire," Lena explained. "I simply give them a little tinder."
Lena is arrested and the SVU finds 40-50 hard drives of other incidents. Benson notes that Lena has the potential to take down half of the most powerful men in NYC. 
"Is she wrong?" Benson asks Rollins in the lounge shortly after. They discuss the complexity of the case, understanding that Lena has a bit of a point regarding the statistics surrounding sexual violence. But while Benson and Rollins go through the motions to see justice served, Lena chaotically sets men up only to capture their insidious actions. Not exactly sane behavior.
Lena is granted ROR with an ankle bracelet during her trial and is uncharacteristically relaxed the entire time in the courtroom. That's because Lena had a plan: As soon as she got on the street, she slipped out of her ankle bracelet and headed to the airport. Fin finds a phone number in the car, which Benson dials. 
"Captain Benson," Lena mused. "You got my thank-you note for the bracelets you were so kind to give me."
"Where are you?" Benson demanded. 
"On my way to Brussels," Lena said. "Or is it Dubai? Either one is so beautiful this time of year."
"Are you trying to make me jealous?" Benson asks. "Or is there something I can do for you?"
"You have my footage," Lena says. "A woman like you could do a lot with that."
"You have no idea what kind of woman I am," Benson insisted. "Don't play with fire."
"Well," a disappointed Lena chides. "That's no fun, Captain."
Lena hangs up, leaving a dumbfounded Benson standing in the street. 
"Who was that?" Fin asked her. 
"Wrong number," Benson said, brushing off the exchange. 
Lena Hess has already proven herself to be a slimy and calculated villain on SVU, and based on her recent escape, it doesn't look like Benson is done with her quite yet. Representing a chaotic approach to justice, the exact opposite of Benson, Lena is a fun foil to Benson's lawful approach to life. Will Benson be able to arrest Lena now that she's on the run? And, even more pressing, does she want to?
Find out by watching Law & Order: Special Victims Unit on Thursdays at 9/8c on NBC and the next day on Peacock.