NBC Insider Exclusive
Create a free profile to get unlimited access to exclusive show news, updates, and more!
Sign Up For Free to View
John Legend is Developing a Musical for This Acclaimed Book-Turned Movie: What to Know
Will he add another T to his EGOT?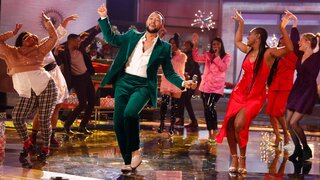 John Legend is writing a musical!
On June 26, it was announced the "All of Me" singer will be writing the music and lyrics to a production titled Imitation of Life, which is currently being developed for Broadway. The Tony-Award winning Lisel Tommy is set to direct, while Pulitzer-Prize winning playwright Lynn Nottage will pen the script. 
Director Tommy is more than excited to work with Legend on the project. "When I met with Universal Theatrical Group to talk about a possible collaboration, the only title I wanted to discuss was Imitation of Life," she told Deadline in a statement. "I'd long been a fan of the book and I knew there was a passionate, contemporary, and newly relevant adaptation of this story uniquely suited to musical theater. To my mind the only collaborators for this beautifully complex, wholly American story are Lynn Nottage and John Legend; thankfully, they agreed to join me immediately in bringing their creativity and immense talents to this re-telling. We are thrilled to partner with UTG as we turn a whole new lens on Imitation of Life, using this great American art form to illuminate and uplift Black life."
This isn't Legend's first involvement in the Broadway universe, as he has previously been a producer for "Ain't Too Proud" and has written a song for "The Spongebob SquarePants Musical."
What is Imitation of Life about?
Originally a 1933 novel by Fannie Hurst, Imitation of Life was adapted into two films. The first in 1934 was Oscar-nominated, and the second in 1959 earned Juanita Moore a best actress nomination and Susan Kohner a supporting actress nomination. The story follows a Black single mother named Delilah and her daughter named Peola who passes as white. Meanwhile, Delilah forms a friendship and business partnership with a white widower named Bea. The story heavily follows themes of racial and economic tensions in America. 
Is Imitation of Life based on a true story?
Partially. According to an essay for the National Film Registry by Ariel Schudon; "Based loosely on reality, "Imitation of Life" was inspired by a trip to Canada that Fannie Hurst had taken with close friend and Harlem Renaissance author, Zora Neale Hurston," Schudon wrote. "The treatment suffered during the voyage struck Hurst in such a manner that she felt motivated to write a novel based upon the experience."
When will Imitation of Life premiere, and how do I get tickets?
Stay tuned for more info.