NBC Insider Exclusive
Create a free profile to get unlimited access to exclusive show news, updates, and more!
Sign Up For Free to View
Priscilla's Jacob Elordi Learned About Elvis Presley from Lilo & Stitch
The Australian actor, who nails Elvis Presley's voice in Sofia Coppola's Priscilla, also played a round of "Tonight Show Firsts" with Jimmy Fallon. 
Jacob Elordi stopped by for a chat–and a game—on The Tonight Show Starring Jimmy Fallon's October 23 episode. Host Jimmy Fallon was quick to congratulate the Euphoria actor on his latest role: Elordi portrays Elvis Presley in Sofia Coppola's Priscilla, out November 3.  
The Tonight Show Host asked if Elordi felt "pressure" while portraying Presley, one of the biggest American cultural figures in history. 
"I mean it wasn't on my list of people to play," Elordi replied. "It was definitely a little bit terrifying."
This prompted Fallon to ask Elordi, who grew up in Australia, if he was an Elvis fan growing up.
"No," Elordi confessed, "the most I knew of Elvis was in Lilo & Stitch." (For those who haven't seen the 2002 Disney movie, Presley's music figures prominently into the film and its soundtrack). 
RELATED: Kelly Clarkson's Cover of Elvis' "Can't Help Falling in Love" Is So Warm and Cozy
To capture Presley's distinctive deep voice in his audition for Coppola, Elordi told Fallon he watched a news clip of the singer when he'd come back from the Army in Germany. "I'm pretty sure my voice for that was like [mumbled low tones], but she liked it," Elordi said, describing working with Coppola as "pure bliss."
Based on Priscilla Presley's Elvis and Me memoir, Priscilla tells the story of how teenaged Priscilla Beaulieu met and married 24-year-old rock star Elvis Presley. It's an intimate telling of an extremely famous public marriage. But Elordi says he focused on the human aspects of their dynamic, telling Fallon that he tried to play it "like a straight-up relationship drama, without 'Elvis and Priscilla,' for Sofia Coppola. That was the goal."
And yet, the clip shown during his Tonight Show visit reveals that Elordi's Elvis Presley voice is pretty uncanny. Watch Jacob Elordi's interview above. 
Priscilla's Jacob Elordi Plays "Tonight Show Firsts" with Jimmy Fallon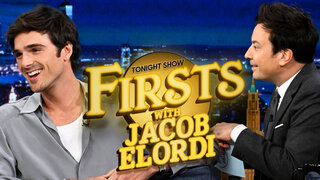 Elordi also stuck around to play a little game called "Tonight Show Firsts with Jacob Elordi," in which he revealed that his first crush was Brad Pitt in Troy (unexpected, but relatable).