NBC Insider Exclusive
Create a free profile to get unlimited access to exclusive show news, updates, and more!
Sign Up For Free to View
Abby Got Emotional About Her Dad Missing Her Wedding on Night Court—And Dan Helped
"You have to live your life," Dan told Abby. Watch Night Court on NBC.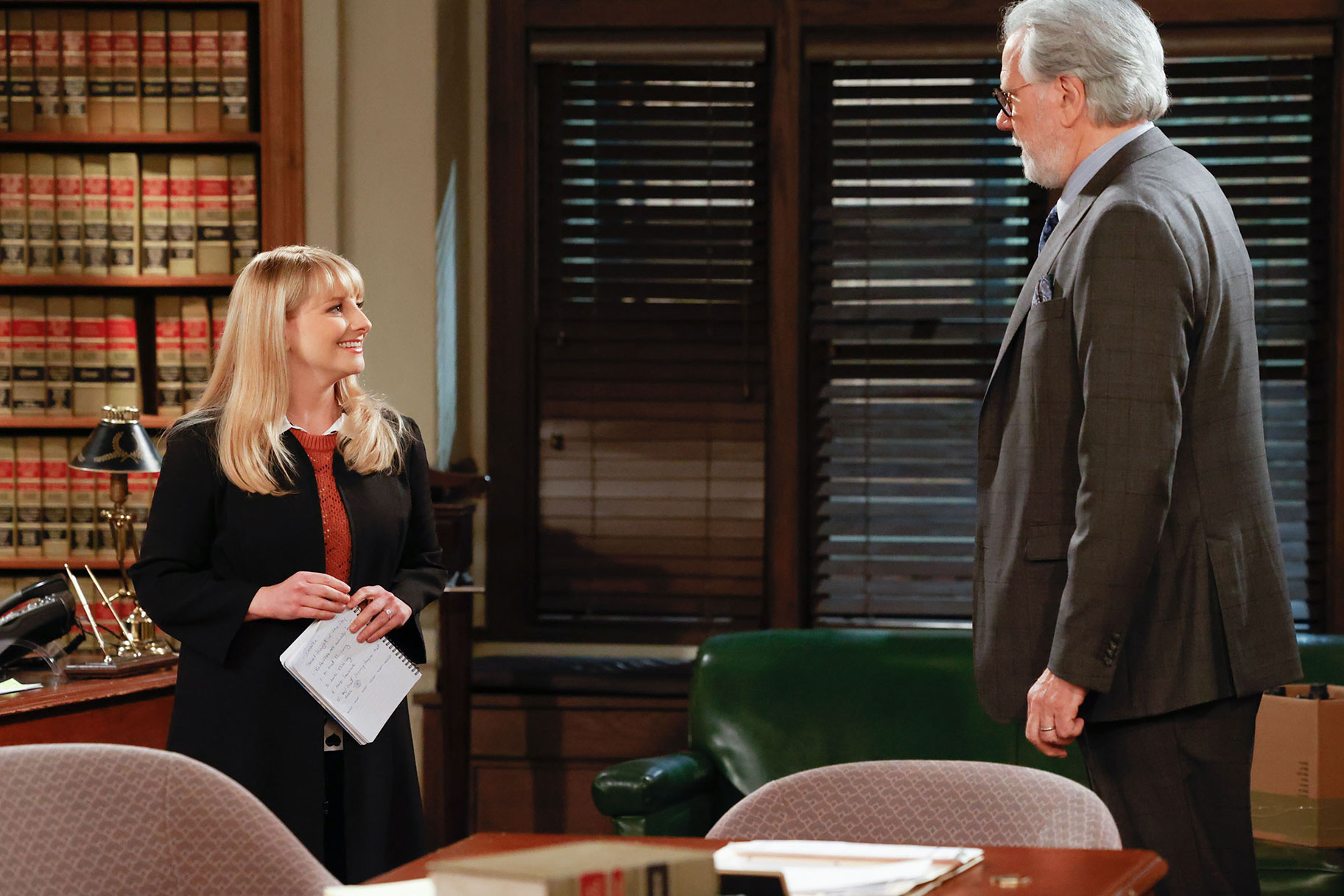 In the new Night Court, Harry Stone's absence is felt strong with both Abby (Melissa Rauch) and Dan (John Larroquette). And in the most recent episode, Abby longs for her father during one of the most important days of her life.
In Season 1, Episode 11 (which aired March 28), the New York Wedding Expo is in town, and weddings have been all the talk within the Night Court staff.

"My wedding planning has kinda been on hold since my dad passed away. Rand and I just haven't really jumped back in," Abby explained. "I'd love to do some planning, I just haven't had the time. I've been so busy I'm just letting Rand take the lead on things I don't feel too strongly about."
"A wedding is your one chance in life to get everything you want," Dan chimed in before suggesting that Abby and Rand get married at the Night Court.
"Lets do it, it'll be fun!" Abby responded.
However, Abby had her eyes on an art museum in New York City as a much sought-after venue. "Growing up sometimes my dad would pull me out of school to visit the city and take me to a museum," she said sentimentally. "Getting married in a place like that would just make me feel like he's part of it."
Abby later offers to marry a couple at the court, but the bride's father is running late. "Oh, well, you can't get married without your dad here," Abby reassured her.
When the realization hits Abby that she'll have to get married without her father , she leaves the room. Dan later finds her in her office, longingly starring out the window.
"I can't get everything I want," she said with a sigh.
"Because your father isn't here," Dan stated.
"I think that's the real reason I haven't wanted to jump back into wedding planning. He was just so involved in all of it. He was gonna do magic," she said, prompting Dan to chuckle in remembrance.
"Well, you know, big moments make us really miss those who are gone. It's inevitable. But you have to live your life," Dan advised her.
"You're right. That is what my dad would have wanted," Abby said with a nod. "It's just hard to accept that he won't be there for it.
In order to lift her sprits, Dan had an idea. He set up lavish decorations on the roof of the Night Court building, where he and Harry used to hang out. "I thought it might be a way to make you feel like your father was a part of your wedding," he said, offering the space up as a potential venue. 
"It's perfect," Abby said with a smile.
Watch Night Court Tuesdays at 8/7c on NBC. Episodes of the show will stream the next day on Peacock.