NBC Insider Exclusive
Create a free profile to get unlimited access to exclusive show news, updates, and more!
Sign Up For Free to View
Heidi Klum Shared a Rare Photo of Her 4 Kids for Mother's Day: See the Cute Pic!
There was a lot of love to go around in the AGT Judge's household on Mother's Day.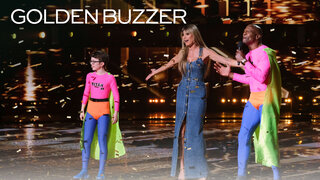 As the endlessly loving mother of four, Mother's Day is a big day for longtime America's Got Talent Judge Heidi Klum.
Klum is a certified mother bear, even going as far as designing a line of children's furniture and apparel, so it's no surprise the 49-year-old made a heartwarming post in honor of the special occasion. Klum took to Instagram to post a heartwarming throwback of her hugging her four children, including her mini-me, 19-year-old Leni. Klum looks radiant as ever in a slick pair of shades, and it was smiles all around for the sweet embrace, making it a perfect pic for the sentimental holiday.
Klum captioned the touching post, "Unconditional L❤️VE."
The model spoke to Good Housekeeping in 2011 about the inevitable chaos of being the mother of four children, but she always takes everything in her signature supermodel stride. 
"Those moments happen all the time, and you just have to bruiser through it like a bulldozer," Klum explained. "Your life changes completely when you have a kid, and when you have more, it always takes away more of your old you."
She continued, "As a first-time parent, you worry more. Then you have your second baby and it's the same pattern, so you are more at ease."
As for Klum's idea of the perfect Mother's Day, she enjoys getting out of the house and spending time with her children. "My most perfect days are when my kids and I are doing something fun and active together," Klum told Pop Sugar in 2014. 
"We love going to the beach, riding our bikes, and spending quality time together," Klum explained. "I think most moms agree that time together is always the best gift."
Who are Heidi Klum's kids?
Klum has four children: Leni, Henry, Johan, and Lou.

Her eldest, Leni Klum, was born in May 2004 and adopted by Klum's then-husband, Seal, in 2009, according to People. Seal and Heidi welcomed son Henry in September 2005, son Johan in November 2006, and daughter Lou Sulola in October 2009.
When Klum isn't hugging her children tight, she's weighing in on the action of AGT. She'll will return to the Judge panel in Season 18, which premieres Tuesday, May 30 at 8/7c on NBC. Klum will be joined by iconic Judges Simon Cowell, Sofia Vergara, and Howie Mandel, and fans can't wait to see which larger-than-life Acts take the AGT stage next. 
"Soooo excited to be back with my @agt family for the best summer EVER," Klum captioned a Season 18 AGT IG promo.
"For me being there, I want to have fun. I want to have fun, I want to be entertained, I want to be blown away, but I want to have a good time. I want good vibes from the people," Klum told Fox News. "Maybe I was harsher before, I don't know. I feel like maybe I've gotten nicer over the years, or maybe they have just gotten so much better."
We can't wait to see what Klum and the Season 18 Acts bring to the AGT competition next!
This story was originally published on May 15, 2023. It was updated June 28, 2023.