NBC Insider Exclusive
Create a free profile to get unlimited access to exclusive show news, updates, and more!
Sign Up For Free to View
Demi Lovato Has the Funniest Childhood Connection to Kelly Clarkson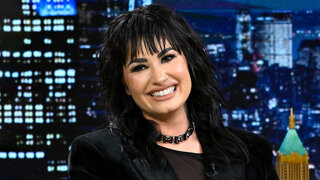 In June 2022, Kelly Clarkson covered Demi Lovato's song "Anyone" as a Kellyoke on The Kelly Clarkson Show. It was a powerful rendition of an already-powerful song, and it meant the world to Lovato. In fact, they say watching the cover was a "full-circle" moment. 
"[Clarkson's] voice, to me, I remember watching her on American Idol and just becoming so inspired by her that my email address when I was young was littlekelly@yahoo.com," Lovato revealed on The Tonight Show Starring Jimmy Fallon in August. 
So, yes, Lovato has an adorable childhood connection to Clarkson, but her admiration for the "Since U Been Gone" singer runs deeper than that. "For her to cover my song years later was just a full-circle moment, because I also used to cover her songs when I was younger, as well," they said, before Fallon played a clip of 13-year-old Lovato singing Clarkson's classic anthem "The Trouble With Love Is." These legends have been supporting each other for literal decades. 
Lovato recorded "Anyone" in 2018, days before their near-fatal overdose. 
"This song was written and recorded actually very shortly before everything happened," Lovato told Apple Music's Zane Lowe in 2020. "I recorded the vocals for it four days before [the overdose]. The lyrics took on a totally different meaning. At the time when I was recording it, I almost listen back and hear these lyrics as a cry for help. And you kind of listen back to it and you kind of think, how did nobody listen to this song and think, 'Let's help this [person]?"
Lovato continued, "I remember being in the hospital [after my overdose] and listening to the song. I just remember hearing back the songs I had just recorded and thinking, 'If there's ever a moment where I get to come back from this, I want to sing this song.'"
Watch The Tonight Show Starring Jimmy Fallon on NBC weeknights at 11:35/10:35c and next day on Peacock.