NBC Insider Exclusive
Create a free profile to get unlimited access to exclusive show news, updates, and more!
Sign Up For Free to View
Everything to Know About Dancing With Myself, NBC's New Competition Series (UPDATED)
Shakira, Nick Jonas, and Liza Koshy are involved!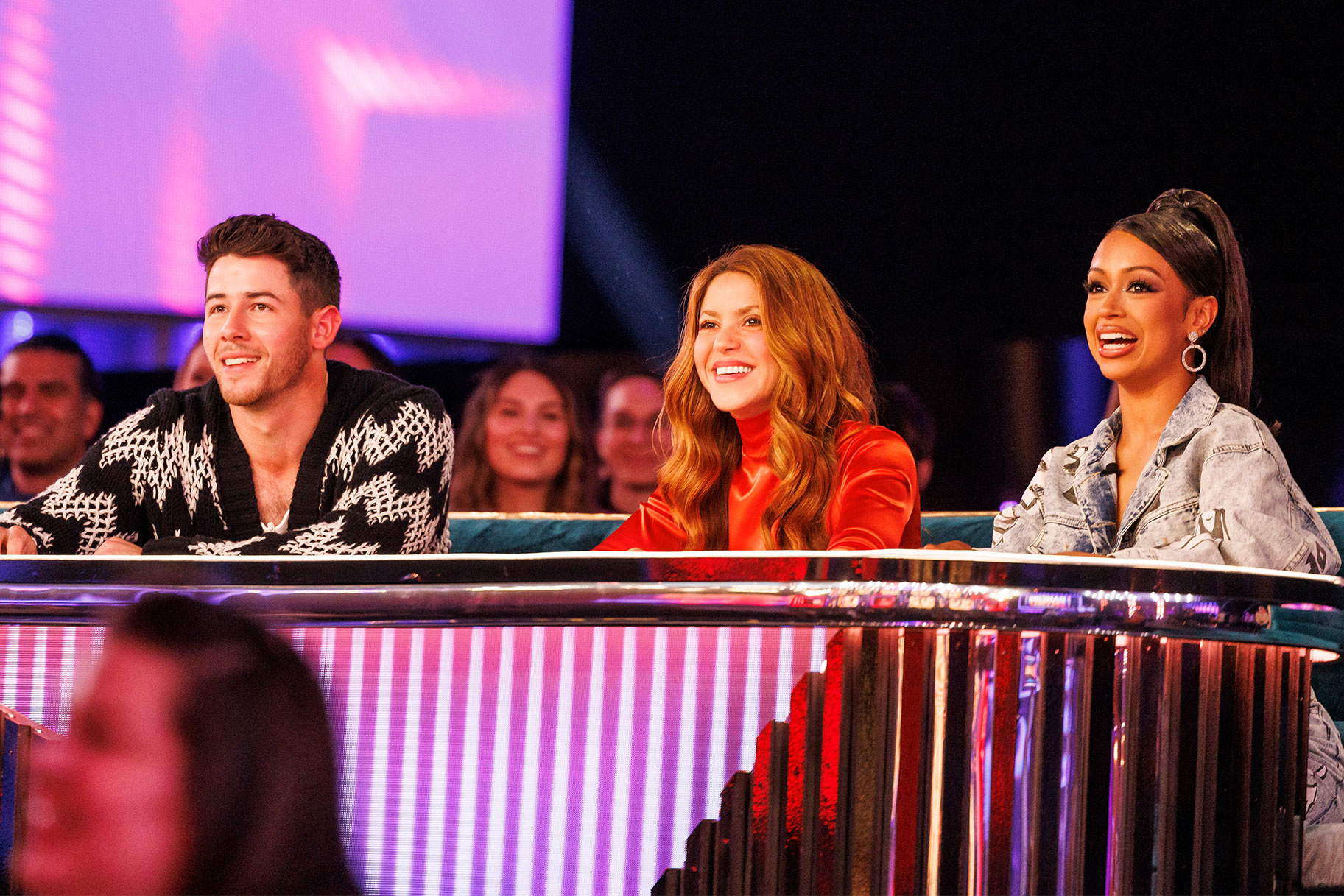 Summer may still be a couple of weeks away, but we're already anticipating the NBC shows set to premiere. One new series could even be your reality competition fix once you've wrapped up American Song Contest. The show is called Dancing With Myself, and it's starring Shakira, Nick Jonas, and Liza Koshy!
Inspired by the many viral dance routines on social media, each week Dancing With Myself will present "a series of high-energy dance challenges," according to a press release. Contestants will learn the steps of a new routine and execute them to the best of their ability while infusing their personalities, all in the hopes of winning a yet-to-be-announced cash prize.
Read on for even more details.
When does Dancing With Myself premiere?
The show premieres on Tuesday, May 31 at 10 p.m. ET, right after the two-hour premiere of America's Got Talent Season 17. 
Are there Judges on Dancing With Myself?
Not Judges exactly. Shakira, Nick Jonas, and Liza Koshy will be leading Contestants through the competition each week, with Camille Kostek as Host. And unlike AGT or The Voice, the team of celebrity advisors are known as Creators, not Judges or Coaches (because they will be demonstrating the choreography for the various dance challenges through dynamic dance tutorials in the show). 
How does Dancing With Myself work?
At the top of each episode, we'll see a total of 12 Contestants compete. They'll go through six different rounds of competition, and the studio audience will vote for the most entertaining dancers each round, as well as who landed the moves best. By the end of the night, it will come down to the final two as they face off one-on-one to determine the winner. We've broken down each round, below.
Round 1, All Eyes on You: Each Contestant completes a solo performance. The audience selects eight winners, and the Creators save two.
Round 2, Freestyle Battle Round: The remaining 10 Contestants go head-to-head in pairs of two for a freestyle battle. The audience chooses a winner from each match-up, and the Creators save three.
Round 3, The Dance Along: Eight contestants will compete against one another in groups of four. The choreography will be presented a special celebrity guest. The audience will choose one group to move on, while the Creators will save two contestants.
Round 4, Duo Collabs: Six dancers will split into three pairs and work together. The audience will pick their winning pair, and the Creators can save any two individual Contestants.
Round 5, The Shake-Up: The four remaining Contestants all dance at the same time as they're faced with a different twist (or "Shake-Up") each episode. This could mean dancing with a prop or  incorporating an iconic dance move into their routine. The audience will then select their top two to move on to the finale.
Round 6, Be the Creator: The final two will each perform a dance they choreographed at home to the same song. The audience will then vote for the winner.
In an interview on The Tonight Show, Shakira said the show was made "to offer people from all walks of life and all ages a platform where they can showcase their talents but also their passion for dance...They don't have to be professionals. Most of them aren't. The idea with the show is just to offer an opportunity and access to people from everywhere to dance and to show their true passion for dance." 
And while chatting with NBC Insider, Jonas said, "The fun [of the show] is we're not looking for the most precise dancer. We're looking for the person with the biggest energy and best heart and best attitude." 
How many episodes are there?
There will be a total of eight hour-long episodes.
How can I watch Dancing With Myself?
You can tune in to NBC every Tuesday at 10 p.m. ET, or stream it the next day on NBC.com or Peacock.
Reporting by Stephanie Gomulka