NBC Insider Exclusive
Create a free profile to get unlimited access to exclusive show news, updates, and more!
Sign Up For Free to View
Blake Shelton Almost Fell Off a Cliff While Filming His Latest Music Video
He may have been joking, but fans were still scared!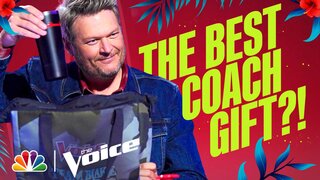 The Voice Coach Blake Shelton is either an epic trickster or he literally almost fell off a cliff while filming the music video for his song "Come Back as a Country Boy."
In a TikTok video taking fans behind the scenes of the shoot, Shelton said, "We're shooting this big epic moment in the music video, and [it's suggested], 'Hey, Blake! Why don't you go stand on the edge of this giant 300-foot cliff with a waterfall, death fall down below you?'"
Naturally, Shelton was willing to do whatever it took to get a great video, which resulted in the singer having to stop himself from plummeting down the cliffside...twice! "The things I do for...my music videos. I'm hoping it's going to turn out good," he said. 
Shelton captioned the TikTok clip, "I think it's time to look into a stunt double for these videos..."  
Joking or not, The Voice fans were quick to comment on Shelton's video with concern. "Just please be careful!" one fan commented. A second posted, "Don't fall, for goodness sake."
"[You're] my favorite country singer, and there was never as good [of] one before you, and there won't be a great one after you!" another fan wrote. "Please be safe. Love the man you are 🥰."
Watch the "Come Back as a Country Boy" video (cliff shot and all) for yourself, below. 
Blake Shelton returns as a Coach for The Voice Season 22 this fall on NBC.