NBC Insider Exclusive
Create a free profile to get unlimited access to exclusive show news, updates, and more!
Sign Up For Free to View
Why These Fan Favorites Returned to The Blacklist a Week Before the Finale
Blacklist fans got to enjoy a visit from Tadashi, Heddie, and Teddy all in one episode! 
Between shocking reveals and emotional goodbyes, the final season of The Blacklist has been an intense ride. And in Season 10, Episode 20 ("Arthur Hudson"), it also proved to be a guest star-filled one. 
As the leader of one of the vastest criminal networks in the world, Raymond Reddington (James Spader) knows that it takes a village to keep operations afloat. Throughout Season 10 of The Blacklist, we've seen Red dismantle his criminal empire to protect the Task Force, which has led to several tear-jerking goodbyes. 
In "Arthur Hudson," Red visited several of his cherished colleagues who have assisted in his criminal operations, and it was a delightful tour-de-force of Blacklist fan favorites. Not only that, we met Red's longtime pilot, who has been famously off-screen for the entire series. The Blacklist is pulling out of the station, but not without Red making a few pitstops along the way. 
By the end of "Arthur Hudson," Red has effectively disbanded the Reddington Task Force in an effort to protect Cooper (Harry Lennix) and the agents from the fallout created by the entire operation going belly-up thanks to Congressman Hudson (Toby Leonard Moore). It is a bittersweet maneuver, but Red knows that the only way he's going to keep his loved ones safe is by uprooting his criminal network and starting anew. 
Before this happened, Red visited his longtime money launderer, Heddie Hawkins (Aida Turturro), to tell her about a recent visit to a Costa Rican bird sanctuary that she once recommended to him. In a classic Red moment, he tells Heddie that he adored the beloved tourist attraction so much that he bought it. Red claims he rarely gets down to South America, so the deed has been transferred to Heddie's name as a gift. It doesn't happen every day that someone gifts you an entire aviary sanctuary out of the blue, but Red wants to make sure Heddie has something to remember him by.
It becomes clear that Red is preparing to leave the country. Red's intended whereabouts are a mystery. On his farewell tour, Red visits his cherished interrogator, Teddy Brimley (Teddy Coluca), to chat about his ongoing relationship issues with Weecha (Diany Rodriquez) and to tell him he's leaving the country for a while. When Teddy comments about being out of work with Red gone, Red assures him that he will find employment elsewhere and not be afraid of starting over. Projecting much, Red?
Later, Red successfully wiretaps the meeting designed to expose the Task Force's actions, stepping over Congressman Hudson's toes to control the narrative and protect the agents from legal fallout. It's a jaw-dropping moment when Red saves Cooper just in time, but he needed some help to pull it off. Red recruited his go-to tech genius, Tadashi Ito (Alex Shimizu), to pull the digital strings to cut Hudson's exposé short, managing to avert the government's gaze from the Reddington Task Force to Red solely.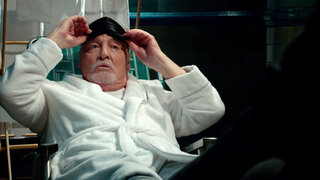 Cooper and the agents are recruited to help track down and arrest Red, much to the chagrin of his longtime colleagues. However, just as the FBI arrives at Red's private airstrip and sees his jet take off, they are horrified to see it suddenly crash in a fiery explosion. Of course, Red was safe and sound. Not a stranger to faking his own death, Red got the FBI off his tail with the help of his trustee pilot, Edward, who escaped the crash unscathed. Better yet, fans finally got to see the face of the famously off-screen Edward, played by none other than Spader's Pretty in Pink co-star Andrew McCarthy. The reveal was literally explosive. 
Simply put, the lineup of guest stars in The Blacklist's latest episode was peak entertainment. Red has worked with some seriously delightful criminal accomplices throughout the years, and as the curtain closes on The Blacklist, it was nice to see those folks shine one last time. 
Who is Heddie Hawkins on The Blacklist?
Heddie is Reddington's accountant and money launderer on The Blacklist, appearing in several episodes since her introduction in Season 5. 
Heddie is an intelligent and resourceful woman who enters Red's life after her ex-boyfriend landed on Red's infamous list of criminals. Along with her former partner, Heddie embezzled $2,000,000 from her place of employment, only to quickly cut a deal once she was caught. But Red saw talent in Heddie, so on the way to testify against her boyfriend, Red intercepted the transport, offering Heddie a job as his accountant and money launderer. Since her first appearance, Red has consulted Heddie at least once each season as either a good friend or reliable ally. 
Who is Teddy Brimley on The Blacklist?
Theodore "Teddy" Brimley has been Reddington's interrogator for nearly two decades, first introduced in The Blacklist's debut season and appearing in dozens of episodes since then. 
Every criminal needs someone to make their enemies talk, and that is when Teddy comes in. Teddy is known to have successfully extracted need-to-know intel from the most tight-lipped opponents, often using unconventional methods of torture involving animals. 
Who is Tadashi Ito on The Blacklist?
Tadashi Ito is Reddington's longtime hacker and tech wizard, introduced in Season 5. Tadashi began working with Red as a young teenager, much to his mother's dismay. 
Red knows talent when he sees it and he's famous for scouting advantageous employees. Tadashi is one of these recruits, introduced as a tech genius who turned down early admission to Harvard and a job at Facebook at only 14 years old. Tadashi had his sights set on something higher, so by his 15th birthday, Tadashi began working for the concierge of crime. Tadashi has since provided much-needed tech sorcery time and time again on The Blacklist, appearing earlier this season when Dembe (Hisham Tawfiq) needed help recovering data from a scorched laptop.