NBC Insider Exclusive
Create a free profile to get unlimited access to exclusive show news, updates, and more!
Sign Up For Free to View
Who Wrote The Office's Theme Song?
The catchy tune has a pretty cool history.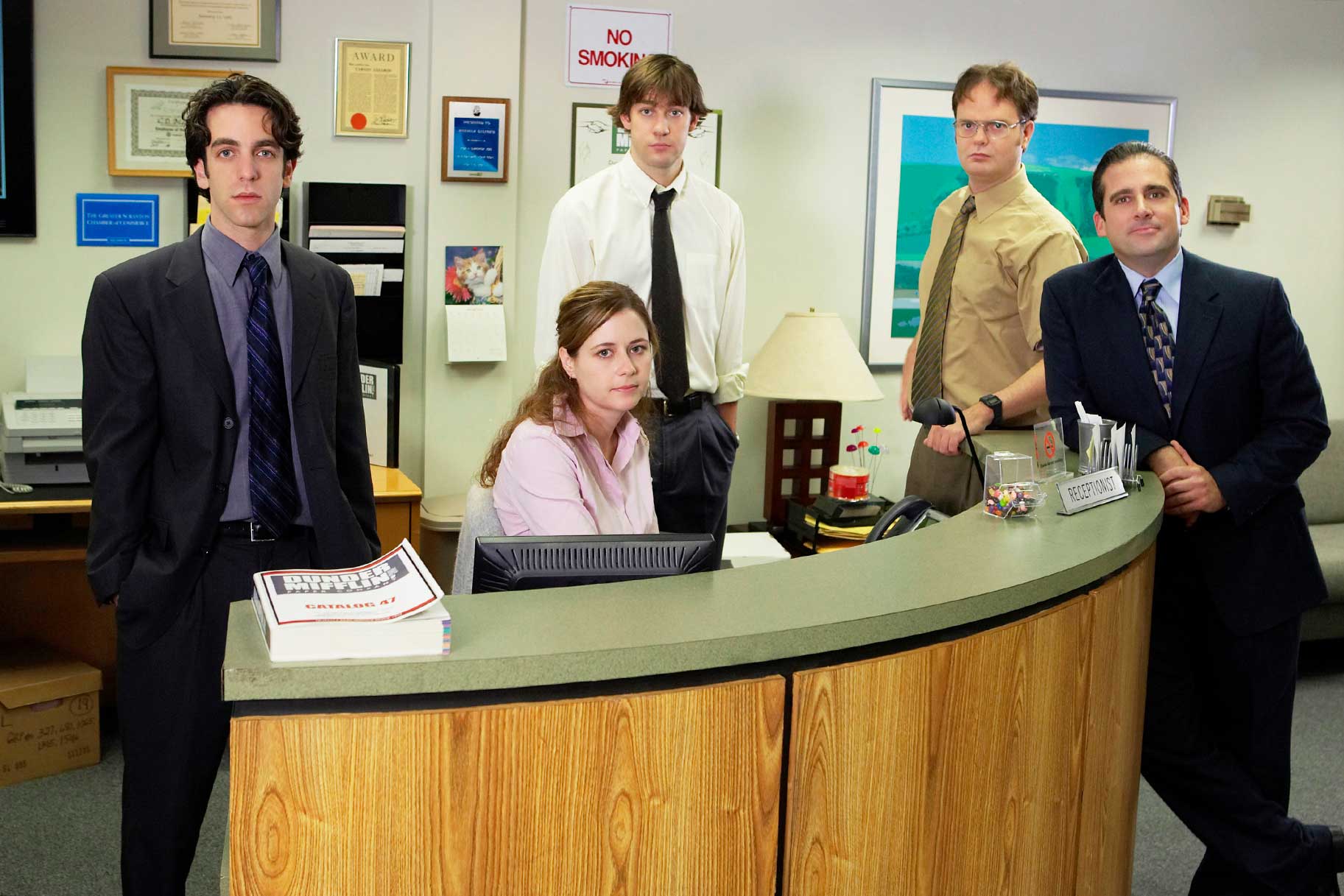 It's pretty much impossible to not recognize the familiar, peppy tune that is The Office's theme song. The catchy music appears at the beginning of each episode, over scenes from Scranton, Pennsylvania and other happenings from the show. 
While the song was written specifically for the hit NBC comedy, producers had initially wanted to use an already-beloved piece of music instead. Here is the full history of The Office's theme song. 
Who wrote the theme song for The Office?
The song was composed by Jay Ferguson. Ferguson has also composed music for shows like NCIS: Los Angeles and Melrose Place, and he released six of his own solo albums. 
Ferguson also appeared on the show as the guitarist for Kevin Malone (Brian Baumgartner)'s band, "Scrantonicity." 
The original song was performed by guitarist Bob Thiele Jr., bassist Hal Cragin, drummer Brian Macleod, and pianist/accordianist Dillon O'Brian. Drummer Jimmy Paxson replaced Macleod when the band, then named The Scrantones, performed during Season 2, Episode 11 ("Booze Cruise").
The Office theme song wasn't the original plan for the opening credits
According to Jenna Fischer and Angela Kinsey's podcast Office Ladies, there was actually a battle for what the theme song would be. Showrunner Greg Daniels had originally been gunning to use a popular song that wasn't made specifically for the show.
According to Fischer, Daniels had chosen three specific songs and created DVDs with the title sequence to those tunes, asking the cast and crew to weigh in on their favorites. 
Those three songs were:
"Float On" by Modest Mouse
"Mr. Blue Sky" by Electric Light Orchestra (ELO)
"Mr. Blue Sky" won the popular vote and was slated to be the official tune for the opening credits. 
Why did The Office's opening credits change?
Just before the show was ready to air, another NBC series called LAX (starring Heather Locklear and Blair Underwood) used the song "Mr. Blue Sky" for their opening credits. Daniels had to scramble to find another option lest there be no music at all (as seen in the video below) — which is when, according to Fischer, Daniels brought the composer, Ferguson, on board. 
The new song was recorded  just one week before the pilot aired. "They were scrambling!" she explained, saying that Daniels brought together Thiele, Cragin, Macleod, and O'Brian to record Ferguson's composition.
To watch all of The Office (and listen to the iconic theme song) stream the show on Peacock.