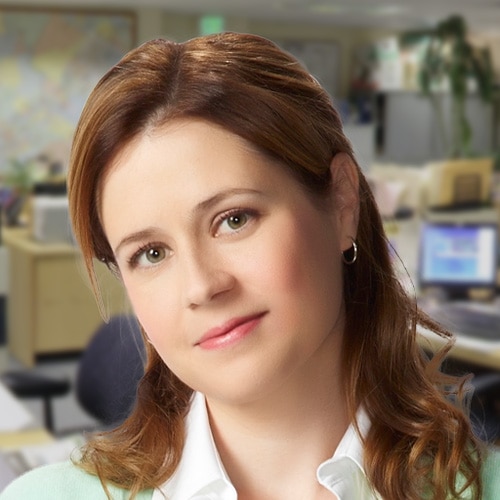 PAM HALPERT
Played By Jenna Fischer
Actor Bio
Jenna Fischer stars as office administrator Pam Halpert on NBC's hit comedy "The Office."
In 2007, Fischer earned her first Emmy nomination for Best Supporting Actress in a Comedy Series for her critically acclaimed work on "The Office."
On the big screen, she can be seen in Michael Weithorn's "A Little Help" opposite Chris O'Donnell and Rob Benedict. In 2012, she will star opposite Topher Grace in Lee Kirk's film "The Giant Mechanical Man," which she also produced. Fischer was last seen in the Farrelly Brother's "Hall Pass" with Christina Applegate, Owen Wilson and Jason Sudeikis. She also starred opposite Michael Douglas, Susan Sarandon, Danny DeVito and Mary-Louise Parker in Brian Koppelman's "Solitary Man." Other film credits include "Walk Hard: The Dewey Cox Story" with John C. Reilly and the Dreamworks hit figure skating comedy, "Blades of Glory," with Jon Heder, Will Ferrell and Amy Poehler.
In 2004, she was awarded the Screen Actors Guild Emerging Actor Award at the St. Louis Film Festival.