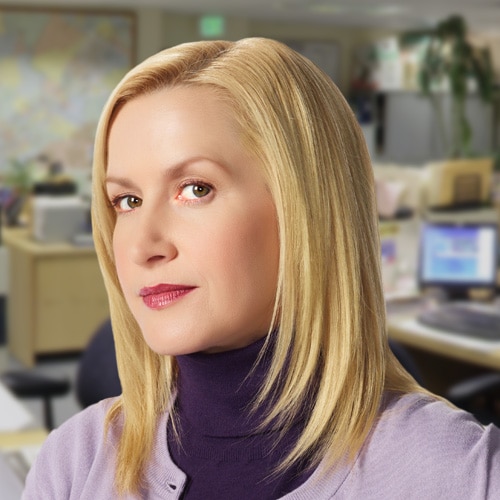 ANGELA MARTIN
Played By Angela Kinsey
Actor Bio
Angela Kinsey portrays the feisty, tightly wound head of accounting Angela Martin at Dunder Mifflin on NBC's Emmy-winning show "The Office."
Kinsey's television credits include, "All of Us," "Run of the House," "King of the Hill," "Mad TV," "Mind of Mencia" and "Monk." As a struggling actress, Kinsey worked as an operator for 1-800-Dentist and often draws upon her days in corporate America for her scenes in "The Office."
Angela completed a cameo appearance in Ken Kwapis' film "License to Wed" and can be seen in "Furry Vengeance" opposite Brendan Fraser. Her next big screen appearance is opposite Golden Globe winner Chris Colfer in "Struck by Lightning" as a questionable high school guidance counselor.
Recently appointed the new face of Clairol, Kinsey can be followed on her site "Adventures with Angela" located at NBC.com.
Originally from Texas, Kinsey grew up in Jakarta, Indonesia and still speaks the language. A graduate of Baylor University, Kinsey currently lives in Los Angeles.