NBC Insider Exclusive
Create a free profile to get unlimited access to exclusive show news, updates, and more!
Sign Up For Free to View
Yes, Howie Mandel's Cousin is Actually a World Famous Violinist
Mandel revealed the information to musician, Philip Bowen, during his audition on America's Got Talent Season 18.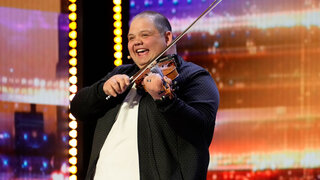 America's Got Talent Judge Howie Mandel has major talent rooted in his family.
During violinist Philip Bowen's Audition for Season 18, Bowen explained that one of his initial inspirations from a young age was violinist Itzhak Perlman. Then, Mandel casually mentioned some interesting information that many may not be aware of: Itzhak Perlman is actually Mandel's cousin, something that surprised Bowen. 
But who is Itzhak Perlman, and how exactly is he related to funnyman Mandel?
Who is Howie Mandel's cousin, Itzhak Perlman?
Itzhak Perlman is a world renowned Israeli-American violinist. Showing promise at the age of 13, he moved to the United States to study the instrument at the prestigious Julliard School. As of today, he's won a whopping 15 Grammy Awards and 4 Emmy Awards, and has performed in venues such as Carnegie Hall, The White House, and the New York Philharmonic. 
Perlman garnered mainstream attention when he appeared on The Ed Sullivan Show in 1958 when he was only 13, and since then has made multiple appearances on The Tonight Show. During Bowen's audition, he mentioned that he first became aware of Perlman's talents when Perlman performed on Sesame Street. Bowen was only 4 years old at the time, and was so blown away that it inspired him to ask his parents for violin lessons. 
As for how Perlman is related to Mandel, according to The LA Times, the two are "distant cousins" via Mandel's mother. 
According to an interview with NPR in 2015, Perlman revealed that his parents encouraged him to become a musician from a very early age. "It was very natural. There was no question about, oh, you can't do this. You have to do that. It was like, you decide to be a musician, you have to put in the time," he explained. 
"A lot of people ask me, 'What is your goal now that you have done everything?' And I always say that my goal is to not be bored by what I do," he also told the station. "The only way that I cannot be bored by what I do is if I play something and it's all new to me."
"I think that I was pretty advanced as far as, technically, what makes it work — so I don't think that right now you can say I know much more about the instrument than I did when I was 20," he continued. "I think the important thing was knowing how to play the music, how to do the phrasing, how to be a musician. That thing has evolved with me."