NBC Insider Exclusive
Create a free profile to get unlimited access to exclusive show news, updates, and more!
Sign Up For Free to View
Who Was Betsy Faria From The Thing About Pam?
Her 2011 murder is the jumping point on NBC's new true-crime series.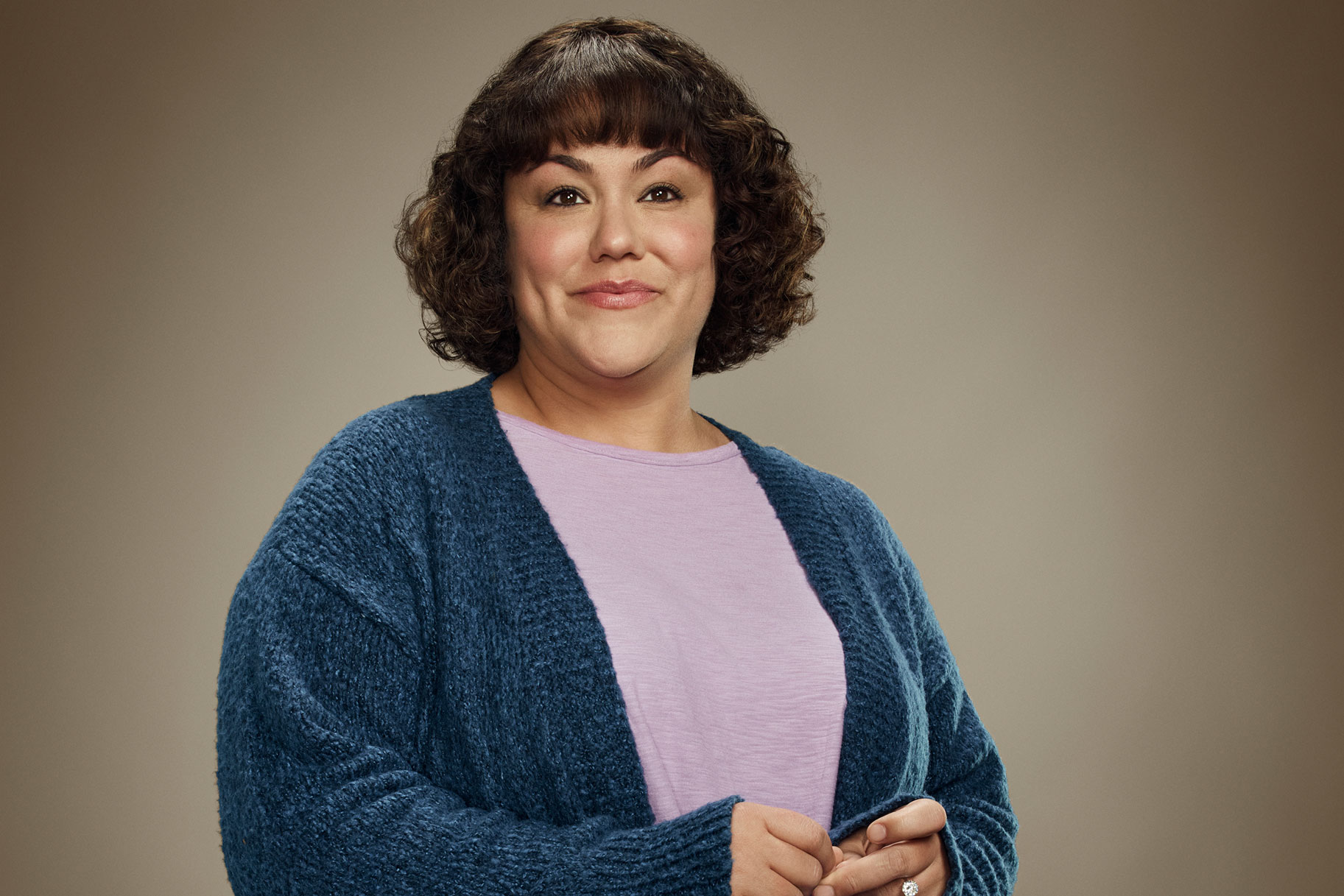 Betsy Faria was found stabbed to death inside her Troy, MO home on December 27, 2011.
The sensational case would spawn two arrests, one wrongful conviction, divide her small town, and serve as the inspiration behind the NBC limited series The Thing About Pam, airing Tuesdays at 10 p.m. ET. 
But there are lots of words to describe Betsy other than murder victim. Betsy was also a mother, daughter, wife, part-time DJ, and regular "party starter."
"She was a real outgoing person. What I noticed first about her was she had beautiful eyes and a beautiful smile and such a bubbly personality," her husband, Russ Faria, told Oxygen.com. "I guess that's kind of what drew me to her and the others as well. She had that kind of style about her, that kind of personality where she'd never met a stranger."
Russ met Betsy (portrayed in the series by Katy Mixon) while she was working at a local gas station—a job she had taken to be able to devote more time to her DJ business, aptly named "Party Starters."
"She was the party starter," Faria said. "It didn't matter if she was working or not, if she went to a party, or gathering or get-together, she'd get everybody up playing games or get people up dancing … that was her personality. She always had to be on the go."
Betsy had been the one to ask Russ (played in the series by Glenn Fleshler), a regular customer at the gas station, out first.
"We went to a local casino around here and really hit it off," Russ recalled.
Russ soon began helping Betsy with her business, using his own computer experience to help her create a computerized DJ playlist.
"I was actually able to marry what I did and what she did, and nowadays all the DJs are using computers to run their music, but we were one of the first ones to be doing that back then," he said.
The couple got married in 2000, and together they raised her two daughters from a previous relationship.
They loved to go camping or play sand volleyball at the local bars. According to Russ, Betsy always had a "lot of hobbies" and loved being outdoors, playing tennis or other games.
"She liked to play cards or any kind of board game that might be around," he said. "She had her hand in a lot of things."
Betsy had once worked in insurance and decided to return to the field as their relationship continued.
Betsy first crossed paths with Pamela Hupp (portrayed in the series by Renée Zellweger), the woman now charged with her murder, at a local State Farm office where both women worked.
"Betsy basically trained Pam and taught her everything that she knew because Pam was new to the insurance business and so, you know, they worked there for a couple years," Russ said.
Betsy and Hupp lost touch for several years, but they reconnected when Betsy was diagnosed with breast cancer in January of 2010.
"I didn't think anything of it," Russ said, adding the two women often took walks together while he was at work.
Betsy's dad, Ken Meyer, told St. Louis Magazine he remembered asking his daughter that summer whether she made plans to provide for her daughters financially. She was worried the teens might blow through whatever money they inherited and worried her husband might "piss it away," he said.
"She asked me about a month later to come to one of her treatments at the cancer place," her father remembered, "but when I got there, Pam Hupp was already sitting beside her, so we couldn't really talk. From then on, Pam Hupp took Betsy to every one of those sessions."
At first, it seemed like Betsy had beaten cancer, and she and Russ planned a "Celebration of Life" cruise for November 2011 with their friends and family. But before they would ever set sail, Betsy learned that the cancer had spread and was terminal.
"There were bad days and good days," Russ said of Betsy's mindset. "We both cried a lot, you know, especially when she got sick the second time and we found out that it's terminal and basically we weren't going to have too much time around anymore."
But while there were "plenty of tears shed," Russ said Betsy relied on her positive and outgoing attitude to get her through.
She decided to still go on the cruise and took advantage of good days where the chemotherapy's effects were minimal, often heading to play tennis or spend time with family.
"She didn't want to be sad," Russ said. "She knew she had a lot of sad days ahead of her, and she was going to make every day as happy as she could for herself and for those around her and that's what she did throughout her entire life and that was what she was doing up until the end."
Betsy's life would end suddenly on December 27, 2011. Russ had planned to go to his regular game night that night and texted Betsy around noon that he would pick her up at her mother's house, where she had stayed for a few days, later that night.
"Okay great, honey," she texted back, according to St. Louis Magazine.
But Betsy later texted Russ that Hupp had offered to bring her back to the Troy home earlier that night.
"She is bringing you?" Russ texted back.
"Yes, she offered and I accepted," Betsy wrote, according to St. Louis Magazine. "Didn't get much sleep. Mom snored."
When Russ returned home that night, he found Betsy dead on the floor of their living room. Her wrists had been slashed and a kitchen knife was still lodged in her neck. A coroner would eventually determine that she had been stabbed 55 times.
Investigators initially suspected Russ had carried out the murder, especially after Hupp told police the couple had a troubled marriage. Russ was arrested, tried, convicted, and sentenced to life in prison—in part due to Hupp's testimony on the stand—but the conviction was later overturned and a judge acquitted him in 2015 after new evidence surfaced.
Just four days before the murder, Betsy had switched the primary beneficiary of her $150,000 life insurance policy to Hupp, giving her friend what investigators now believe was the motive for murder.
Betsy's daughter, Mariah, who was just 17 years old when her mother was killed, recently described the traumatic loss of her mom at such a young age to KTVI.
"It was a time where I was supposed to figure out my next steps in the world and then I got my whole world shaken up when my mom passed away and I basically lost my father in the process," she said.
Her other daughter, Leah, told the news outlet it's her mom's positive outlook that keeps her daughters going today.
"Mariah and I are so strong," she said. "We are very strong women and we have our own beautiful families that we've grown and life could not be better at the moment."
In July 2021—almost a decade after Betsy's death—Lincoln County prosecutor Mike Wood announced Hupp, who is already behind bars for the murder of Louis Gumpenberger, would be charged with first-degree murder in Betsy's death.
Wood described the facts in the case as "quite simply indisputable," according to the NBC News podcast The Thing About Pam.
Hupp has pleaded not guilty and continues to maintain her innocence.
Russ attended the press conference and carried a small vase of Betsy's ashes in his pocket.
"This isn't really about me. It isn't about Pam Hupp. This really isn't about anyone else, other than these victims and in my case, it's about Betsy and I think she deserves to be there and the only way I could ensure that she was there was to bring a little piece of her in my pocket," he told Oxygen.com. "I just thought she deserved that honor more than anybody else."
The Thing About Pam airs Tuesdays at 10 p.m. ET on NBC. Catch up now on NBC.com.
This article originally appeared on Oxygen.com and was written by Jill Sederstrom.