NBC Insider Exclusive
Create a free profile to get unlimited access to exclusive show news, updates, and more!
Sign Up For Free to View
The Thing About Pam Showrunner Explains the Finale's Chilling Last Scene
She answers the question we've all been wondering: Does Pam Hupp know about the show?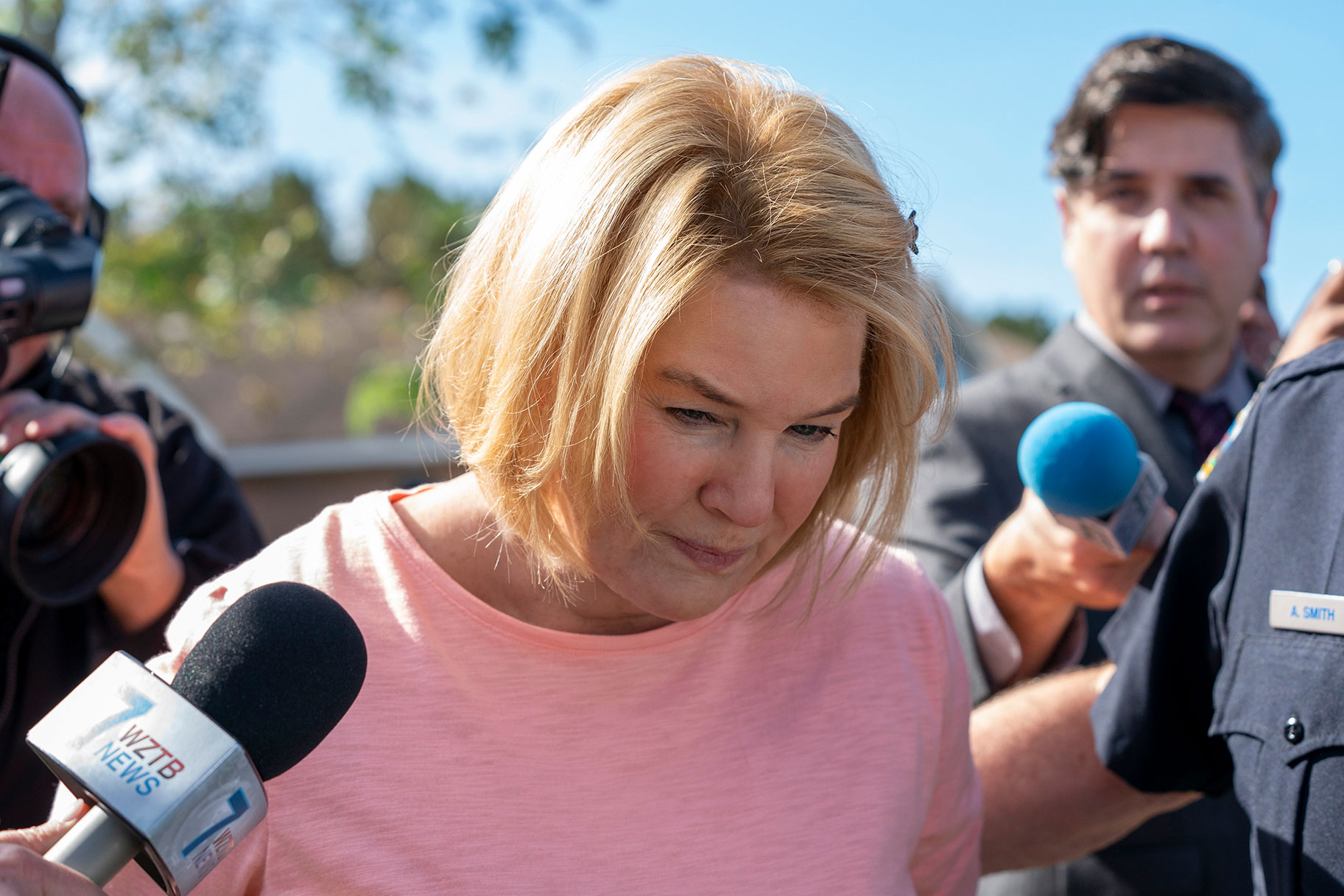 After a rollercoaster ride full of twists and turns, NBC's true-crime miniseries The Thing About Pam has officially come to an end.
The last moments of the finale show Renée Zellweger's Pam Hupp submitting an Alford plea in connection to the 2016 murder of Louis Gumpenberger. That means she pled guilty without admitting to the murder, with prosecutors agreeing to take the death penalty off the table. She was sentenced to life in prison. 
Then, in the final scene of the series, we see Zellweger as Hupp at prison in the present day. Like us, she's also watching The Thing About Pam. "See, told ya. They got it all wrong. You know how they are," she says with confidence, before breaking the fourth wall and looking right at the camera.
Showrunner Jenny Klein told NBC Insider that she and the writers took creative license with this moment. "I think I pitched that in my very first interview to come aboard [the show]," Klein says. "I'm really attracted to the meta quality of this entire story. The fact that Pam impersonated a Dateline producer when Dateline was covering this and then, of course, we have [narrator] Keith Morrison's voice bringing you even closer to the story."
Klein says they reached out to Hupp for an interview, but she declined. People close to Hupp told Klein that Hupp is aware of The Thing About Pam. However, it's unknown if she's watched the show. She's currently awaiting trial for the 2011 murder of Betsy Faria and has pled not guilty. (She was charged for the crime in 2021.) 
Klein explains that leaning into Hupp's denial at the end of the series echoes her real-life, years-long insistence that she had nothing to do with Faria's death. "Our limited series is part of the cycle of this ongoing story which just keeps on twisting," Klein says. "Even as we were writing it, we wanted to acknowledge that. Pam being the center of media attention, even if it's negative, even if it's infamous, might in some way fill her ego. We made this show, and she might not be happy with it. She might say we got it all wrong and be reacting to it in the same way that she might've to the Dateline episodes."
So, with her criminal history in mind, what is it about Pam Hupp that keeps us so intrigued—possibly long past the miniseries finale? Klein has a hunch.
"Part of what drew me to this story is that Midwest towns have a sense of safety and normalcy that lure you in, which makes it all the more unsettling when terrible things happen there," she says. "Pam herself—who just looks like the the suburban mom who drove me to soccer practice—you would never think there was so much scheming going on beneath the surface."