NBC Insider Exclusive
Create a free profile to get unlimited access to exclusive show news, updates, and more!
Sign Up For Free to View
Why NBC's The Thing About Pam Is Unlike Any True-Crime Show You've Seen
Renée Zellweger, Josh Duhamel, and Judy Greer star in this series about the real-life murder of Betsy Faria.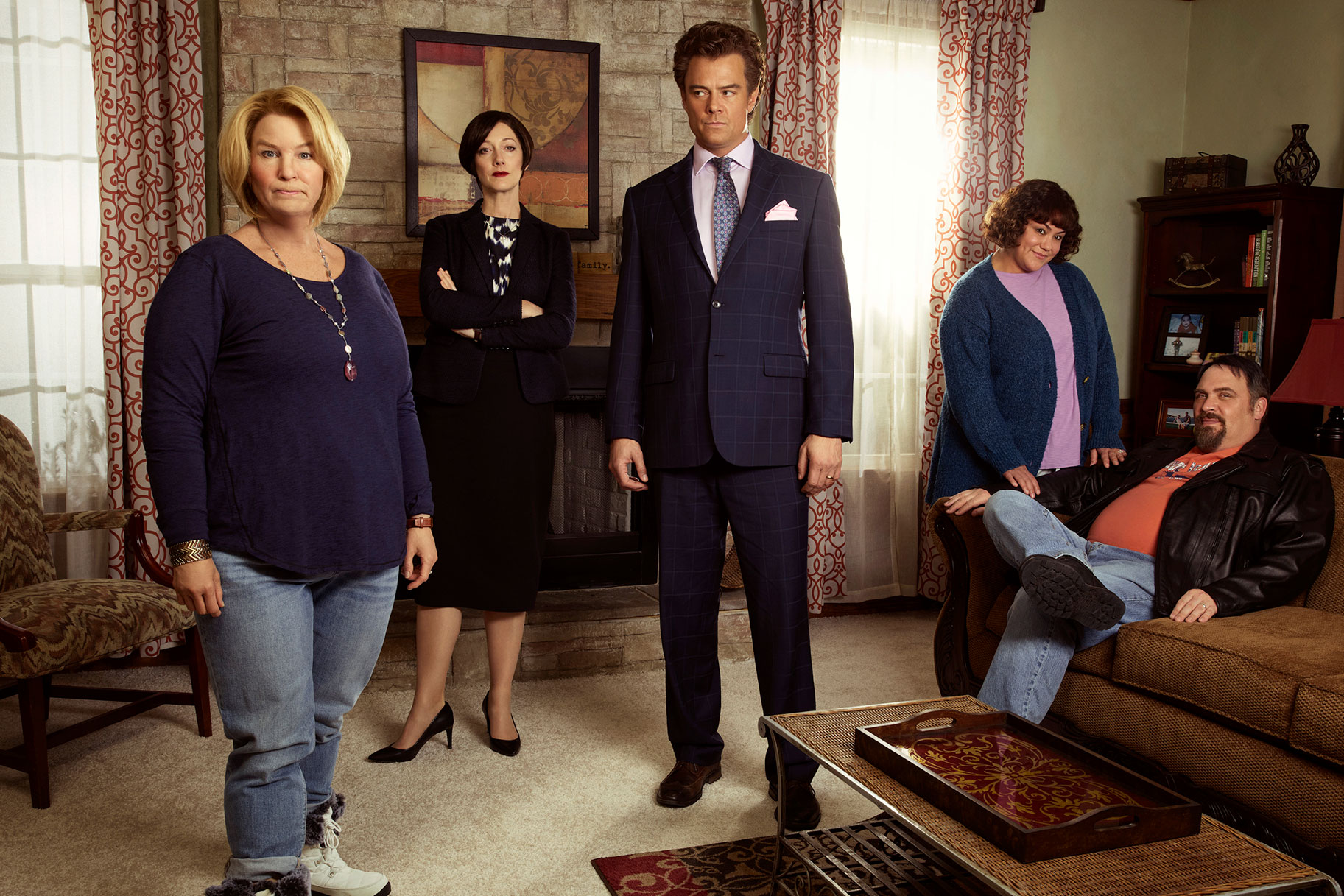 Attention, true-crime fans: The Thing About Pam is coming—and it's a rollercoaster ride. 
If that title sounds familiar to you, then you're a real true-crime aficionado. It's the name of the popular Dateline podcast about the 2011 murder of Betsy Faria, which her friend, Pam Hupp, was charged with in 2021. Yes, a full 10 years later. It's a wild story filled with twists and turns—made even wilder by the fact it actually happened. 
The story is a natural fit for a TV adaptation. NBC's new show The Thing About Pam premieres Tuesday, March 8 at 10 p.m. ET/PT, and it boasts an all-star cast. Renée Zellweger! Josh Duhamel! Judy Greer! Ahead of the show's first episode, here's some information you need to know. 
The broad strokes of the case. It all started in December 2011, when Betsy Faria was found dead in her Troy, MO home. Her husband, Russell Faria, was quickly arrested for the crime and in 2013 received a life sentence plus 30 years. He maintained his innocence and was later exonerated. 
Fast-forward to 2016: Hupp was implicated in the murder of 33-year-old Louis Gumpenberger, and three years later struck an Alford plea. That means she pled guilty without admitting to the murder, with prosecutors agreeing to take the death penalty off the table. She was sentenced to life in prison. 
Naturally, news of Hupp's conviction re-sparked interest in the Betsy Faria case. With Russell Faria exonerated and Hupp's nefarious nature now on record, perhaps she was the one who killed Betsy in 2011. In 2021, Pam Hupp was officially charged with the first-degree murder of Betsy Faria. 
The deceitful details that pepper these events are explored in NBC's The Thing About Pam. Start with watching the trailer, below, to see how Hupp went from innocent friend to main suspect. 
The cast. Renée Zellweger plays Pam Hupp. Katy Mixon plays Betsy Faria. Glenn Fleshler plays Russ Faria. Josh Duhamel plays Joel Schwartz, Russ Faria's defense attorney. Judy Greer plays Leah Askey, the lawyer who prosecuted Russ Faria's case. 
How many episodes? Six. 
Where can you watch? Tuesdays at 10 p.m. ET/PT on NBC, then next day on Peacock. The series premiere is March 8. 
Even the show's actors find the real story bonkers. "This is one of those stories that you couldn't make up," Zellweger said at the Television Critics Association panel on Friday, February 11. "I binged the podcast, actually, when I was driving up and down the 5 Freeway, going to take my dog to get his hip replaced in San Francisco, and I couldn't believe it. It was just an experience of escalating absurdities." 
But the show is more than just escalating absurdities. "It kind of opens the door to discuss some really important, current, relevant social issues," Zellweger said at the TCAs. Showrunner Jenny Klein added one of the show's main themes is confirmation bias, which you see as Russ Faria's trial unfolds. It's clear the court was going to find him guilty regardless of what evidence his lawyer put forward. 
The show is rooted in the facts of the case. As Klein said at the TCAs, "Telling a story based on real events and real people definitely carries with it a real responsibility, and we took that seriously.  We reached out to everyone involved in the case, people who knew Pam Hupp, and we were very fortunate that many were willing to speak with us, so that we could tell the fullest story possible.  And at the same time, this is, of course, a dramatic retelling, so some elements did have to be fictionalized."
She added, "We were lucky to have access to thousands of pages of court transcripts to pull from, provided by NBC News Studios, as well as all the existing coverage, videos.  So, many things were based on, like, real videos that we had." 
Zellweger says learning Hupp's accent was a process. "It was elusive," the Oscar winner said at the TCAs. "So interesting, because I was listening to accents from the regions that she, you know, had grown up in, and where she lived, and, boy, it was—it was peculiar.  It's very unique to—you know, to Pam.  It's not necessarily regional.  She has a lot of colloquialisms that are uniquely hers." The video, below, shows Zellweger's Hupp accent in full force. 
You really aren't prepared for what's in store. "I don't think there's been a drama like this," Klein said at the TCAs, adding there's a "palpable strangeness" to the show. "It's a true-crime story that, in some ways, won't leave you feeling depressed, but will keep you on the edge of your seat because there's so many twists and turns."
The Thing About Pam premieres Tuesday, March 8 at 10 p.m. ET/PT on NBC.