NBC Insider Exclusive
Create a free profile to get unlimited access to exclusive show news, updates, and more!
Sign Up For Free to View
Breaking Down Simon Cowell's Epic Roast on the AGT Season 17 Finale
The Judge wasn't afraid to have a sense of humor at his own expense.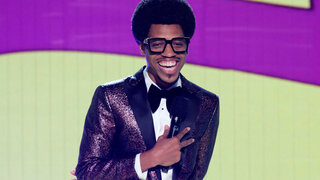 Simon Cowell may sometimes be a firm (but lovable) Judge on America's Got Talent, but he sure knows how to laugh at himself.
During the Season 17 Final, a group of comedians from AGT past reappeared to have one final word about Mr. Cowell in an epic roast, and their jabs will have you cackling. 
Hosted by Season 17 Contestant Mike E. Winfield, the first Act on stage was stand-up Don McMillan. Although Cowell wasn't a fan of McMillian's use of PowerPoints during his Audition, McMillian chose to use the technology in a clever way to tease the Judge even further. On the screen, he demonstrated Cowell's dislikes, including shaving, parmesan cheese, and clowns (all AGT inside jokes). But Cowell's number-one like? Himself, of course!
In comes Mr. Pants with his costume and puns galore! "He's just like the rest of us," the decked-out comedian said. "He puts his pants on; well, actually, his assistant puts his pants on one leg at a time." 
Lace Larrabee then entered the stage, ready to rumble. "I do love Simon's style. I love to call it 'midlife crisis chic,'" she cleverly commented, prompting a humble smirk from the Judge himself.
Wanting to leave things on a light note, the deepfake technology team Metaphysic displayed an eerily accurate depiction of Cowell on the projecting screen. And of course, "Cowell" only had positive things to say about himself. "I don't just like Simon–you know what? I love him," the AI projection said, winking at an oft-used Cowell quote. The Judges then all stood up and cheered, with Cowell looking impressed. Watch it all in the video, above.