NBC Insider Exclusive
Create a free profile to get unlimited access to exclusive show news, updates, and more!
Sign Up For Free to View
How Carnegie Mellon Grad Joe Manganiello Went from Spider-Man to Deal or No Deal Island
The host of NBC's newest game show boasts a decade-long career in film, TV, and more.
Joe Manganiello is a titan of television and film, making him not only the perfect host for a nail-biting game show like Deal or No Deal Island but also a timeless talent. 
Manganiello is a dedicated actor, producer, and director who has delivered an endless lineup of performances since his rise to fame in 2009. Manganiello's chameleonic talent, along with his impressive physique and rugged charm, has led him to become a cherished star of many iconic films and movies. Whether he's dancing for a bachelorette brigade or hosting a high-stakes game show on a tropical island, Manganiello is always magnetic.
Below, check out some of Manganiello's most exciting career highlights and passion projects, and don't miss him as host of Deal or No Deal Island on NBC.
RELATED: Deal or No Deal is Back with an Island Twist — and Joe Manganiello as Host: Details
Joe Manganiello TV Shows: True Blood to Deal or No Deal Island
Upon graduating from Carnegie Mellon University's drama school with a BFA in acting, Manganiello made his television debut in 2006 with a string of guest roles in Jake in Progress, CSI: Crime Scene Investigation, Las Vegas, Close to Home, and So Notorious. The same year, the actor landed a recurring role in the sitcom How I Met Your Mother as Brad Morris. In 2007, he appeared in Scrubs, but he was only getting started. The same year, Manganiello hit the ground running with his first main role in the telenovela American Heiress as Solomon Cortez and a recurring role as Officer Litchman in ER.
From 2008 to 2010, Manganiello had a recurring role in One Tree Hill as the flirtatious bartender Owen Morello. Around the same time, he also guest starred in a lineup of thrilling crime dramas, such as 2009 appearances in CSI: Miami and Medium and a guest role in CSI: NY (2010). Manganiello boasts a robust catalog of television credits, but many would agree they first saw Manganiello in a bare-all role that would establish him as a bona fide star. 
True Blood
In 2009, Manganiello landed his breakout role in the horror drama True Blood as Alcide Havreaux, a werewolf bodyguard who protects protagonist Sookie Stackhouse (Anna Paquin). As a point within a beloved love triangle, Alcide quickly became a fan favorite, leading him to earn widespread fame and adoration. In 2011, Manganiello's character was voted the Favorite Pop-Culture Werewolf of All-Time by Entertainment Weekly readers. He also scored a Saturn Award and Scream Award for his mythic role in True Blood.
Since True Blood, Manganiello has appeared in dozens of must-watch television series, taking roles in Two and a Half Men (2011), Mom (2016), The Big Bang Theory (2019), and A.P. Bio (2021). In 2022, Manganiello appeared in Bubble Guppies, Love, Death & Robots as Coulthard, and Moonhaven as Tomm Shultz. In 2017, he was the narrator of Pittsburgh is Home: The Story of the Penguins, a documentary chronicling the first 50 years of the Pittsburgh Penguins hockey team. The star won a Mid-Atlantic Emmy Award for his part in the television film. 
Finding Your Roots
In 2023, Manganiello's investigated his ethnicity on docuseries Finding Your Roots. He took a deep dive into his family tree, revealing his maternal great-grandmother, Terviz "Rose" Darakjian, survived the Armenian genocide. Manganiello's paternal side of the family unveiled shocking truths, notably that Manganiello's legal paternal grandfather, Emilio Manganiello, is not his biological relative.
Manganiello discovered his biological great-grandfather was an African American man named William Henry Cutler, who married and had children with a white woman named Nellie Alton. Despite his Italian name, Manganiello's ancestry is 7% Sub-Saharan African and 98 percent European, with his paternal grandfather being roughly 30% Sub-Saharan African. 
"People went to their grave with family secrets that Finding Your Roots was able to basically exhume," Manganiello told Rolling Stone following the episode. "It was a real shock. To find out that your last name isn't really your last name, and that I was related to zero percent of the world's Manganiello's is… wow." 
"I can't imagine what it must be like for my father to find that out at age 72, and anything I feel seems borderline inconsequential..." Manganiello continued. "Much of my father's identity was rooted in the fact that he was full-blooded Italian — or F.B.I., as they call it — and there's a strong sense of that identity growing up in the ethnic neighborhoods of Boston."
Deal or No Deal Island
Coming in 2024, Manganiello will host the new NBC spin-off game show Deal or No Deal Island. Take all of the stakes of Deal or No Deal and add a tropical twist, with contestants fighting to find over 100 hidden cases containing $1 million. Former Deal or No Deal host and current AGT Judge Howie Mandel will executive produce the exciting new competition series.
The official NBC press release for Deal or No Deal Island teases "a spin on the classic game where 13 players are transported to the elusive Banker's private island to compete for cash in a season-long, fully immersive competition. The series will combine thrilling challenges, mind-bending dilemmas, and the classic game of Deal or No Deal as contestants try to beat the banker. Manganiello will guide them throughout – leading the game play, relaying the banker's tempting offers, and helping them through the toughest decisions of their lives."
"The role of Deal or No Deal host has always been held by someone charming, hilarious, and devastatingly handsome," gushed Corie Henson, Executive Vice President, Unscripted Content, NBCUniversal Entertainment. "When we took the show out of the studio and transported the game to the Banker's island, Joe was the obvious choice. He loves all kinds of games, lives for adventure, and isn't afraid to stare down a snake or two to help players win a life-changing payday and, hopefully, beat the Banker at his own game." 
RELATED: A New Special Edition of AGT Is Coming to NBC: What to Know
Joe Manganiello Movies: Magic Mike to La Bare
Manganiello got his big break in 2002 in Sam Raimi's Spider-Man as Flash Thompson, Peter Parker's nemesis. Manganiello's role in Spider-Man led him to reprise the part for the film's third installation in 2007. In 2012, Manganiello starred in the romantic comedy What to Expect When You're Expecting. Following his smashing acclaim as the sultry True Blood werewolf, Manganiello scored a role that further solidified his sex symbol status. 
Joe Manganiello & the Magic Mike Trilogy
In 2012, Manganiello earned widespread acclaim for his role in Steven Soderbergh's comedy-drama Magic Mike. Manganiello played the lovable dancer Big Dick Richie, one of the more experienced strippers at the club. He also appeared as Richie in the 2015 sequel Magic Mike XXL and when the saga ended with 2023's Magic Mike's Last Dance.
In 2014, Manganiello appeared as DEA Agent Joe "Gringer" Phillips in Sabotage, starring alongside his idol, Arnold Schwarzenegger. Manganiello has also landed action-packed roles in  Knight of Cups (2015), Smurfs: The Lost Village (2017), Rampage (2018), Archenemy (2020), and Metal Lords (2022).
Joe Manganiello's La Bare
After years of navigating the industry from many sides, Manganiello made his directorial debut in 2014 with La Bare. The idea for the documentary film came to Manganiello while researching strip clubs for his role in Magic Mike. 
"Filming that documentary was probably the best prep work I could do for entering into this world," Manganiello told The Daily Beast. "Spending months filming and in the editing room with those guys in Dallas, we were all rolling on the ground at how funny they all were, both self-aware and not self-aware."
Manganiello financed the film independently, shooting it in 8 days alongside his brother and business partner, Nick Manganiello. The film was regarded as a resounding success, leading Manganiello to win the Triple Threat Award at the Maui International Film Festival.
"The movie revolves around this post-feminist talk of sex relations in this post-feminist world..." he told Variety. "The arc of the film is really the difference between male and female fantasies and how they manifest themselves. As it's so eloquently put in the film, men just want to see naked women, whereas women want a show."
Joe Manganiello, the fitness author
Manganiello's Adonis-like role in Magic Mike was an obsession by those who saw and didn't see the films. Manganiello's height (a towering 6′ 5″) and his glistening physique elevated him to fitness mogul. In 2014, Manganiello added the moniker "author" to his resume after leveraging his love for exercise into a fitness book regaling some of his most tried-and-true fitness tips. Featuring a forward from his Sabotage co-star Schwarzenegger, Evolution: The Cutting Edge Guide to Breaking Down Walls and Building the Body You've Always Wanted encourages self-love through Manganiello's research on diet, cardio, and health.
Joe Manganiello and his precious pup, Bubbles
Manganiello and his chihuahua, Bubbles, are one of the most heartwarming pairs in Hollywood. The massive man/miniature dog dynamic never gets old for the adorable duo, with Manganiello making many appearances with his tiny pup in tow. Manganiello's Instagram bio, you ask? "Actor/Filmmaker/Chihuahua Dad."
In a 2022 appearance on The Kelly Clarkson Show, Manganiello revealed Bubbles is his first-ever pet and told the story of adopting the sweet pup. Manganiello took that opportunity to shine a light on the troubling scene occurring within shelters post-COVID. Manganiello explained that while pet adoptions surged during the pandemic, once lives began to shift back to normalcy, many adopted pets were returned.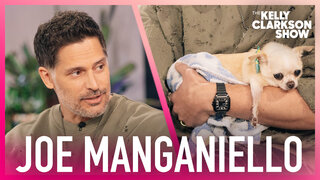 "People out there, if you have the chance, adopt a pet if you can,"  Manganiello encouraged alongside host Kelly Clarkson. "They need homes more than ever now."
Joe Manganiello's Dungeons and Dragons legacy
One of Manganiello's most delightfully unexpected roles is a result of his love for the sensational table-top role-playing game Dungeons & Dragons. Manganiello is an avid fan and has worked as a writer and brand ambassador for the franchise. Manganiello's iconic character Arkhan the Cruel, a dragon-born paladin/barbarian, has become canonized within the D&D universe and appears in several video games and adventure modules.  
Manganiello's love for the RPG has led to several D&D-related appearances, including his guest role in The Big Bang Theory Season 12, Episode 16 ("The D&D Vortex") and guest spots in the adventure podcast Nerd Poker and Critical Role's web series CelebriD&D. In 2018, Manganiello founded the company Death Saves, a fantasy/heavy metal-themed apparel company that offers a diverse selection of D&D-related accessories, clothing, and jewelry. 
Kyle Newman and Joe Manganiello's Dungeons and Dragons Documentary
In 2022, Manganiello revealed he is returning to the director's chair for an untitled Dungeons & Dragons documentary, timed to premiere around the game's 50th anniversary in 2024. The docu-savvy Manganiello will co-direct the project with Kyle Newman. The documentary will shine a light on the dawn of the D&D's creation in the 1970s and follow its trajectory through the decades. 
"I couldn't be more proud and excited to get back behind the camera for another documentary, this time with the D&D dream team of [D&D scholor] Jon [Peterson], Kyle, and my brother and producing partner Nick [Manganiello]," Manganiello told Variety. "I lived through the rise and fall and rise again of this legacy brand that has not only meant so much to me but has served as the fountainhead of creativity for an entire generation of writers, artists, and creative minds, influencing so much of our culture."
Deal or No Deal Island premieres on Monday, Feb. 26 at 9:30 p.m., and the remaining episodes will air on the following Mondays at 10 p.m. Watch the original Deal or No Deal on Peacock.
Originally published Sep 27, 2023.