NBC Insider Exclusive
Create a free profile to get unlimited access to exclusive show news, updates, and more!
Sign Up For Free to View
Is a New Episode of Law & Order: SVU on Tonight? (March 2023)
Find out when new episodes of Law & Order: Special Victims Unit return.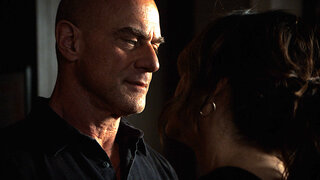 It's been a time of change in Season 24 of Law & Order: Special Victims Unit, which has paved the way for some of the most nail-biting plot lines yet. 
From Captain Olivia Benson's (Mariska Hargitay) ongoing tension with Elliot Stabler (Chris Meloni) to the numerous changes within the squad itself, SVU has been exploring some uncharted territory as the team puts away some of NYC's most horrendous criminals. The episodes have been intense, vulnerable, and unexpected, and SVU fans can't wait to see what happens next.
The last time fans checked in on Benson and the squad, she was starring alongside Bradley Whitford for "The King of the Moon," the seventh episode of SVU Hargitay has directed. After a man found his wife dead in their home, he assumed his dementia drove him to commit murder. But Benson and Carisi could tell the evidence didn't add up and swooped in to set the record straight and put the actual perp behind bars. It was a heartfelt episode where Whitford shined as an SVU guest star. 
SVU fans can't get enough of the action this season, but it looks like they'll need to press pause on new episodes of Season 24. Law & Order: SVU is going on a brief hiatus during the month of March. Learn when and how to watch new episodes of Law & Order: SVU, below.
Is a new episode of Law & Order: SVU on tonight? (March 2023)
Sadly not. Law & Order, Law & Order: SVU, and Law & Order: Organized Crime will be skipping new episodes during the week of March 2nd, March 9th, and March 16th. But fret not: they'll be back soon!
When does Law & Order: SVU Season 24 return?
Law & Order: SVU will continue with new episodes on Thursday, March 23rd at 9/8c and the next day on Peacock for the return on NBC's Law & Order Thursdays. Fans can rewatch all their favorite nail-biting episodes on Peacock during the hiatus! 
On her recent directorial project on SVU, Whitford revealed to People that Hargitay was a delight behind the camera. "Mariska is notorious for her ability to make people feel welcome and create an atmosphere where everybody can do their best. I know a number of actors, including my wife, who did guest spots on that show," Whitford said. "Mariska would pull them aside. She's very loving, very supportive. She's notorious for that—and, unfortunately, unique in that. I want her to direct a lot. She's really good at it."
How do I watch Law & Order: SVU?
As always, watch Law & Order: SVU Thursdays at 9/8c on NBC and the next day on Peacock. Catch up on your favorite SVU episodes ahead of the return of new episodes. 
Want more content like Law & Order? From television's most prolific crime storyteller Dick Wolf, comes a new series Blood & Money. Each episode chronicles true stories of notorious, ripped from the headline murder cases and trials motivated by greed. Watch Blood & Money on CNBC Tuesdays at 10/9c and Saturdays at 9/8c on Oxygen True Crime.