NBC Insider Exclusive
Create a free profile to get unlimited access to exclusive show news, updates, and more!
Sign Up For Free to View
Howie Mandel and His Daughter Jackelyn Shultz Have an Adorable—And Hilarious—Relationship
Howie and Jackelyn are like two peas in a pod.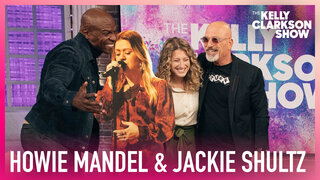 In case you haven't heard: AGT: All-Stars Judge Howie Mandel and his daughter, Jackelyn Shultz, have one of the most endearing father-daughter relationships around. When the funny man isn't sitting on the panel of NBC's hit competition show, he can be found alongside Shultz as they co-Host the heartfelt and hilarious podcast Howie Mandel Does Stuff. And their dynamic is amazing.
In fact, here are five times Mandel and Shultz were the absolute cutest!
1. When Shultz and her daughter, Abbey, tried to prank Mandel with a whoopie cushion.
Shultz posted a hilarious video of her family on a boat, and it came as no surprise that they seized the opportunity to prank Mandel by placing a whoopie cushion under a pillow. Although there were some technical difficulties, watching their family bond is beyond heartwarming. 
2. When they took a deep dive into what inspired them to start their podcast.
In an interview with Access Hollywood, Mandel opened up about how talking on the phone with Shultz for hours during the pandemic started their podcast journey, which offers fans an intimate look inside their extra special bond.
"[The podcast] came out of the fact that during the pandemic, we couldn't see each other—we would spend hours on the phone together, me and Jackie—and we'd be making prank calls, and we would be just laughing, and being inappropriate, and pranking her mom, just having fun," said Mandel. "My wife would walk in and go, 'Who is this for, what is this even for?' And I'd go, 'We're just having fun.'"
Before long, Mandel and Shultz began recording their conversations, which evolved into the weekly podcast.
3. Let's not forget this adorable trio performance of Sia's "Chandelier."
Nothing brings a family together like singing! Exhibit A: this Instagram post of them singing a Sia bop, complete with an endearing twist courtesy of Abbey.
4. Shultz also used a bald filter to try on her dad's hairless look. 
"The apple didn't fall far from the tree," she captioned the IG video of herself bald. Mandel's annoyance at the end was all in good fun—but let's face it...few people know how to get under our skin like family!
5. TikTok dancing was also on the menu.
The comedian and his daughter took to social media once more and gifted fans with a post depicting themselves attempting a TikTok dance, which will definitely make you chuckle.
Talk about a dream team!
Tune in to Howie Mandel Does Stuff for more fun content from these two.
And watch Mandel on AGT: All-Stars Mondays at 8/7c on NBC and next day on Peacock.