NBC Insider Exclusive
Create a free profile to get unlimited access to exclusive show news, updates, and more!
Sign Up For Free to View
Everything to Know About Night Court's Incredible New Cast on NBC
The new, hilarious characters in NBC's revival series have been revealed.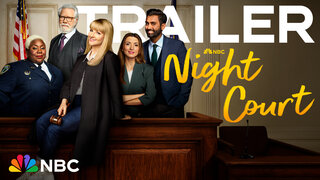 Night Court is making a revival on NBC. The hit comedy series, which ran for nine seasons from 1984-1992, won 31 Emmys and told the tale of the hilarious practices of Judge Harry T. Stone at the Manhattan Municipal Court. The new version is a follow-up on the original story, with Judge Stone's daughter Abby Stone taking over his position and tackling some wacky cases. Here's everything you need to know about the whimsical new characters and the talented actors who play them.
Melissa Rauch as Abby Stone
Abby is an optimist who always sees the best in people and has a passion for justice. She faces the daunting task of taking over her father's job of overseeing the night shift of a Manhattan arraignment court. She's determined to bring dignity to the court amidst its crew of oddballs. 
You likely know Melissa Rauch as Bernadette from The Big Bang Theory.
John Larroquette as Dan Fielding 
A former night court district attorney, Dan is appointed to serve as the court's new public defender
Larroquette will be reprising the role from the original Night Court series.
India de Beaufort as Olivia 
The court's assistant district attorney, Olivia is highly-driven, ambitious, and assertive. She sees the night court as a first entry into bigger professional opportunities in life.
India de Beaufort has also played Layla Roslyn in Chicago P.D., Miranda in One Tree Hill, Radha in Younger, and Brie Ramachandran in Veep.
Kapil Talwalkar as Neil
Neil is the court's detail-oriented clerk who must now face new challenges with Judge Abby.
Kapil Talwalkar played Dev in the 2022 version of Charmed.
Lacretta as Donna "Gurgs" Gurganous 
The court's bailiff, Donna is described as sharp-witted and protective, who also cares deeply about her colleagues. According to Deadline, Donna has a big heart yet a short fuse. 
Lacretta has had roles on Law & Order, 30 Rock, and Broad City.
Night Court airs Tuesdays at 8/7c on NBC. Episodes will then be available for streaming next day on Peacock.