NBC Insider Exclusive
Create a free profile to get unlimited access to exclusive show news, updates, and more!
Sign Up For Free to View
Dustin Tavella's Favorite America's Got Talent Moment Will Surprise You
It involved his wife and adorable kids.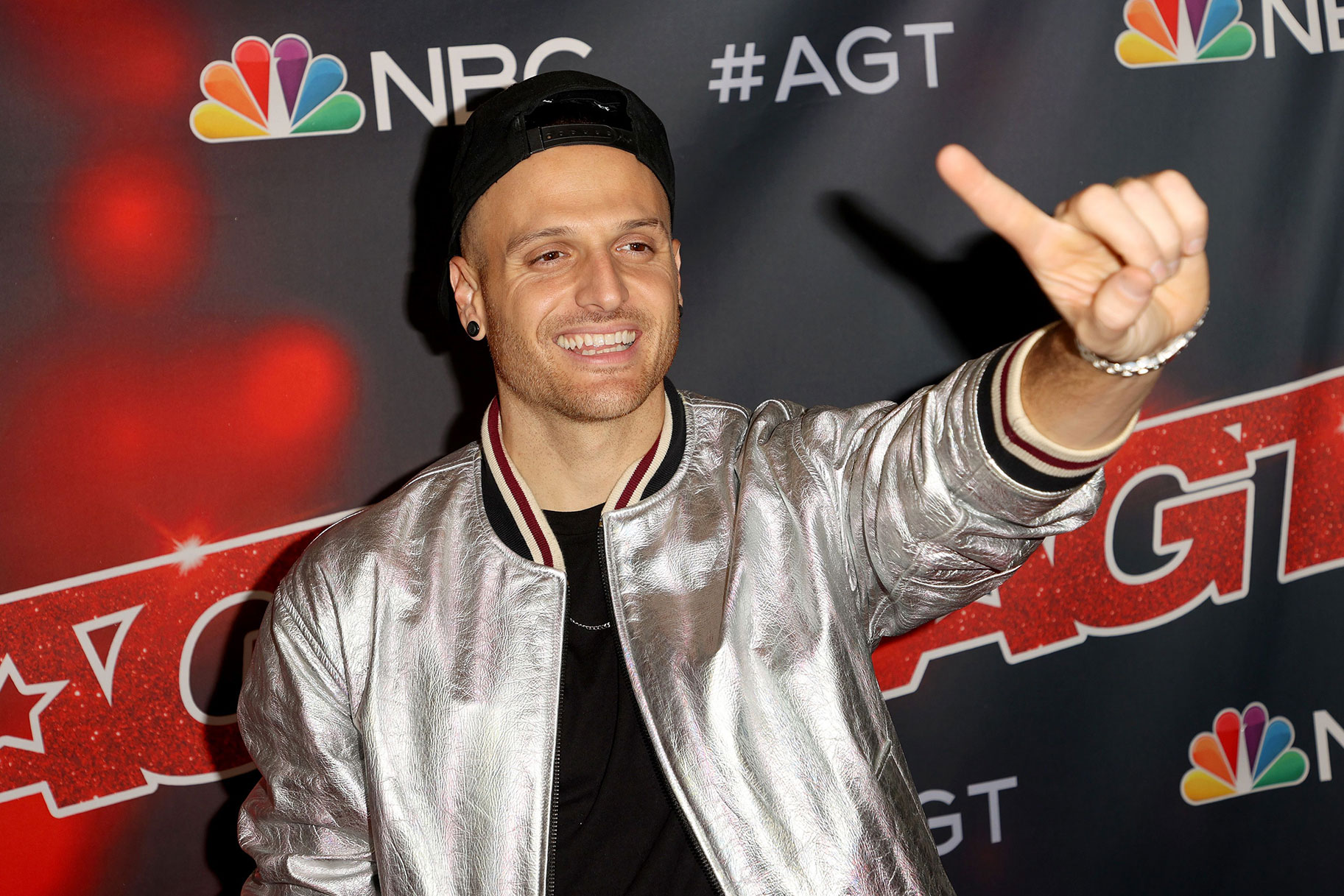 It's been nearly a year since Dustin Tavella, AGT magician extraordinaire, auditioned for Season 16 of the show. He'd go on to win the competition, naturally, and it's safe to say his life has significantly changed since. 
He won the hearts of the Judges and America with emotional storytelling weaved into his performances. His unbelievable card tricks and illusions always came with an inspirational tale, like adopting his sons Xander and Silas, or the love he has for his wife, Kari. It's this unique perspective that earned him the $1 million grand prize, but fans may be surprised to know Tavella nearly quit magic altogether. 
He first fell in love with the art when he was 9 years old and his grandparents would take him to magic shows in Atlantic City. Soon, his uncle got him his first magic trick, and he was performing as a clown at birthday parties and grand opening events. But Tavella tells NBC Insider that a few years in, he became embarrassed of his talent and quit to pursue music. In 2018, though, he decided to return to his first passion.
"There's something about magic that's so amazing: The connection that it creates with people. The ability to take someone back to that place of when they were a child," Tavella tells NBC Insider. "It kind of helps people just tear those walls down and remember what it is to connect with a human being. So when I kind of rediscovered magic, I fell in love with it all over again."
Now, Tavella is a headliner at the America's Got Talent live show at the Luxor Hotel in Las Vegas. We caught up with him to talk life since AGT, creating his performances, and advice for aspiring magicians.
What have you been up to since winning the show?
The first month or two was a crazy whirlwind of all kinds of changes. Smack dab in the middle of the AGT season, we adopted Xander's older brother, as well. So once I won, we now had to go back to figure out what normal life looks like with two children. And my lease was up the night that I won America's Got Talent. So we always joke that we won America's Got Talent and became homeless on the same night. But my parents were gracious enough to let us stay with them for a bit.
We brought the boys to Pennsylvania, went to get our stuff from Virginia Beach, went back to Pennsylvania with our stuff, shipped it out to Vegas, and then made the move. And all in the meantime, I had to start coming up with an act for the Vegas show. So the first couple months were absolutely insane, but in the most adventurous and fun kind of way.
What's it like being in the Vegas show?
Literally every night we're performing for thousands of people from all over the world. One of my favorite things afterwards is just going out and getting pictures with people. People really, really love America's Got Talent. And I think that going out there and meeting all of them is one of the coolest things because it just keeps it so human. We're performing every night, but every night feels so new. 
What motivated you to include your personal life stories into your performances?
I have always loved being able to be a part of other people's journeys and encouraging, helping them, and trying to help people reach their full potential.
Our family was just kind of broken and falling apart when I was younger, and we had some really amazing people step into our lives and completely transform our family. I just always wanted to be that for other people. It's been really cool because I've gotten to take the things that I love, performance-wise, and attach that to my main mission in life, which is really to try and help bring people hope and remind them of their purpose.
Do you have a favorite AGT moment from your time on the show?
It was during my second performance and the first of the live shows during the Quarterfinals. We brought the boys out on stage, and it was super, super fun. But it was also incredibly stressful. There was millions of dollars of equipment backstage, and the boys were running around trying to grab everything and unplug everything.
Finally, it came time to bring them onto the stage. And right before they came out, Silas pooped his pants. So Kari rolled them out on the stage in their stroller. I went over, and I was like, "What is this crazy smell?" Obviously I couldn't say anything. And then later Kari told me that Silas decided to poop his pants right before she brought him on national television. In front of millions of people. They're gonna be kids no matter what.
For all those AGT super-fans, is there something about the show that you think would surprise them, or maybe even surprised you?
Just being able to be there backstage to see how the actual production itself works. This is one of the greatest teams on the planet. If you think about AGT, it's dog Acts and it's fire and it's singers and it's magicians and it's escape artists. It's literally every kind of thing you could imagine. To see these guys backstage like an army getting stuff on and off the stage, it was so incredibly fun to watch.
As a contestant, watching these guys challenged me to do things with excellence. At the same time, the stress of trying to measure up to that really raised the bar. It stressed me more than what I probably would have expected.
Would you ever return to the AGT stage?
I feel like AGT has just done so much for me, and so any chance I get to be a part of something they're doing or to perform and work with them again? That would be absolutely amazing.
What would you say to the fans who watch your AGT performances over and over again, who just want to know how you do what you do?
My encouragement to anyone is don't try and be a lone wolf. Involve people in your process. One of the greatest things that I got to do was work alongside other magicians. 
At the end of the day, I don't have powers. I'm not doing anything actually magical. I think the most magical part of all of this was the ability to sit with super creative people and just be like, "Here's the dream. What are we gonna do to make it appear as if these impossible things are happening?"
America's Got Talent Season 17 premieres Tuesday, May 31 at 8 p.m. ET on NBC.