NBC Insider Exclusive
Create a free profile to get unlimited access to exclusive show news, updates, and more!
Sign Up For Free to View
How You Can Audition for America's Got Talent Now, a Comprehensive Guide
If you think you have what it takes to perform on the AGT stage, now is your time.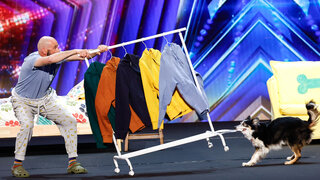 "This moment could change your life."
Those are Simon Cowell's signature words, declared just before an America's Got Talent Act wears their heart on their sleeve for the country and auditions for the chance at that $1 million grand prize.
AGT auditions is an Act's make or break, bringing them one step closer to a coveted spot at the show's Superstars Live residency at the Luxor. It's the opportunity to have an unforgettable Golden Buzzer moment like Kodi Lee, or maybe even go viral like Sacred Riana. There's also the chance you could make Cowell (and the rest of the Judges and Host Terry Crews) cry with joy or laughter. 
So if you've watched from you couch or the live studio audience, but have long dreamed of stepping on that stage yourself, now is your time to shine. Auditions for AGT are officially open, and NBC Insider will fill you in on everything to know about the process, including special tips from those who know best: AGT winners.
RELATED: Simon Cowell Poses for Rare BTS Selfie with All the AGT: Fantasy League Judges
"I would say for anyone who's wanting to be on the show, expect to be stretched and pushed to your max potential," Season 16 champion Dustin Tavella told NBC Insider. "I always tell people to go on, have a blast, and be yourself. Just be ready to learn and soak up as much as you can. Because this is an experience that you're never 'gonna forget."
How to audition for AGT
The first step? Go to americasgottalentauditions.com, which is the official and only place to submit your auditions for AGT. Once there you must create a new Performer Profile, even if you completed one for a previous season. 
You can currently upload your video audition for 2024's Season 19. If you're under the age of 18, a parent or guardian must submit an audition on your behalf. There will be four virtual audition days for Season 19, which will take place on the following dates: 
October 26
November 16
December 10
January 20
You can also sign-up for Audition Alerts on the AGT Auditions website. They will keep you up to date on when any additional virtual open calls are scheduled.
How your audition gets on NBC's broadcast
Video and virtual auditions come before Acts perform before the Judges, which are the episodes we see aired during the earliest weeks of new seasons over the summer. So getting past production is the first step before you can see yourself on NBC.
The network's manager of unscripted formats, Theresa Graham, gave NBC Insider a bit of behind-the-scenes info about the process.
"We have open call auditions virtually to reach as many people as possible," she said. "Anybody can sign up and have an audition with our casting team and producers. If they think that somebody is worth considering, they put them through to our executive producers. After they say yes, then the Act will go to audition in front of the Judges. We all see everything play out from there."
What are producers and the Judges looking for?
While there's no denying many of the Acts we've seen audition since Season 1 have an certain ineffable "It" factor, Graham admits the series never has anything specific in mind when viewing auditions. They just want to see, well, to put it simply... talent!
RELATED: Inside the Exhilarating — and Totally Free — AGT Live Shows
"Because it's a variety show, they want to make sure they're finding the best singers, dancers, contortionists, and more. Anybody with any talent can audition," she said. "We want the best of the best, no matter what the talent is and no matter who they are. So we encourage everybody with any talent to audition, and if it's something that we love, something that we think America will love, we will put them in front of the Judges. We just want to really represent America and the great and diverse talent that we have out there." 
Once you've gotten past production and made it in-front of the Judges, master magician and Season 13 winner Shin Lim has some valuable, simple advice when it comes to being on national television: Be prepared.
"The worst thing you can do, especially if you're broadcasting your talent to the world, is to not be prepared," Lim told NBC Insider. "When you're not prepared, then other factors come in that mess you up. There's music, there's timing. 'Get the right shot for this camera angle,' or, 'Look at this camera, at that angle,' so they can show you well. If you're not prepared with your own Act, you can't focus on the little things, which really do matter for TV."
He continued, "That can be distracting if you're not comfortable with that. You're like, 'Oh I've got to stand here at this moment. I forgot about that.' It seems like a really minor thing, but it actually ends up being really important."
How to get a Golden Buzzer
Again, there's no exact science to receiving AGT's greatest honor. It's all up to the Judge's feelings in that moment. Graham even confesses that production is often surprised by their choices.
"Sometimes they just love something that we never would've expected them to. Other times, they're listening to the audience and they notice that someone really moves them, and so they'll go for that," she says. "There are a lot of contestants who have something special. When they're auditioning, you can just feel it in the room. But we never know, 'This is a guaranteed Golden Buzzer,' because none of it is produced. It's all organic. So it really is down to the Judges and who they love."