NBC Insider Exclusive
Create a free profile to get unlimited access to exclusive show news, updates, and more!
Sign Up For Free to View
Marlyne Barrett Shares Heartfelt Goodbye to Chicago Med's "Big Red," Nick Gehlfuss
The Chicago Med fan favorite will be missed by his cast mates and Chi-Hards everywhere.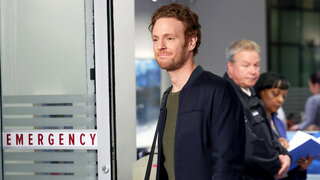 Chicago Med was forever changed after longtime fan favorite Dr. Will Halstead (Nick Gehlfuss) turned in his resignation papers in the Season 8 finale. The One Chicago family is a tight-knit crew, so you can bet Gehlfuss' co-stars will miss him dearly.
One such co-star is Marlyne Barrett, who plays the tenacious ED charge nurse Maggie Lockwood. On May 31, Barrett took to Instagram to share a BTS photo of herself and Gehfluss in costume as Maggie and Halstead. It's a heartwarming picture of the pair catching up between on-camera moments, of which Halstead and Maggie had many. 
Barrett captioned the sweet IG post, "It wasn't an easy goodbye… Big Red.. you will be missed. #chicagomed #Repost @nbconechicago." See the photo here. 
Halstead made the heartbreaking decision to leave Chicago Med after he spearheaded a sabotage scheme to unveil Jack Dayton's (Sasha Roiz) corrupt corporate interests. The maneuver ended up working; Dayton is selling the hospital. But that said, someone had to pay the price, so Halstead took it upon himself to take the fall. Halstead assumed blame and resigned to keep everything by the books. 
"I'm sorry I have to say goodbye," Halstead told his Med family in the Season 8 finale. "This is not easy. You've been my family for so many years, and I'll never forget you. You'll always be a part of me, and I'll always be grateful for the time we had together."
The silver lining of this bittersweet Chicago Med departure is that Halstead made his way to Seattle to formally reconnect with his ex-fiancée, Dr. Natalie Manning (Torrey DeVitto). After years of assuming Halstead and Natalie's will-they-won't-they relationship was firmly in the "won't" territory, Natalie and Will got the second chance at a romance they always deserved.
"It was a difficult decision, but ultimately, I felt I'd taken Dr. Halstead as far as I can go with him," Gehlfuss told Variety. "I think that comes down to a creative part of you, or the energy or spirit you have that you're either built for a very long time with one person or not. I am attracted to the profession for the variety in it, and eight years is a long time. It's two college degrees! I'm joking now that I basically have a doctorate in television..."
Gehlfuss reveals that Halstead's ending with Natalie was the perfect way to finish off his captivating and complete story. 
"It was a beautiful moment, and one that I hope brings some closure to the fans," Gehlfuss explained. "Because this relationship has come full circle for Will and Natalie. I think Will was seeking elements of Natalie in every relationship that followed their breakup. He never really got over her."