NBC Insider Exclusive
Create a free profile to get unlimited access to exclusive show news, updates, and more!
Sign Up For Free to View
How Sandra Mae Frank Relates to Wilder's 'Boldness' on New Amsterdam
The New Amsterdam actress opens up about playing the confident oncologist.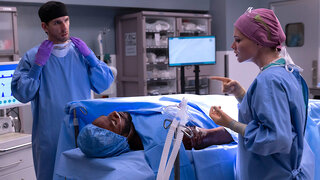 While New Amsterdam fans met Elizabeth Wilder (Sandra Mae Frank) during Season 4 as she took on Fuentes and lead the Resistance, Frank has since been upped to a series regular. That means we're seeing a lot more of the oncologist in Season 5.
Wilder is a character you can't help but instantly like. She's passionate, strong-willed, and loves her job—all traits that make her a perfect fit at New Amsterdam. Not to mention her friendship with Max Goodwin (Ryan Eggold) seems a little more than platonic these days. But as we keep an eye on their (possible) romance, we can't help but want to know more about Frank. Below, everything we know about the actress, and what exactly she has in common with her on-screen counterpart.
Sandra Mae Frank has a few things in common with Wilder.
Frank, who is also Deaf like Wilder, told the Emmys that she sees much of herself in the physician.
"She is used to breaking boundaries, breaking through," the actress said. "In so many ways, she's the type of character I would want to be. Her boldness, her ability to navigate through the world as a Deaf person, a queer person. There are a lot of parallels between me and my character."
Related: Are Max and Wilder Just Friends on New Amsterdam—Or Is There Something More?
She also told The New York Post, "What we have in common is that I went to a mainstream school with hearing students, I'm a Deaf person in a hearing industry… and my parents are hearing and they do sign and would move mountains for me, so in that episode with her brother [Adam, played by Garrett Young], where she's talking about their parents … it was not exactly the same experience but a little bit about how my family was there for me."
Frank was almost a teacher.
Though she participated in theater in high school, Frank went to Galludet University intending to major in teaching. However, when she continued acting in her free time, a professor realized her talent and convinced her to major in theater. The Louisville, KY native ended up graduating with a major in both subjects.
In the years since Frank starred in L.A.'s Deaf West Theatre's revival of Spring Awakening (which eventually moved to Broadway), Zoey's Extraordinary Playlist, Switched at Birth, and more. Most recently, she even switched gears and performed the national anthem and "America the Beautiful" at the 2022 Super Bowl.
She has an interpreter on the New Amsterdam set.
The star opened up to the New York Post about navigating the New Amsterdam set with her interpreter, Chris Matthews. (Actor Conner Marx plays Wilder's interpreter, Ben, on the drama.) 
"I would be lost without him interpreting—not just for me but for the hearing actors and the crew," she said. "My character, Dr. Wilder, is lip-reading, but I'm not… I have the script and Dr. Wilder also has Ben."
Frank continued, "We have a DASL—Director of Artistic Sign Language—her name is Jackie Roth and she is a phenomenal Deaf woman… who is responsible for making sure the English script is translated into ASL [American Sign Language] accurately. She works with me and gives me notes on my signing choices and works with me supporting my translation."
Eggold also opened up to NBC Insider about learning ASL and working with Frank.
"Sandra's amazing. She's super smart, very empathetic, very kind, very funny, very sarcastic, and we have a great time," he says. "Learning ASL, for me—and I, of course, am by no means fluent—I've learned a very small handful is like learning any new language... To have a hearing and non-hearing actor communicate is a really interesting experience I think for both Sandra and I. Sandra teaches me things about Deaf culture all the time...there's really a lot to learn."
Watch New Amsterdam on NBC Tuesdays at 10/9c and next day on Peacock.