NBC Insider Exclusive
Create a free profile to get unlimited access to exclusive show news, updates, and more!
Sign Up For Free to View
Breaking Down Rebecca's Emotional Farewell on This Is Us
What fans have been preparing themselves for finally happened in Season 6, Episode 17.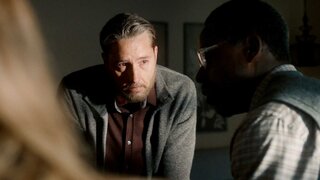 This Is Us Season 6, Episode 17 was a doozy. This was the episode that made Mandy Moore (Rebecca) throw up after reading it. It was the episode that made Chrissy Metz call show creator Dan Fogelman and ask for an Advil. Moore advised fans they would maybe need a day off from work after watching it. Simply put, viewers were adequately warned that Season 6, Episode 17 of This Is Us —the penultimate episode — was heart-wrenching. And it was. 
The event viewers have been mentally preparing for — Rebecca's death — happened, and in true This Is Us fashion, it was handled with nuance and care. The episode starts with the extended Pearson family gathering at the new house Kevin (Justin Hartley) built for Rebecca. Her Alzheimer's has taken a turn, and the family knows it's time to say goodbye. But Kate (Metz) is in London, and as she boards a plane to travel home, Randall (Sterling K. Brown) and Kevin tell her she may not make it back in time to say goodbye to their mother.
As this is happening in real time, we're transported into Rebecca's psyche as she nears death. For her, this experience manifests itself on a train. Rebecca is young again — in her late 20s, perhaps — and William (Ron Cephas Jones) is the conductor taking her from car to car on the train. The passengers are people from Rebecca's past — including her father — and also different iterations of Rebecca throughout her life. As the real-life Pearsons come into IRL Rebecca's room to say goodbye to her, they appear on the train. 
The first is Beth (Susan Kelechi Watson), who tearfully tells Rebecca she will help Randall "the rest of the way" and confesses that as a mother, she's only been trying to do her best impression of Rebecca. Toby (Chris Sullivan) also says his goodbyes and thanks Rebecca for always seeing the best in him, even as his and Kate's marriage fell apart. 
Meanwhile, on the train, Rebecca stops by the bar car ran by Dr. Katowsky (Gerald McRaney), who delivered the Big Three all those years ago. He tells Rebecca he was certain he was going to lose her during her birth, but she persevered — and continued to persevere throughout her life, even after losing a child and a husband. He tells her she's earned a rest after creating a "big, messy, spectacular" life for herself and her children. 
Rebecca also sees Miguel (Jon Huertas) on the train, and he reveals that after decades, she's still his favorite person. But the emotional sucker-punch doesn't come until the end. She's arrived at the train's caboose but insists she can't go in because she's waiting for someone. That someone is Kate, who in real life bursts into Rebecca's room to say goodbye before Rebecca passes away. On the train, this takes shape in Rebecca hearing Kate's voice on an overhead speaker. With this, she opens the door to the caboose, and inside is a very comfortable bed. She lays down, and next to her is...Jack (Milo Ventimiglia). Yes, they finally reunited, and now they're resting together. Forever. 
Where to watch This Is Us 
Watch every episode of This Is Us on NBC.com. Also: Relive some of the show's best moments here on NBC's This Is Us: The Final Chapter digital experience.