NBC Insider Exclusive
Create a free profile to get unlimited access to exclusive show news, updates, and more!
Sign Up For Free to View
A Guide to Sophie's Storyline on This Is Us
With Sophie's recent appearance on Season 6, Episode 13, we're looking back at all she's been through since the first season.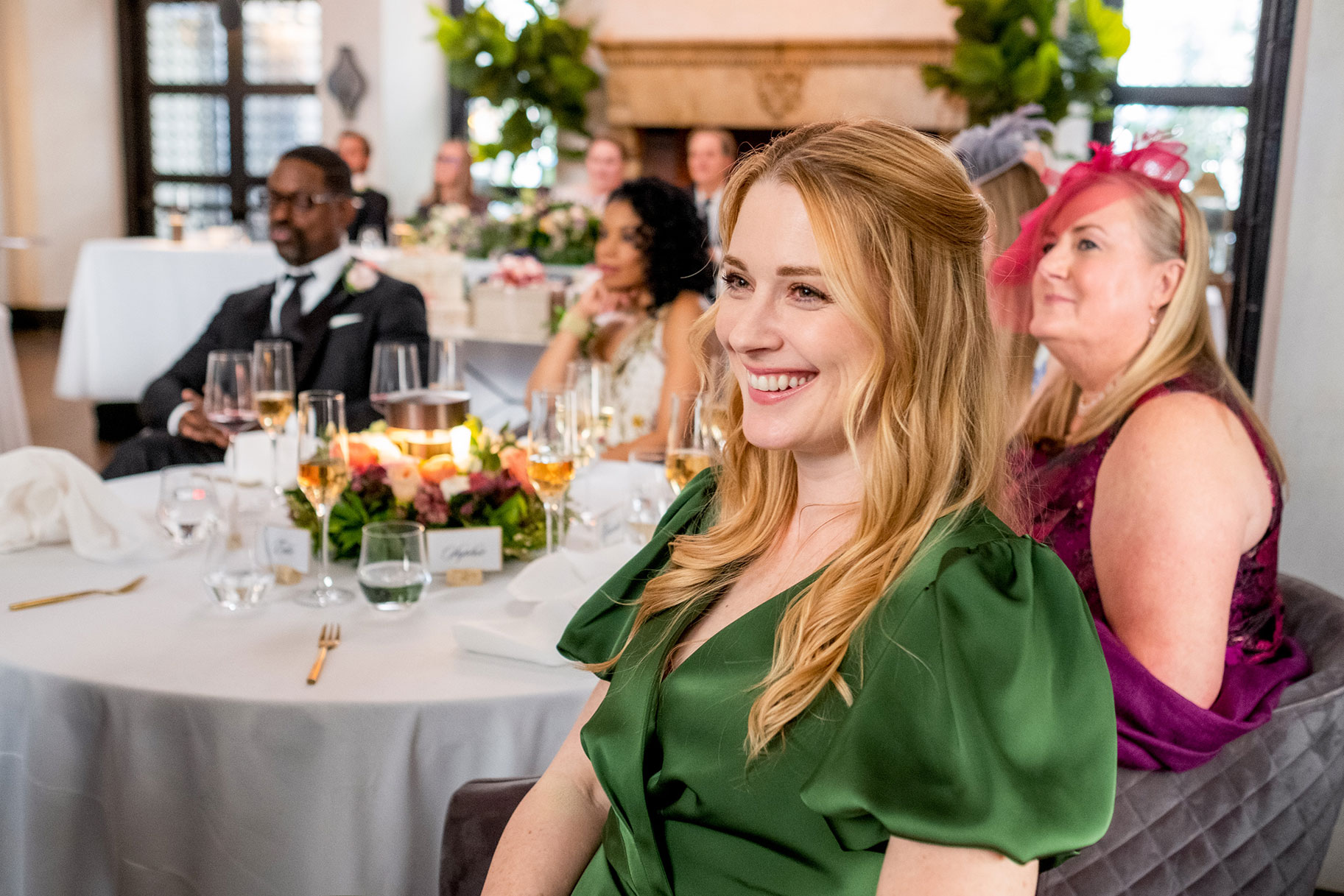 Kevin (Justin Hartley) and Sophie's (Alexandra Breckenridge) backstory on This Is Us is epic. Their romance started young, and they've endured various bumps along the way: divorce, grief, a rekindled relationship that ended in heartbreak, and even engagements to other people. 
But are they endgame? Sophie's recent appearance on Season 6, Episode 13, titled "Day of the Wedding" has fans' minds spinning with possibilities. She's one of the three women who might've spent the night with Kevin in his hotel room—and that person may be Kevin's true love.
"I'd say that the end of 613 certainly sets up a mystery that will be answered sooner than later," This Is Us writer Jon Dorsey told Deadline. "It's safe to assume the person revealed at the end of this mystery will be Kevin Pearson's true love and that his romantic journey will have concluded. All three suitors presented in 613 are certainly viable options."
So, could she be the wife at the cabin from the Season 5 flash-forward? We honestly have no idea—yet. But in the meantime, we're taking a look back at Sophie's extensive storyline on This Is Us.
Sophie on This Is Us Season 1
We see Sophie and Kevin's love story begin as young children. Sophie is Kate's best friend, but Kevin knows (at 10 years old) that he's in love with her. The feeling is mutual, and the two date throughout their teens, eventually getting married extremely young despite Kevin being in acting school in L.A. and Sophie going to college in New York. 
The two eventually divorce after Kevin cheats on her. But 12 years later, we see Kevin ask for another chance at their relationship. And though initially hesitant, Sophie accepts and the two are together through the rest of the season.
Sophie on This Is Us Season 2
The second season was a rough one for Sophie. She struggled to make her and Kevin's relationship work as he sunk deeper into his addiction, and their second chance at love ended on an extremely sour note. Fearful of what their future will bring, Kevin tells her in Season 2, Episode 6, "When I dream of our future together, Sophie, it's a nightmare for me." It's safe to say that after that proclamation, their romance was effectively done.
Sophie on This Is Us Season 3
Kevin is now attending couple's therapy with his new girlfriend, Zoe (Melanie Liburd), where it's discovered that he wants kids but she does not. While attempting to work through this hurdle, he finds himself reaching out to Sophie in Season 3, Episode 16. This is when we learn that Sophie is now engaged—which is news Kevin takes surprisingly well. He even gifts the new couple Billy Joel tickets. But in the same episode, we see Sophie and Kevin's first kiss in a flashback. 
Sophie on This Is Us Season 4
Sophie makes another appearance in Season 4, Episode 12, "A Hell of a Week." She calls Kevin and tells him that her mother, Claire, has died. Kevin shows up to the funeral as a source of support for Sophie, and in flashbacks we learn just how close Kevin was to Claire. Present day Sophie is frustrated to see how well her ex knew her mother  compared to her fiancé. These feelings, combined with grief and nostalgia, result in a near kiss between Kevin and Sophie. But ultimately, nothing happens. Their connection is clearly obvious, but instead, hours later, Kevin hooks up with Madison (Caitlin Thompson). (We all know what happened after that.) 
Sophie on This Is Us Season 5
Sophie's Season 5 appearance was brief, but it made an impact. In the episode titled "Jerry 2.0," Sophie calls Kevin moments before he enters his bachelor party. (He and Madison are days away from getting married). Sophie tells him that she's changed her number for an unknown reason and says she's happy for Kevin and his new family. He ends the call by saying they should catch up with one another, but we see him delete her number later that night. It's a small gesture but showed fans that there were clearly still strong feelings between the two.
Sophie on This Is Us Season 6
So far, there hasn't been much Sophie this season. But in "Our Little Island Girl: Part 2," in a series of flashbacks, we see a young Sophie learn that Kevin cheated on her. Heartbroken, she confronts Kate, who knew about the infidelity. In the present day, Kate texts Sophie to apologize for the betrayal. The next time we see Sophie is in Episode 13's "Day of the Wedding," where it's clear she's part of a mysterious Kevin love quadrangle. 
This Is Us airs Tuesdays at 9 p.m. ET on NBC.