NBC Insider Exclusive
Create a free profile to get unlimited access to exclusive show news, updates, and more!
Sign Up For Free to View
Could the This Is Us Wedding Singer Be Kevin's True Love?
We were introduced to the mysterious Arielle in Season 6, Episode 13.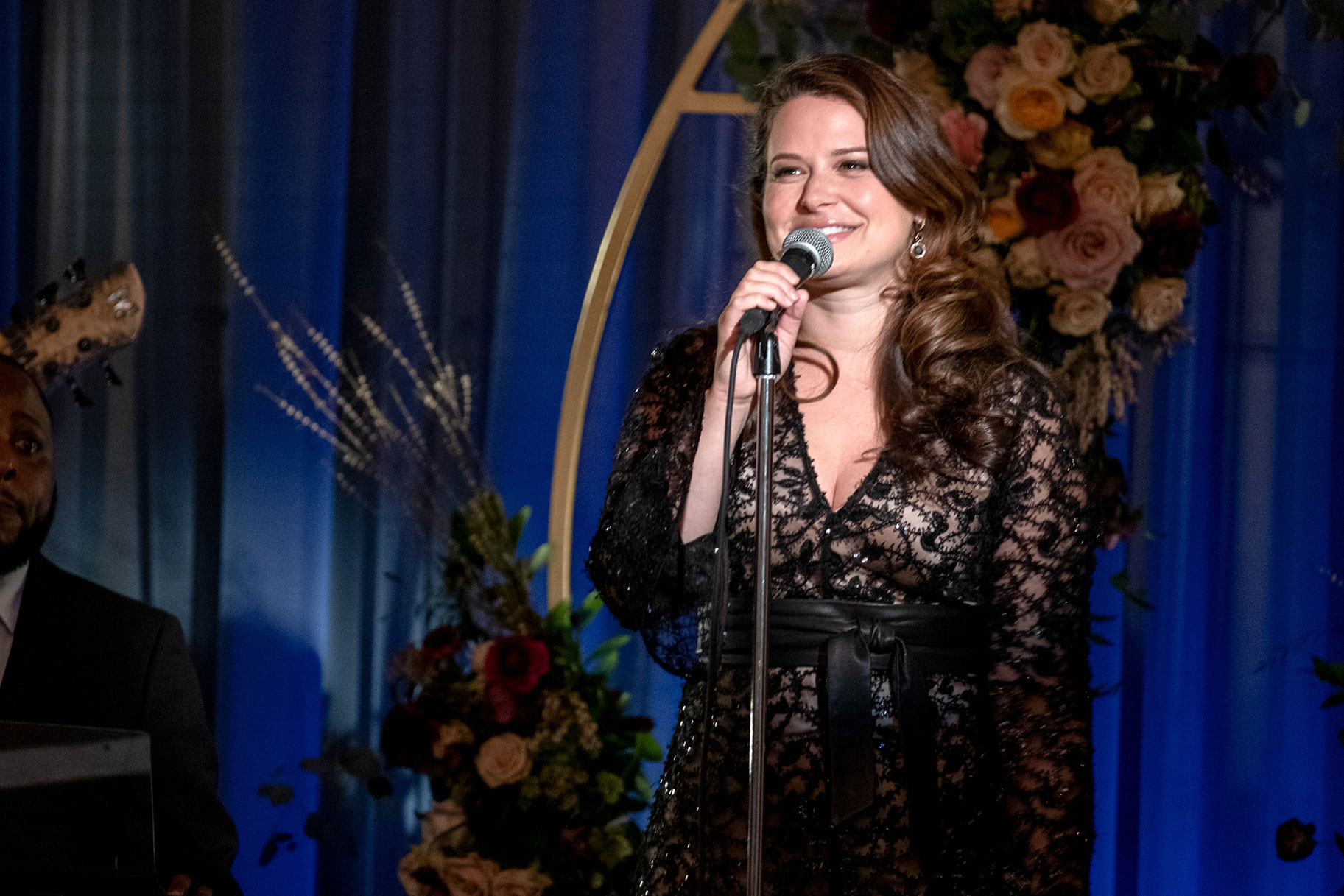 There was love in the air during This Is Us Season 6, Episode 13—and we're not just talking about for newlyweds Kate (Chrissy Metz) and Phillip (Chris Geere). Though it was the couple's wedding day, Kevin's (Justin Hartley) love life took center stage. After finding a bra in his hotel room, Beth (Susan Kelechi Watson) and Madison (Caitlin Thompson) were determined to figure out who the latest lady was to catch the attention of The Manny himself.
The two put their detective skills to the test, determining that it had to be one of these three women: his ex-wife Sophie (Alexandra Breckenridge), his friend Cassidy (Jennifer Morrison), or the wedding singer. Viewers are familiar with the first two, but the third is a mystery.
The episode, titled "Day of the Wedding," is the first time we meet the wedding singer, so it's difficult to size up her and Kevin's connection. But the final moments of the episode suggested there may have been something between the two. Spoiler alert, Season 6, Episode 14, "The Night Before the Wedding" revealed that the wedding singer was just a small obstacle in Kevin's very long road to his true love: Sophie. 
But since she still played a part in this fated romance, it's worth taking a look at how exactly the wedding singer found herself in a very brief Kevin Pearson quadrangle.
Who is the wedding singer on This Is Us?
First, her name is Arielle, and Madison casually describes her as "Phillip's friend" who's performing at the wedding. Beth then says she spotted Arielle and Kevin together talking the night before. 
At the very end of the episode, Arielle pulls Kevin aside during the reception to chat. However, all we hear from the exchange is, "About last night...," before the two walk away. That was enough for Beth and Madison to come to their own conclusion: "It's always the wedding singer."
We see more of Arielle in Season 6, Episode 14 when she briefly flirts with Kevin as she attempts to ward off unwanted advances from a fellow wedding guest. Later it's revealed she was responsible for the mysterious napkin love note left in Kevin's hotel room. She gave it to him the night before the wedding, and the two clearly had chemistry, but Kevin didn't take their connection much further beyond a brief conversation at the bar.
Who is the actress portraying the wedding singer on This Is Us?
Arielle looks familiar for a reason. She's played by Katie Lowes. You most likely recognize her from her breakout role as Scandal's Quinn Perkins, but Lowes also starred in Netflix's Inventing Anna and the CBS sitcom, How We Roll.
"Whaaaaaat?! Check out @nbcthisisus tonight!" Lowes wrote on Instagram before Episode 13 aired. "Part 1 of an amazing 2 part episode…I'm thrilled to be a part of it. There will be SINGING."
This Is Us airs Tuesdays at 9 p.m. ET on NBC. Catch up now on NBC.com.