NBC Insider Exclusive
Create a free profile to get unlimited access to exclusive show news, updates, and more!
Sign Up For Free to View
Alexandra Breckenridge Reveals the 'Pivotal' Moment Sophie Realized Kevin Was Her Person
"These two people really became who they are on their own and were able to find each other as their whole selves," she tells NBC Insider.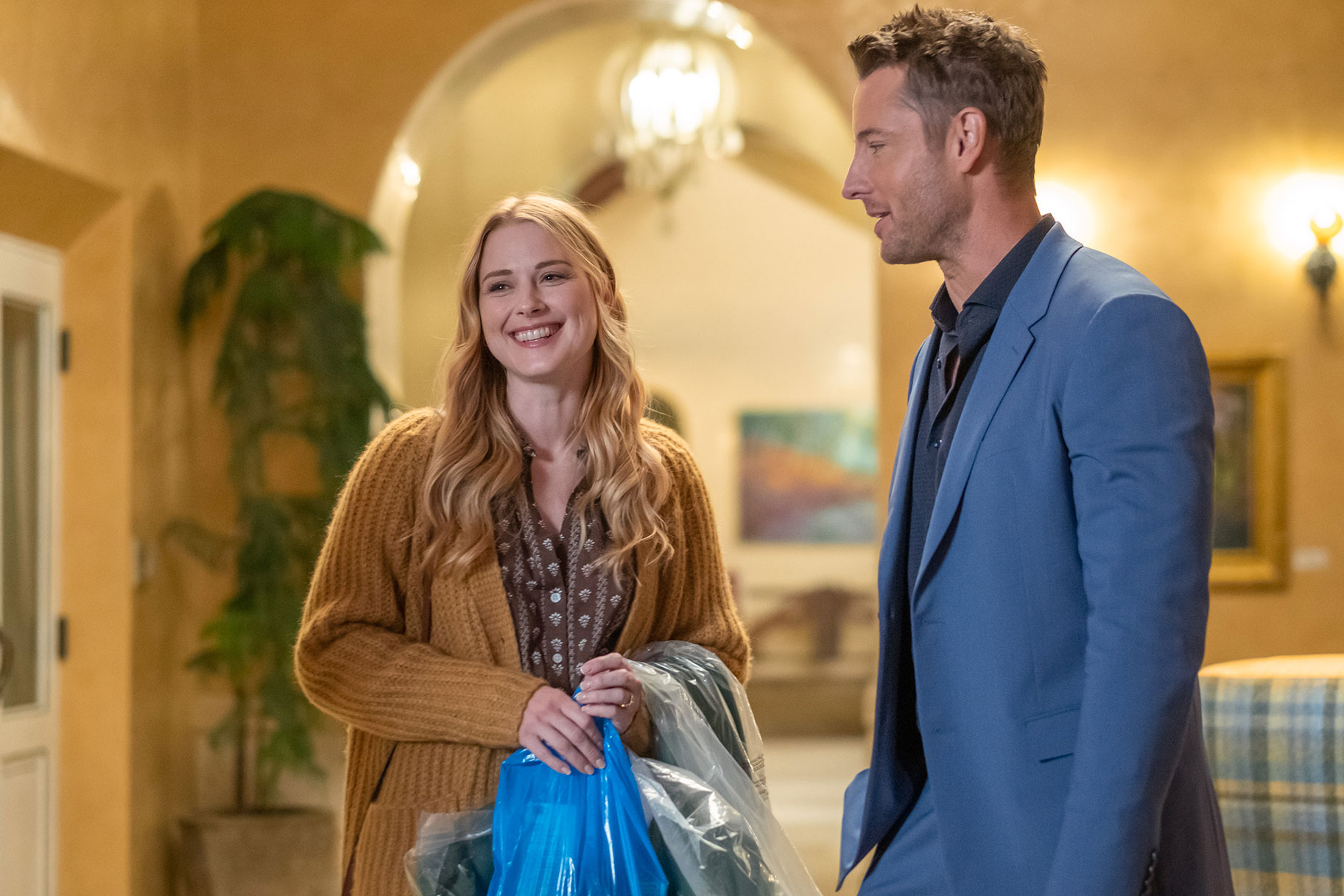 After six seasons worth of ups and downs, This Is Us finally answered a question that's been on all our minds: Who does Kevin (Justin Hartley) end up with? Spoiler alert: it's not the wedding singer.
After the mystery of the unclaimed bra, love note, and shawl was solved, Season 6, Episode 14's "The Night Before the Wedding" revealed that Kevin's endgame is—and always was—Sophie (Alexandra Breckenridge). Kate (Chrissy Metz) and Phillip's (Chris Geere) wedding turned out to be the perfect setting for the exes to embrace their third try at love.
However, knowing This Is Us, we can't help but be skeptical. Is this really Kevin and Sophie's happy ending once and for all? Luckily, Breckenridge offered a bit of logic to keep us at ease.
"I would say there's really not a lot of time for him to end up in another relationship," the actress tells NBC Insider. "I mean, there are only four more episodes left."
And in an interview with Entertainment Weekly, series story editor Danielle Bauman also assured any doubtful fans that Kevin and Sophie are endgame. "I think we can rest easy," she said.
Breckenridge tells us Sophie was always meant to be "The One" for Kevin. Since Season 1 we've seen the pair struggle through Kevin's addiction, grief, and even other relationships, but they were always intended to come back together stronger in the end.
"I knew that the writers, producers, and [showrunner] Dan Fogelman always wanted them to end up together. It was just about really doing the characters justice, really letting Kevin find himself," she says. "It did take a long time for him. Even up until the rehearsal dinner he's just dating these women that he has no business dating, which is pretty obvious. So I found it really validating that at the end of all of that, these two people really became who they are on their own and were able to find each other as their whole selves."
A scene at the end of Episode 14 shows present-day Rebecca, who's suffering from Alzheimer's, talking to Sophie but believing she's 20 years younger and newly-divorced from Kevin. The Pearson matriarch tells Sophie that she and Kevin just need to get their timing right, and they'll eventually work out. Breckenridge says it was this scene that helped Sophie come to her decision. 
"It was so pivotal for her to hear that coming from Rebecca's mind as though they were 20 years old," she says. "It's almost like Rebecca's seeing into the present. For her, it's the future but really it's the present. And that I think makes up Sophie's mind in that moment. Up until that point she's just like, 'I don't know what to do, I'm so torn.' That Rebecca says that to her kind of solidifies it for her."
So, at this point, it's safe to assume Sophie is Kevin's wife referred to in the Season 5 flash-forward cabin scene. Which makes us think we haven't seen the last of Sophie, right?
"At this point in time, given Rebecca's condition, Sophie will be a huge support for Kevin and the family," Breckenridge says of potentially seeing her character again in the future. "It would be weird if Sophie just suddenly disappeared."
This Is Us airs Tuesdays at 9 p.m. ET on NBC.