NBC Insider Exclusive
Create a free profile to get unlimited access to exclusive show news, updates, and more!
Sign Up For Free to View
Philip Ettinger Shares How Pete Davidson's Real Assistant Inspired His Role in Bupkis
Usually known as a dramatic actor, Philip Ettinger gets funny as Evan the assistant in Bupkis.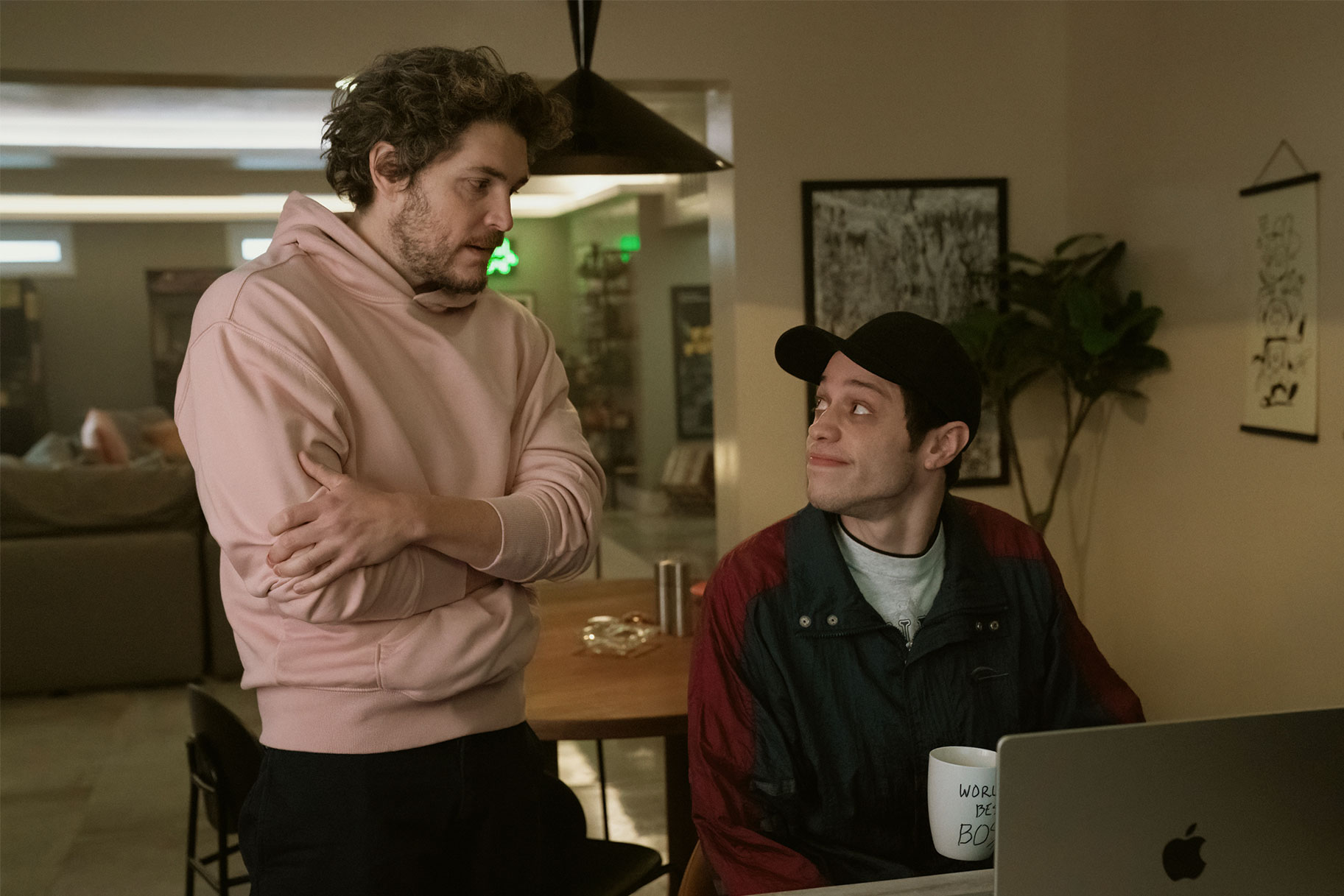 There's a lot to appreciate about Peacock's comedy series, Bupkis. From Pete Davidson's emotional honesty to Joe Pesci being back on our screens better than ever. But one of the quiet standouts of the show's incredible cast is Philip Ettinger's angst-filled performance as Pete's put-upon personal assistant, Evan. 
Loosely based on Davidson's real-life close friend and personal assistant, Alex Panagos, Evan in the series is the only responsible person in his friend circle, and as such, often takes the brunt of the Pete character's mercurial decisions and impromptu desires at any given moment. Over the first season, Ettinger looks like a man constantly being tested by a string of moral conundrums that threaten to break him. Nervous, sweet and loyal, Evan is the guy you want to give a big hug by the end of Season 1. 
RELATED: Pete Davidson Says Joe Pesci Agreeing to Do Bupkis 'Saved' Him from Self Doubt
It's also a bit of a departure for Ettinger who is best known for his theater work in New York City and more dramatic work in projects like HBO's I Know This Much is True, playing the younger version of Mark Ruffalo's character. Or his role as Joe Berchtold in Peacock's A Friend of the Family.
The actor tells NBC Insider that he was initially attracted to Bupkis because of Davidson and the comedy of it all.
"There's something about Pete's comedy that is really honest," Ettinger says. "It comes from some sad places and he wears his heart on his sleeve. He's not afraid to show his pain and some tragedy in his life. And so, as different as it is, it is rooted in real stuff and so that always excites me."
Once cast as Evan, Ettinger says he turned to Panagos as his primary research resource to build the character. He shares that it was Alex who saw his final audition tape and gave his approval of him playing Pete's TV assistant. 
"I interviewed [Alex] on the phone for a couple hours and asked him all these questions," Ettinger shares. "Evan is not fully Alex. He's a version of something I'm trying to do, but also him."
After getting to observe Alex and Pete natural rapport on set, Ettinger says there is something "beautiful" about their relationship.
"Alex is such an open-hearted guy. And Pete might have a certain persona, but then you see him with his friends and he's so loyal. He cares so much and so many of his friends are such quality people that interested me too."
However, the actor says he injected some things he's observed from outside boss/assistant dynamics in the show relationship too. Evan is a people pleaser and doesn't always get the best of Pete, especially as show Pete spirals into addiction as the season progresses. But Evan's loyalty is unwavering, even when Pete's character can't remember his fiancée's name. (It's Lizzie). 
"Sometimes your assistant is like the closest person to you and you want someone who you trust," Ettinger says of that unique relationship dynamic. "A lot of the times I've seen people develop relationships over many years and then actually have a really great friendship. It can evolve into a thing. But there's a lot of funny comedy that can happen from Pete having these crazy ideas and me having to either be the straight man, or the eyes of the audience where I have to do the thing that he wants me to do. But also feel like this is a terrible idea."
Plenty of comedy does come out of Evan having to play clean-up man for Pete. Ettinger confirms there was a lot of improv happening throughout Bupkis, which was initially frightening for the dramatic actor. 
"I gotta tell you, I felt totally out of my element," he says of the early days of production. "There were days that it was just me, Pete and Jon Stewart. And they'd just start improvising and I'm just like, 'I can't even believe I'm in this room.' I just had to hold on for dear life."
Ettinger says over the course of the season, he and Davidson even developed their own Evan/Pete recurring beats.

"You find the jokes," he says. "Like throughout the season, we created this thing where he kept forgetting my girlfriend's name. That wasn't in the script. But that was the thing that we just kept bringing back."
The actor says one of his favorite episodes of Season 1 was "Crispytown" because of his party bus scene with Joe Pesci's Grandpa, where Evan gets accused of being the paparazzi rat.
"I had an improv run there with Joe," the actor says with pride. "As I got some know Joe more, I continued. And then he continued. We went back and forth for a long time. Everyone's laughing and that was surreal because it's Joe Pesci. I'm from New Jersey. I love him. And here I am doing this little improv run. And he never has a false moment. Anything that comes out of his mouth is so organic. And it's fun to see him be goofy."
Depending on how audiences respond to Bupkis, Ettinger hopes he'll have more time at bat with Evan the assistant in a Season 2. Having flexed his comedic wings, he hopes to do more.
"We'll see how this does," he says with hope. "I would love to dig in again and do a second season."
Catch Evan and the whole Bupkis cast of characters on Peacock now.