NBC Insider Exclusive
Create a free profile to get unlimited access to exclusive show news, updates, and more!
Sign Up For Free to View
Bupkis Creator Pete Davidson Drops His "Origin Story" in Episode 2
The Bupkis episode takes us back to an important event in young Pete Davidson's life.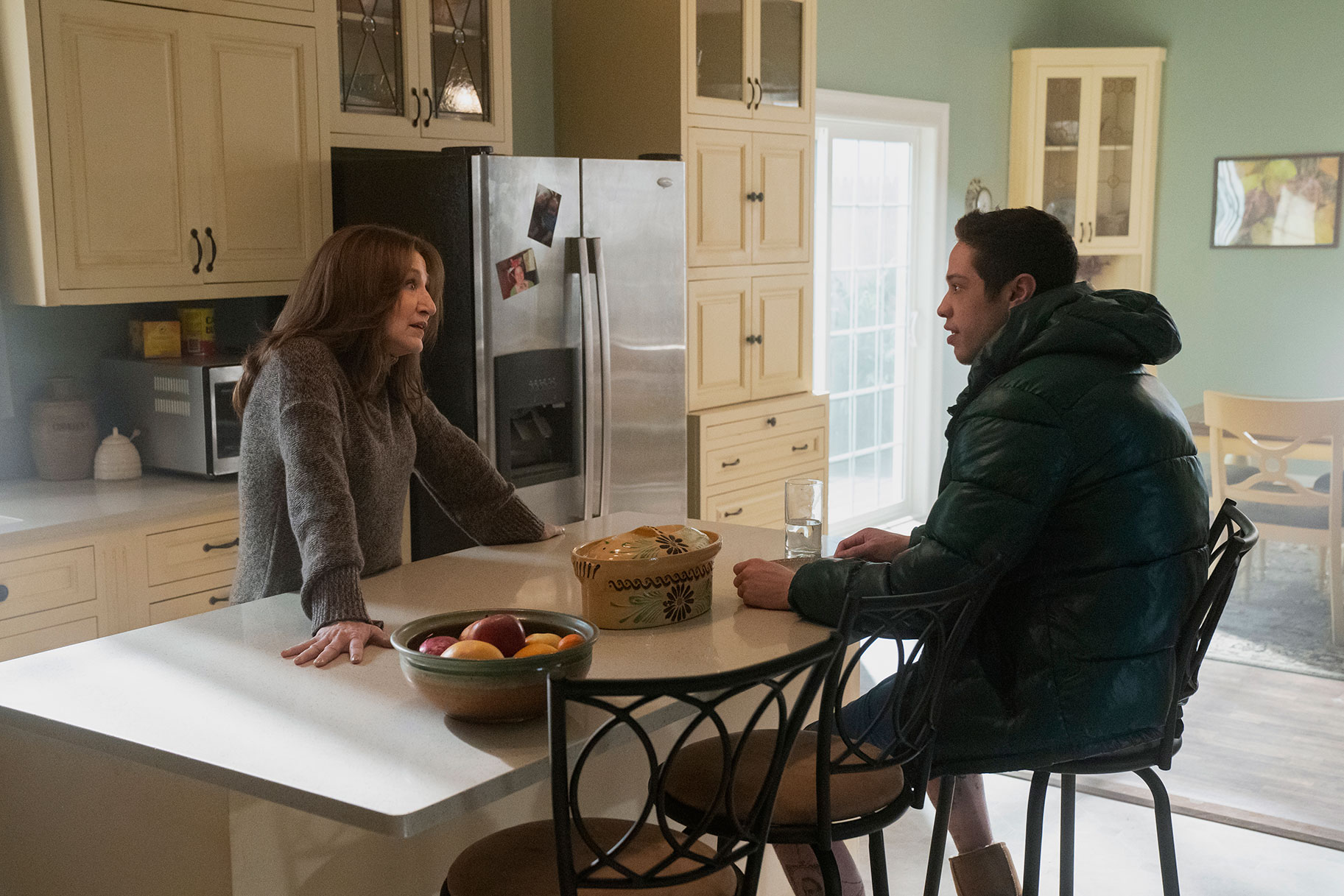 Ever since comedian Pete Davidson joined the Saturday Night Live cast in 2014, his celebrity status has gone from an unknown stand-up comic to a household name. His meteoric rise includes him becoming a tabloid fixture and the subject of outlandish rumors which he addresses — and roasts — in his semi-autobiographical Peacock dramedy series, Bupkis. Davidson stays playing a fictionalized version of himself, while Edie Falco, Joe Pesci, Brad Garrett, and Bobby Cannavale play fictional versions of his close family members. It's an intentional blurring of the lines that allows Davidson to play with people's perceptions of him — and maybe float a few truths out there too.
All eight episodes of the series are available exclusively on Peacock, with one particular episode getting plenty of chatter: "Do As I Say, Not As I Do." It's a poignant reflection on how young Pete and his family coped 20 days after his firefighter father perished in the September 11 attacks at the World Trade Center. Taking place primarily 20 days later at the wedding of his Uncle Tommy (Cannavale), it's a funny and emotional snapshot of how that seminal loss, and his eccentric close family, helped shape the future comedian. The episode is penned by Davidson and series showrunner Judah Miller, who tells NBC Insider that the episode is one they knew would surprise audiences.
RELATED: Pete Davidson Says Joe Pesci Agreeing to Do Bupkis 'Saved' Him from Self Doubt
"It was really important to us to have [this] episode be second, for a couple reasons," Miller explained. "One of the things that we liked about placing it there was that it really showed the range of what the show could do. It was important to us that while we establish a clear series with clear characters and points of view, that we surprise people with how much the tone can shift between episodes. I think that nobody would be expecting as dramatic of a second episode as we ended up doing. To have that, and then to have the tone continue to shift and turn in unexpected ways, was part of what we wanted to establish right off the top."
In the episode, current Pete gets together with his Uncle Tommy, who is now long married, and candid with his nephew about his own addiction ills and disappointments in life since that fateful wedding party. While in the past at the wedding, young actor Preston James Brodrick navigates the reception with the eyes of a smart-aleck kid who has suddenly had to grow up way too fast. 
Miller said the episode is also important in establishing Pete's mom (Falco) as a more well-rounded woman outside of how she's introduced in the Pilot episode. "A lot of the things that are being established about Pete and his relationship with his mom informed so much [of the season]," he said. "We also view Episode 2 as a real origin story of who he is, and it gives you so much context for where he's going into his adulthood that it just made sense to us to have it be early in the season."
Watch Bupkis Season 1 now on Peacock.