NBC Insider Exclusive
Create a free profile to get unlimited access to exclusive show news, updates, and more!
Sign Up For Free to View
You'll Love Niall Horan's New Song Even More When You Find Out What It Means
The Voice Coach's latest single, "Meltdown," has a relatable backstory.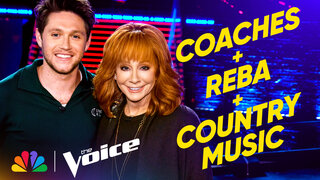 Niall Horan has released the second single from his upcoming third solo album, The Show (out June 9). Titled "Meltdown," The Voice Coach's new track is much like the project's first single, "Heaven": a dreamy, upbeat summer hit. 
"['Meltdown'] and 'Heaven' kind of let people know what they're getting into for the rest of the album," Horan tells NBC Insider. "It's got a great strong concept that I feel is important. Just the overall vibe of it, it just felt right. You know, it stands out in many ways. The speed of it, the vibe of it, what it's about. So I'm excited to get it out there."
What does Niall Horan's "Meltdown" mean?
Horan says that while the track is a "good summer jam," it's also a relatable and encouraging story that chronicles his experience with anxiety.
"I feel all of our anxieties are very relative," he says. "Some people deal with it on a big level and some people much smaller, like myself. But I've definitely felt anxious and kind of just in that position where you're really scared and worried. And then, knowing while it's happening, knowing that everything will probably be OK."
He continues, "When you're in that feeling, it's hard to think of it like that. But I felt like it was an important subject to talk about personally, and that people would be able to relate to that as well with all that's going on in the world."
The lyrics for Niall Horan's "Meltdown":
Find the entire song and its lyrics below:
When it all melts down, I'll be there

Talkin' to yourself in the bathroom
Losin' your mind in the mirror like you have to
Oooh
Screamin' in your car in the driveway
Spinnin' out, think your life's goin' sideways
Oooh

One broken glass turns to total collapse
Just know this too shall pass
I'm tellin' you now, tellin' you now
Woooh
When it all melts down, I'll be there
Woooh, Woooh
When it all melts down, I'll be there
I'm tellin' you now, tellin' you now
Sleep is so thin, outta habit
Hard to tell the real from the dreams you
imagine, oooh
Nights when one broken glass turns to total
collapse
Just know this too shall pass
I'm tellin' you now, tellin' you now
Woooh
When it all melts down, I'll be there
When it all melts down (Wooh)
When it all melts down now (Woooh)
When it all melts down, I'll be there
I'm tellin' you now, tellin' you now
When there's wolves in your track (wolves in your track)
Catchin' up fast (Catchin' up fast)
Baby, don't you look back (Don't you look back baby)
Don't you look back (Baby, don't you look back)
When you're hittin' the wall (Hittin' a wall)
And every star falls (every star falls)
Don't you worry at all
Woooh
When it all melts down, I'll be there
When it all melts down (Wooh)
When it all melts down now (Woooh)
When it all melts down, I'll be there
I'm tellin' you now, tellin' you now