NBC Insider Exclusive
Create a free profile to get unlimited access to exclusive show news, updates, and more!
Sign Up For Free to View
The Official Trailer For NBC's Night Court Is Here, and It's Hilarious
Get ready for the premiere!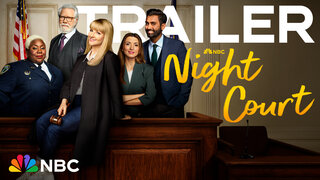 The Night Court official trailer was released on January 11, and it's hilarious. 
NBC's Night Court follows the story of Judge Abby Stone (Melissa Rauch), the daughter of Judge Harry T. Stone, the main character of the original series. In the new version, Abby attempts to reconnect with former district attorney Dan Fielding (reprised by John Larroquette) to help her manage the wacky cases during the night shift at the Manhattan municipal court.
"My dad always told me, 'See people for what's underneath,'" Abby says in the new trailer. "I just think if you show a little compassion, you can put people on a better path." 
Fielding, meanwhile, is definitely more on the cynical and hard-edged side yet has a soft spot for the Stone family. "If these walls could talk, they'd say 'They're all guilty,'" Fielding says in the trailer.
Also in the preview are snippets of dancing defendants, a lineup of suspects in wedding dresses, a flock of pigeons in court, paper eating, shirtless demonstrations, a giant snake, Fielding walking through a glass door, and more. "That's Night Court, baby!" Donna Gurganous (Lacretta) exclaims aptly. 
In another clip that was released in December 2022, viewers got a sneak peek of the cast's thoughts on the show. "It's very much a continuation of the show I love so much," says Rauch. "[Stone] really wants to make a difference, she's an eternal optimist."
"Being back on Night Court, seeing the new, fresh faces of these very talented comedians who I'm working with, makes it worthwhile," says Larroquette.
"John's always up to some kind of mischief and throwing things in that we never saw coming," adds India de Beaufort, who plays Olivia, the court's assistant district attorney.
Night Court airs Tuesday at 8/7c on NBC and be available for streaming the next day on Peacock. If you're a fan of the original show, you definitely won't want to miss this. So mark your calendars and set your phone alarms accordingly!