NBC Insider Exclusive
Create a free profile to get unlimited access to exclusive show news, updates, and more!
Sign Up For Free to View
How the Mzansi Youth Choir Made it to the Finale After Bringing Simon to Tears
After earning the extra Golden Buzzer following their emotional audition dedicated to Nightbirde, the choir pulled out all the stops once again.
When the Mzansi Youth Choir first took the America's Got Talent 18 stage they earned both tears from Simon Cowell and the series' first-ever extra Golden Buzzer. Now, they're headed straight to the Final, along with fellow Golden Buzzer Putri Ariani. 
The South African group's emotional audition was a cover of Jane "Nightbirde" Marczewski's original song "It's OK," which she auditioned with in AGT 16. Cowell awarded Nightbirde with a Golden Buzzer at the time, moved by both her voice and emotional story of battling cancer that had spread to her lungs, liver, and spine. Unfortunately, Nightbirde died from the disease in February 2022 when she was 31 years old. However, her inspirational story has remained a source of strength and symbol of resilience for AGT.
"This brought back so many memories for me," Cowell told the Mzansi Youth Choir following their audition. "I know how much this would have — would have meant to her. Right until the end, she was so passionate about sharing her music, and this has gone all over the world, and you come back here with the most amazing tribute."
For September 5's Live Show, Nightbirde's family was even in the audience to witness the choir's latest performance after their unforgettable dedication. 
What song did the Mzansi Youth Choir sing during the AGT Live Shows?
This time around, the South African choir sang Fleetwood's Mac's 1987 hit "Everywhere".
"I don't want to lie, we had so many songs to choose from, so it was kind of difficult to come up with one song," choir member Sibufiso told NBC Insider about choosing the song. "But because we have a very talented musical director, a great mind together with a choreographer, we're able to come up with the song and together with the AGT team as well."
He continued, "So because it's a special song about love, a song about joy, a song about peace, a song about fun. So that's what we wanted to do tonight. We wanted to give it back to the people, spread love, spread happiness."
While the choir took the stage once again in all white outfits and makeup like their audition, Sibufiso also acknowledged that their song choice this time around struck a different tone. 
"It says something [that we] had to come up with choreography, come up with new ideas, come up with new arrangements," he said. "But we were able to pull it through it."
What the Judges said about the Mzansi Youth Choir
Heidi Klum: "This was giving me all sorts of really, really good vibes coming from all of you. It felt really good. It was a great song choice, your harmonizing together was beautiful. I love the way everyone looks every time. You all bring it with the beautiful outfits, makeup, and everything. It just gave me a really good feeling when you were singing."
Sofia Vergara: "I think we all got goosebumps. That was so beautiful. It's like we all got a feel good moment. You guys made me smile. It was like listening to a soundtrack of a movie. It was spectacular."
Simon Cowell: "I think this Act is spectacular. Your energy and just the way you perform, it just draws you in. And we always say this stage could make you or break you, and tonight it made you. Thank you once again for that beautiful, beautiful tribute you did for Nightbirde, and part of her family are here tonight. Thank you for being here."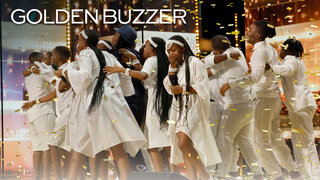 Howie Mandel: "Whether you're singing the words and the melody of Nightbirde or you're doing Fleetwood Mac, you're always bringing your beauty, your culture, and your essence to this stage. You make it so unique, so original, so magnetic. I don't usually love choirs, I love you."
What's next for the Mzansi Youth Choir?
Since the group advanced into the Final via America's Vote, we'll see them compete in the Top 11 for the $1 million! However, they're not giving much away about what to expect.Ni
"We want to produce high quality performances to inspire and entertain the audiences around the globe with the same impact Nightbirde had with music," Sibufiso said. "So I think that would do."
Choir member Zoe added, "We are a family that loves spreading love, we always sing for the hospitals back at home, for people who can't see their families or be in the outside world. And so being there and performing for them, bringing some presents, really meant so much. It would make them feel good as well. So that's giving back. Giving back."
With reporting by Grace Jidoun.