NBC Insider Exclusive
Create a free profile to get unlimited access to exclusive show news, updates, and more!
Sign Up For Free to View
AGT's Kodi Lee Just Teased A New Single—And He Wants Your Help With the Reveal
He gave fans one exciting clue about what's to come.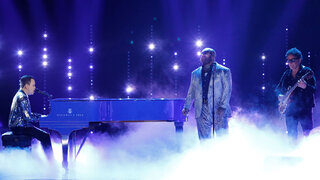 Since Kodi Lee took home the victory during Season 14 of America's Got Talent, the talented performer has hit the ground running in his music career. Lee continues to prove his star power and has stayed booked and busy since winning AGT in 2019, releasing a new music video and performing for fundraising events. But the most recent exciting development in Lee's career is an upcoming single. That's right, he has new music in the works and is even challenging his fans to guess the track's title.
Lee took to Instagram to share the exciting news with his fans.The teaser for the single features the name—but not in its entirety. There are actually a few letters missing. Reading: "H---O W----D", Lee challenges his followers to guess the full title of the soon-to-be hit.
"I've been working on a surprise… A NEW SINGLE😱 #heckyeah! 👉CAN YOU GUESS WHAT THE TITLE OF MY NEW SINGLE IS!?" Lee captioned the post. "I can't wait to release this and see if YOU can guess my single title 🙈 #heckyeah #kodilee #kodify #newsingle #agt #guessinggame #kodileerocks #agtallstars #agtsuperstars".
Many of Lee's fans (and even Judge Howie Mandel) flooded the promo with their best guesses for what the new single will be. And if the majority's hunches in the comment section prove correct, Lee may be preparing to greet fans with a song called "Hello World".
But the competition isn't over for Lee yet, as he prepares to take the stage for the exciting premiere of America's Got Talent: All-Stars. He'll compete against other Got Talent favorites, including fellow winners of season's past Dustin Tavella, Brandon Leake, and Terry Fator.
America's Got Talent: All-Stars premieres on Monday, January 2 at 8/7c on NBC, and you can stream the episodes the next day on Peacock.
Watch America's Got Talent on Peacock and NBC.