NBC Insider Exclusive
Create a free profile to get unlimited access to exclusive show news, updates, and more!
Sign Up For Free to View
Kara Killmer Wears Matching Red with Chicago Fire "Ride-or-Die" Hanako Greensmith
The One Chicago stars always take a fire selfie.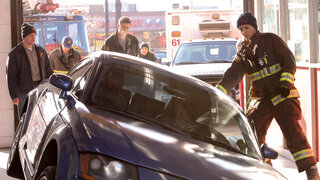 Season 11 of Chicago Fire is simmering down, but Hanako Greensmith and  Kara Killmer's shenanigans are never-ending. 
On April 7, the two Chicago Fire besties celebrated the end of Season 11 by taking a cute picture together. Killmer and Greensmith looked so adorable while almost matching, with Killmer sporting a pink polka dot blouse and Greensmith donning a classic red lip. The One Chicago stars look so happy while looking back on an exciting season. 
"My ride or die on this crazy show. Happy Season 11 @nbconechicago !!!! @hanakogreensmith," Killmer captioned the sweet IG post.
Greensmith and Killmer have taken viewers on a wild ride recently as the tenacious firefighters Violet Mikami and Sylvie Brett, respectfully. Violet has been tackling the aftermath of Evan Hawkins' tragic death while Brett has been haunted by her past with a visit from her former flame, Matt Casey (Jesse Spencer.) But when the dust settles, Greensmith and Killmer are the best of buds that love hanging out after a nail-biting season.
After recently reconnecting in Episode 18, many Chi-Hards are excited to see what happens between Casey and Brett when he returns for the Season 11 finale. Sylvie has attempted to move on from Casey, but something seems to be brewing beneath the surface. Spencer confirmed to NBC Insider that the finale will dive into Brett and Casey's romantic potential. 
"The idea when I left the show was that if it was appropriate and it would work with the storyline they wanted to do, I would be open — and they would be open — to bringing Casey back," Spencer told NBC Insider.
"The storyline [in Episode 18] does allude to Casey sort of eyeing whether he could actually move back to 51. Can he potentially, in the future, rekindle his relationship with Brett and start that fire again? We're 'gonna have to see. Casey's looking at it; it's a potential thing, but we just don't know right now. We'll leave that to the future. We'll throw it to the gods and see what they say." 
Fire fans can't wait to see what the deities have decided, and luckily, the Chicago Fire action isn't ending anytime soon. Chicago Fire will be back with a 12th season, along with Chicago P.D., Chicago Med, and all three Law & Order shows.
"We understand the emotional connection our audience has with these characters and we can't wait to bring more of their stories to the forefront next season," Lisa Katz, the president of scripted programming at NBCUniversal and Streaming, said in a statement. "A huge thank you to Dick and his amazing team who are the masters of producing incredibly compelling television week after week."