NBC Insider Exclusive
Create a free profile to get unlimited access to exclusive show news, updates, and more!
Sign Up For Free to View
Hanako Greensmith Opens Up About Violet's 'Massive' Loss on Chicago Fire
"I don't think anyone was anticipating it. I know Violet wasn't anticipating it."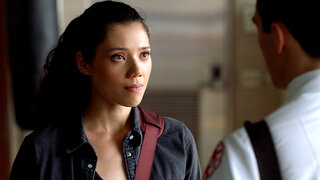 Chicago Fire Season 11, Episode 3 ended in tragedy. At the tail-end of a fire rescue mission, Hawkins (Jimmy Nicholas) went to assist a person leaving a burning building—but the building collapsed, crushing the men under debris. The CFD worked as fast as they could to remove the building pieces off them, but they were too late. Both men died, and Hawkins' girlfriend, Violet (Hanako Greensmith), witnessed the entire thing.
It was a difficult scene to watch. Violet rushed over to Hawkins the second the building collapsed, and when he was unearthed from the rubble, she tried desperately to revive him using her paramedic skills. When that didn't work, she erupted into hysterical tears and had to be restrained. 
This is a devastating, sudden loss that no fans were expecting—and for Violet, the pain is twofold. She and Hawkins were stronger than ever in their relationship, so the repercussions of this—on her mental health, her physical health, everything—will be hard to see unfold. 
Greensmith hinted at this in an interview with NBC Insider a few weeks ago, careful not to reveal much—just that whatever challenge Violet had in store would be "massive." It's safe to assume she was talking about Hawkins.  
"Violet is gonna have a massive, massive challenge thrown her way that I don't think anyone was anticipating," she said. "I know Violet wasn't anticipating it. You're gonna have to see her navigate some totally new emotional terrain and professional terrain." 
But the journey, Greensmith says, will ultimately be "rewarding," and we have no doubt. While fans struggle to cope with this new development, we can take comfort in knowing Violet is strong. She'll get through this—especially with the help of her incredible family at the CFD.  
Watch Chicago Fire on NBC Wednesdays at 9/8c and next day on Peacock.