NBC Insider Exclusive
Create a free profile to get unlimited access to exclusive show news, updates, and more!
Sign Up For Free to View
Hanako Greensmith and Kara Killmer Just Took a Prom Pic on the Chicago Fire Set
Greensmith and Killmer make a cute couple, right? Watch Chicago Fire Wednesdays on NBC.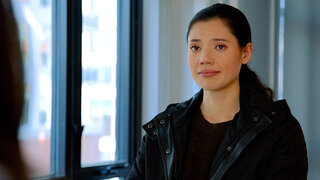 The cast of Chicago Fire clearly likes to joke around backstage!
On February 15, Hanako Greensmith (Violet Mikami) took to her official Instagram page to show off a series of whimsical photos of the cast bonding together behind the scenes. (Warning: Prepare to witness silliness, below.)
We first catch a glimpse of Greensmith and co-star Kara Killmer (Sylvie Brett) embracing each other and smirking towards the camera while on set. Very prom, if you ask us!
Then, Greensmith posted a close-up snapshot of actor David Eigenberg (Lieutenant Christopher Herrmann) having an emotional expression on his face while in front of a fire truck. In the next snapshot, Miranda Rae Mayo (Lieutenant Stella Kidd) wraps her arms around Caitlin Carver (Emma Jacobs) while the two are both in costume with big grins on their faces.
In another funny picture, Joe Minoso (Joe Cruz) sits on top of the lap of Christian Stolte (Mouch), who has an unamused expression on his face. We then see Carver again, sassily posing in front of some roses with large sunglasses on her face. And for the glorious finale, Greensmith films Mayo while she struts down a snowy Chicago street in uniform. "That's absolutely correct!" Greensmith says through giggles while Mayo confidently whips her jacket around her head in very high fashion manner. Supermodel! 
"Work dump" Greensmith captioned the photo with some heart emojis. "ChiHards, they are SERVING," the official NBC Instagram account comment. "ok," the One Chicago page added, followed by some fitting fire emojis. And we couldn't agree more!
Despite what looks to be fun and games behind the scenes, the characters of Chicago Fire have had to deal with some very heavy subject matter in their lives. In Season 11, Episode 3, Greensmith's character Violet tragically witnessed her boyfriend, Evan Hawkins, die in a fire rescue mission after a building collapsed. Although she frantically attempted to revive him, she was too late in her efforts.
"Violet is gonna have a massive, massive challenge thrown her way that I don't think anyone was anticipating," Greensmith said in an interview with NBC Insider on the heart-wrenching plot twist. "I know Violet wasn't anticipating it. You're gonna have to see her navigate some totally new emotional terrain and professional terrain."
Watch Chicago Fire on NBC Wednesdays at 9/8c and next day on Peacock.