NBC Insider Exclusive
Create a free profile to get unlimited access to exclusive show news, updates, and more!
Sign Up For Free to View
Did You Know This Chicago Fire Star Was a Real-Life Marine?
This explains why he's so good at running into burning buildings!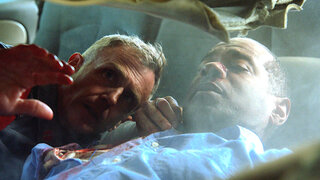 The men and women who suit up on Chicago Fire are heroes, full stop. They run into burning buildings, carry people out of them, extract victims from collapsing roofs—you name it, they do it. The job requires a lot of strength, speed, and endurance. You have to be able to act quickly under pressure—sometimes under an actual fire—without breaking a sweat. 
It's a talent we'd also give to members of our Armed Forces—specifically, the Marines. Marines run. Marines jump. Marines save people, just like firefighters. So, it should come as no surprise that an actor on Chicago Fire was actually, at one point, a real-life Marine. 
We're talking about David Eigenberg (a.k.a. Christopher Herrmann)!
Looper reports that David Eigenberg did serve in the Marines in his younger years. He's not enlisted anymore but, per Looper, is still involved with the United Service Organization (USO), a charity that connects members of the U.S. Armed Forces to important resources, plus entertainment and social events. Looper reports Eigenberg even met his wife, Chrysti, through the USO! 
"When you're first coming into a duty station, you don't know anyone, and then there's this place: the USO! Civilians don't understand that when you're a recruit and living out of the barracks, you don't have too many places to go [so the USO is very helpful]," Eigenberg said, according to USO.org.
He added, "It's a gift and a privilege to be invited to work with the USO, because our service members are outstanding, special Americans. I think it's a great opportunity to see one of the things that's best about this country." 
On why he's still involved with the USO, Eigenberg said, "[It's] an opportunity to spend time with people who go above and beyond, who understand sacrifice in service. They are people who are committed to making our country a better place, making our country a safer place, making sure this country works."
It's unclear how much Eigenberg's Marine experience plays into his portrayal of Christopher Herrmann on Chicago Fire. However, it's safe to say he knows how to play heroic very well after doing it for real in the Marines. 
Watch Chicago Fire Wednesdays at 9/8c on NBC. Episodes stream the next day on Peacock.