NBC Insider Exclusive
Create a free profile to get unlimited access to exclusive show news, updates, and more!
Sign Up For Free to View
Stellaride Has an Intense Convo in New Sneak-Peek Pics of Fire's Next Episode
What are they talking about?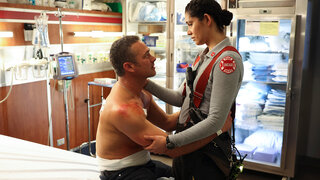 New sneak-peek photos of Chicago Fire Season 11, Episode 6 are here, and there's a lot to unpack. 
Titled "All-Out Mystery," the episode airs Wednesday, November 2 at 9/8c on NBC and next day on Peacock. Here's a quick official synopsis of what's to come: "Severide (Taylor Kinney) and Kidd (Miranda Rae Mayo) investigate an explosion at a jewelry store; Cruz (Joe Minoso) and Chloe take steps to make Javi a permanent part of their family; Gallo (Alberto Rosende), Ritter (Daniel Kyri), and Mouch (Christian Stolte) try to bond with Carver." 
The new photos tease a little from these storylines without revealing too much. Below, you'll see Gallo and Mouch at a bar with Carver, who has a cocky grin on his face. Gallo, on the other hand, looks downright concerned. So what's happening?
And in the pic, below, Severide and Stella seem to be having an intense conversation. Maybe it's about the jewelry store fire, or maybe it's about something else. We'll have to tune in to find out. 
Is this patient related to the case Severide is investigating? 
Was he a part of this fire? It looks really bad. 
And last but not least: Who is the girl Carver is chatting it up with at the bar? Is it his girlfriend? A date? On the topic of introducing a love interest for Carver, Jake Lockett told NBC Insider,  "It makes sense that there would be [a love interest], and I hope there is. I think that's always a fun piece to have with a character and explore.  So, I hope so." 
Watch Chicago Fire on NBC Wednesdays at 9/8c and next day on Peacock.