NBC Insider Exclusive
Create a free profile to get unlimited access to exclusive show news, updates, and more!
Sign Up For Free to View
Check Out the Friendship of Chicago Fire's Hanako Greensmith and Daniel Kyri
The two have a lot in common even when they're not in Firehouse 51.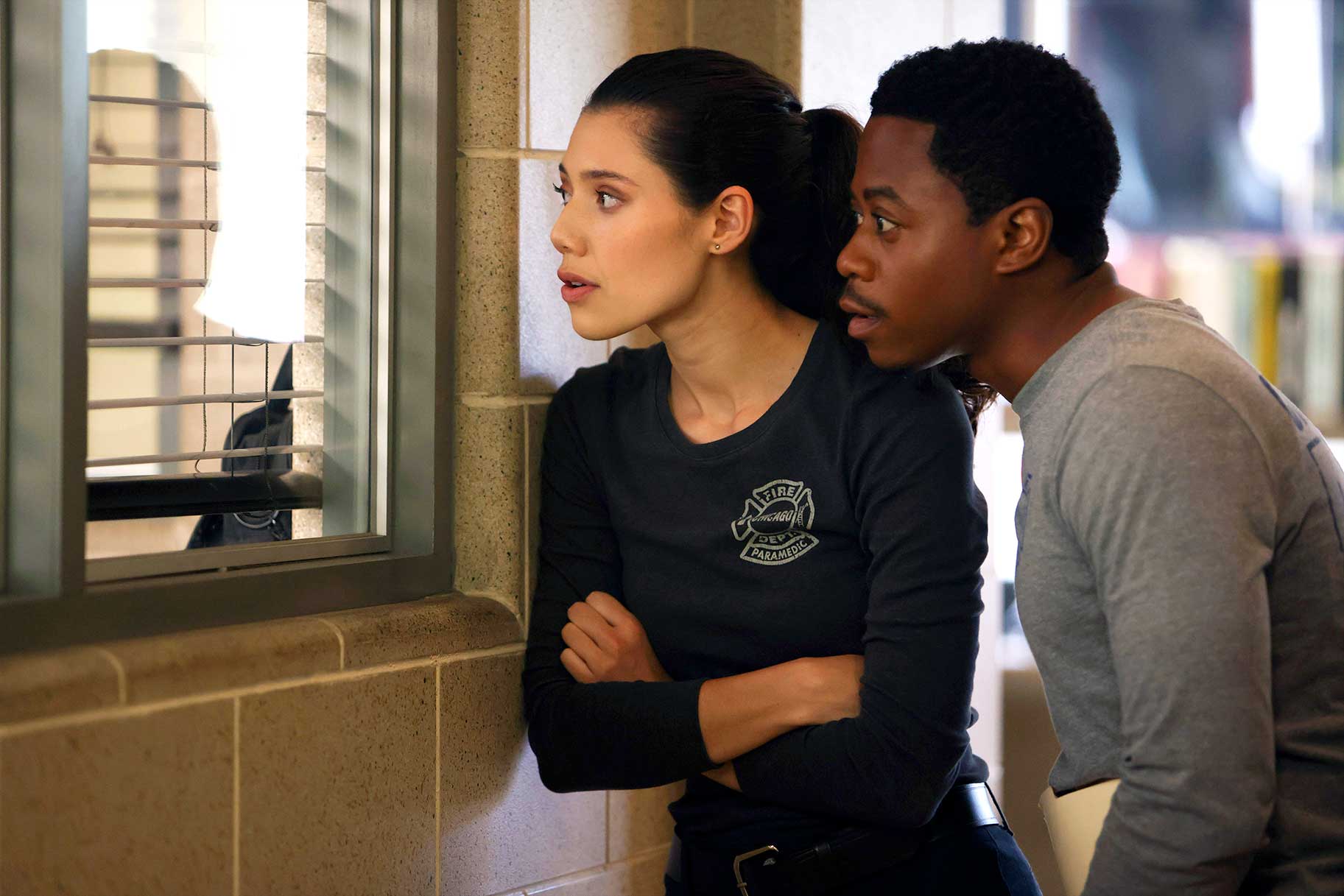 Chicago Fire stars Hanako Greensmith and Daniel Kyri play two beloved Chicago heroes (Violet Mikami and Darren Ritter, respectively) who joined the Firehouse 51 family in later seasons. As many One Chicago fans know, the on-screen friendships on the series also tend to carry over to off-screen life, since the cast members spend most of their time living and working together in Chicago (take it from Tracy Spiridakos and Marina Squerciati). 
Greensmith and Kyri have become a new fan-favorite BFF pairing, as fans have been able to see their relationship grow through social media posts from on set and beyond. Here are some of the pair's sweetest friendship moments. 
Hanako Greensmith and Daniel Kyri's Summer Vacation
In April 2023, Greensmith posted vacation photos that she said were 10 months old, meaning the duo had traveled together in the summer of 2022 before Season 11 of Chicago Fire began airing on NBC. Kyri later said that they went to Greece together, so it's safe to assume the beautiful background of the pictures was from their Mediterranean adventure. 
The photos, which were taken on film and later developed, show Kyri and another person on a boat then in some ruins. 
Kyri had posted a photo in September 2022 that looks like it's from the same vacation. "Kodak energy," he wrote with the post. 
Greensmith and Kyri's Night Out with Miranda Rae Mayo
In March 2023, Greensmith posted snapshots from a fancy night out with Kyri and their fellow Fire actress Miranda Rae Mayo (who plays Stella Kidd). The Instagram carousel appeared to be taken at a wedding, and the first photo shows all three of the stars dressed to the nines for the event. 
Kyri and Mayo have also made their friendship Instagram official outside of the wedding pictures. Kyri posted a selfie of them and wrote "we the poster gurls for all this" as the caption. 
Greensmith and Kyri's Behind the Scenes Moments
When the duo isn't out on the town or vacation together, it seems like they share plenty of laughs and sweet moments on set. In October 2022, Kyri posted an Instagram photo dump with some Fire set moments, including a video he took zooming in on Greensmith dancing while in her character's uniform. 
Greensmith posted a set of photos clearly taken while filming Kidd and Kelly Severide (Taylor Kinney)'s wedding scene in the Season 10 finale ("The Magnificent City of Chicago"). Kyri is one of the castmates holding her up for a fun pose, and she wrote "Get you some (strong) pals who really lift you up, ya dig?"
Greensmith and Kyri's Chicago Adventures 
Throughout their time together on the show, the duo has posted plenty of things showing their off-set adventures, often with other One Chicago cast mates. They went to (what appears to be) a Cubs game together, with Caitlin Carver (who played villain Emma Jacobs) in a post Kyri made in April 2022. 
Later that year, they posed in golden light with Kristen Gutoskie (who played Chloe Cruz) in casual fall outfits. Greensmith later posted a picture of Kyri holding a dog in one hand and champagne flute in the other, captioning it "Moods for this week." 
What Greensmith and Kyri Say About Their Friendship
Don't just take it from social media: these friends are real even outside of Instagram and their show. In an interview with Kyri, Greensmith and Alberto Rosende (who plays Blake Gallo), all three actors opened up about their dynamic. 
"We're close enough that I literally had the most fun I've had in a while playing Yahtzee with them," Greensmith said. "We have movie nights," Gallo added. "We also went to Greece together, so that was a pretty significant thing," Kyri said. 
Catch all of the duo's on-screen friendship moments by streaming all episodes of Chicago Fire on Peacock.