NBC Insider Exclusive
Create a free profile to get unlimited access to exclusive show news, updates, and more!
Sign Up For Free to View
10 Amazing Celebrity Cameos in Pete Davidson's Peacock Comedy, Bupkis
Pete goes deep into his Contacts for the cameos in Bupkis.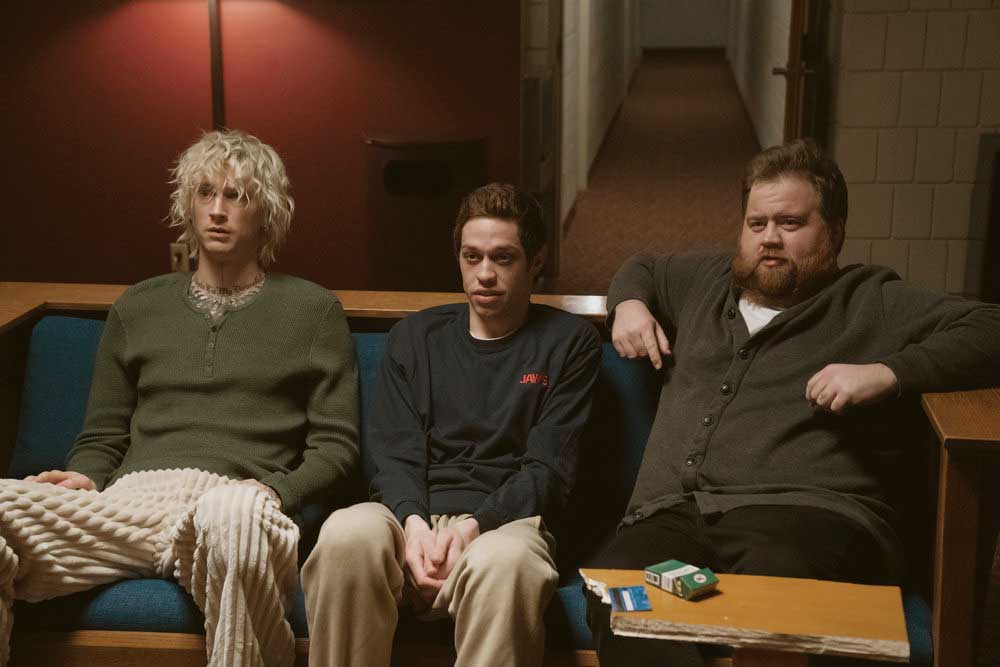 Pete Davidson's new Peacock series, Bupkis, is arguably the tonal cousin to his semi-autobiographical film, The King of Staten Island (2020). And that makes sense because Davidson co-wrote both with his long-time friend Dave Sirus. Where the projects differ is that Bupkis delves deeper in Davidson's past, and gets weirder about his present. Especially Davidson's antics as a relatively new celebrity who has shared plenty of vices with the public.
Bupkis also features a lot more unexpected cameos which are peppered across all eight episodes of Season 1. In a recent exclusive NBCInsider interview with Bupkis showrunner Judah Miller, we learned that all of those cameos are the work of Davidson calling in some asks and favors. "All the casting is Pete's suggestion," Miller confirmed. "It's all Pete's favorite people."
RELATED: Bupkis Showrunner Judah Miller Picks His Favorite Episodes of Season 1
With all of Season 1 now available to stream on Peacock, here's a rundown of some of the biggest names who appear in small and bigger roles.
Ray Romano
Romano gets the award for most repeated cameo in Season 1. He plays himself, sorta. In "ISO," "Borgnine" and "Show Me the Way," Romano does a trifecta of appearances that Pete conjures when he's having some "dark night of the soul" moments with his addiction issues. I think we can blame Ray and his peak dad vibes in Everybody Loves Raymond.
Jane Curtin
Blink and you might miss her, but SNL legend Jane Curtin appears during the wedding reception party in the episode, "Do as I Say, Not as I do." Curtin plays the wife of Joe Pesci's Joe Larocca.
Charlie Day
In "Picture," we see Pete trying to deal with his issues via his unconventional therapist played by Charlie Day. Giving shades of Charlie Kelly from It's Always Sunny in Philadelphia meets Jason Segel in Shrinking, Day's appearance is a season highlight.
Marissa Jaret Winokur
Fans of Broadway's Hairspray will recognize Winokur from her Tony-Award-winning role as Tracy Turnblad. In Bupkis, she plays the pal of Amy Davidson (Edie Falco) who lures her friend back to basketball in the episode, "For Your Amusement."
John Mulaney
In one of the most potent cameos of the season, Davidson's former SNL writer John Mulaney appears in "Borgnine" as a friend Pete tells about his upcoming rehab stint. Both recovering addicts in real life, their sequence together is funny, self-deprecating and emotionally devastating. 
Sebastian Stan
The MCU's Bucky Barnes, otherwise known as Sebastian Stan, arrives in "Crispytown" to distribute some hard-learned lessons on Pete and his gang.
Kenan Thompson
Davidson's long-time cast member on Saturday Night Live, Kenan Thompson shows up in the season's most surreal episode, "Crispytown," in a hilariously unexpected way.
J.J. Abrams
The director of two Star Wars films and creator Alias and Felicity shows up in "ISO" as the director of Pete's film doing reshoots for over the holiday. Abrams executes one of the best "blow-off" his actor, director moments in recent memory.
David Howard Thornton 
If you're a horror fan, yes, that was actually Art the Clown (played by Thornton) who first appeared to terrify audiences in All Hallows' Eve (2013). Let's just say he appears as an unwanted vision during Pete's recovery in "Show Me the Way."
Machine Gun Kelly
Who knew Machine Gun Kelly could be so funny? Pete Davidson, obviously, because he brings Colson Baker to the party as a disruptor to his rehab in the season finale, "Show Me the Way."
Watch Bupkis Season 1 now on Peacock.