NBC Insider Exclusive
Create a free profile to get unlimited access to exclusive show news, updates, and more!
Sign Up For Free to View
Every Act on America's Got Talent: Extreme Season 1
This is some jaw-dropping talent.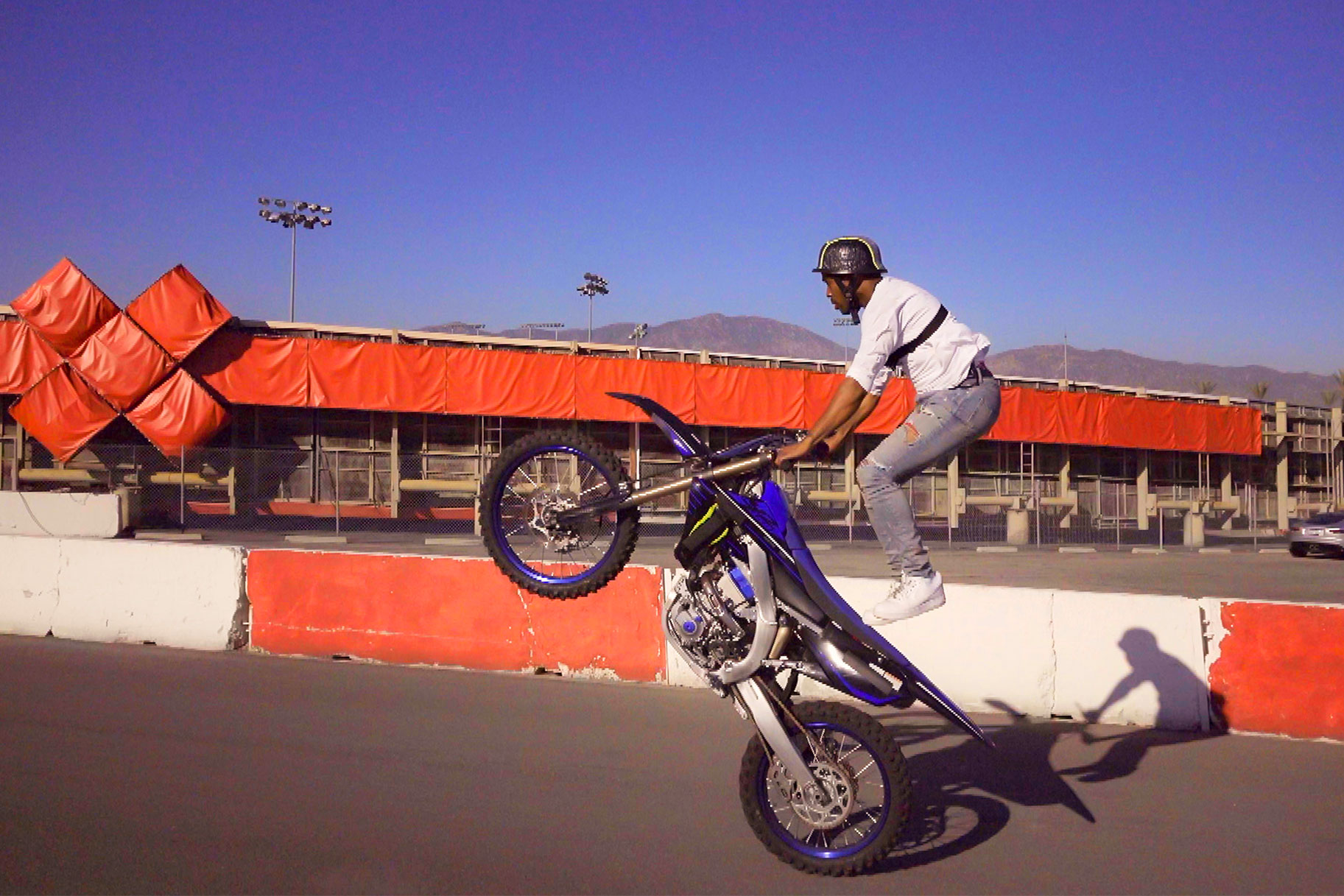 The first season of America's Got Talent: Extreme has officially come to an end. Over the course of several weeks, viewers watched a handful of daredevil Contestants all compete for a $500,000 grand prize. And though the winners were ultimately decided by the Judges—executive producer Simon Cowell, WWE Superstar Nikki Bella, and professional stunt performer Travis Pastrana—a select group of Super Fans could also vote for two Contestants from auditions to make it to the final round. 
Below, see the full list of Contestants who competed on AGT: Extreme Season 1. 
Hometown: Sarasota, FL
Talent: 80-feet duo swap pole
Ages: 30 and 55
Auditioned in: Episode 4
The father-daughter duo got a standing ovation from the Judges following their performance on 80-feet towering sway poles. The duo climbed the apparatus with no harness or rigging, executing aerial stunts in mid-air. "We've seen some crazy stuff and some scary stuff," Cowell said. "That was off the charts. That was ridiculous."
Hometown: Atlanta, GA
Talent: Fire dancing with rope dart
Age: 32
Auditioned in: Episode 4
Despite Pastrana's no, Cowell and Bella felt Brandon's elegant fire dancing was "beautiful" and moved him on to the Super Fan round.
"You made extreme beautiful and have meaning, and I felt something," Bella said. "I really enjoyed it."
Hometown: Savanna, GA
Talent: Heavy machinery agility
Ages: 22-51
Auditioned in: Episode 4
Cowell called the performance "more odd than extreme," but he still gave it a yes alongside Bella, moving the dancing heavy machinery into the next round.
Hometown: Quebec, CA
Talent: Aerial silks suspended 90 feet in the air
Age: 38
Auditioned in: Episode 4
After dislocating her shoulder in 2018, Lemay called her AGT Extreme audition her "second chance" to revive her decades-long career. The aerialist did that and more as she was suspended in the air by hundreds of balloons, performing acrobatic tricks on silks. She earned a standing ovation from the Judges and a Golden Buzzer from the entire panel and Crews.
Hometown: Mendoza, TX
Talent: Love story with fire and explosions
Ages: 52 and 59
Auditioned in: Episode 3
Dr. Danger and Mary's quirky fire-filled fairytale love story both puzzled and entertained the Judges, eventually earning a no from Pastrana. But both Cowell and Bella wanted to see more, sending the pair on to the next round. "I would be intrigued to see where this goes next," Cowell said.
Hometown: Monroe, NY
Talent: Autocross kick plate and slalom
Age: 17 
Auditioned in: Episode 3
Race car driver Chambers earned Pastrana's second no of the night following her autocross kick plate and slalom. However, Bella was inspired by the Guinness World Record holder's determination to be the best in a male-dominated sport, and Cowell couldn't ignore her charisma. "You gave me a new definition of what extreme is, and that's breaking barriers," Bella said. "I know everything that you say you want to be, you will be. And I'm here for it."
Hometown: Sarasota, FL
Talent: Sway pole
Age: 23
Auditioned in: Episode 3
Coming from a family of daredevils, Flores pushed the limits with her 60-foot high sway pole act—which she executed in the rain. The rare stunt was something the Judges had never seen before. "It's not very often that I get shocked and scared, but that did all of it," Pastrana said before giving Flores a Golden Buzzer, automatically advancing her to the finals.
Hometown: Brooklyn, NY
Talent: Extreme eating
Age: 32
Auditioned in: Episode 3
Bella and Pastrana whipped out their first Red Buzzers of the season for NomNomSammieBoy. Despite scarfing down burgers and hot dogs, slathering his face in a ton of melted cheese, and swimming in coleslaw, we won't be seeing much more from this extreme eater. 
Hometown: Trinidad and Tobago
Talent: Double vehicle and fire limbo
Age: 29
Auditioned in: Episode 3
Though Campbell auditioned for AGT in 2017, Cowell cut her during the second round of auditions. The Contestant returned to AGT: Extreme to show Cowell he made a mistake five years ago—and she did just that. "You've come back with real strength and a glow about you," Cowell said, going on to give her a yes.
Hometown: Kelowna, BC, CA
Talent: Vertical backflip on a bike
Age: 34
Auditioned in: Episode 3
Eight years after becoming paralyzed during competition, the motocross rider got back on his dirt bike and successfully completed a vertical backflip for the Judges, earning a unanimous "yes" from the panel.
"This AGT: Extreme is kind of what I live for," Cook said. "Just pushing the limits, and I think kind of showing the world that just because you've got a disability doesn't mean you have to be on the sidelines. You can be center stage."
Hometown: Los Angeles, CA
Talent: Jello wrestling
Age: 29-45
Auditioned in: Episode 3
The Jello wrestling group earned Red Buzzers from all three Judges, but this was the most fun rejection. Bella went on stage to show the group what made her a WWE champion, getting down and dirty in the pool of Jello. And suffice it to say, Pastrana, Crews, and Cowell all ended up covered in the slimy treat, too.
Hometown: USA and Australia
Talent: 50-foot ramp drop into 40-foot jump
Ages: 27-33
Auditioned in: Episode 2
Riding down a 50-foot ramp using a jet ski, recliner, and tricycle, the members of the Nitro Circus Contraption Kings brought the fun to a thrilling stunt, earning praise from each Judge.
Hometown: St. Catharines, Ontario
Talent: One minute escape from 140 feet in the air
Age: 51
Auditioned in: Episode 2
Pastrana called the escape artist's talent an "emotional rollercoaster," and it's obvious why. The Judges watched on as Zzzz was locked in a box suspended 140 feet in the air. He had one minute to escape from the entrapment and its various locked barriers before the box was dropped to the ground. Luckily, he succeeded, earning a yes from each Judge and dedicating his stunt to his late son, Mason. 
"A parents' love is so strong and it's just unconditional, and I don't know what it's like to lose, I can't even imagine that," Bella said. "But whether you win or lose, you've already won because everyone will know Mason's name."
Hometown: Paris, France
Talent: Flat 900
Age: 27
Auditioned in: Episode 2
The French inline skater traveled all the way to the U.S. to show off his expert rollerblading skills. He executed a "Flat 900" trick, something only three people in the world could do. In the end, despite Cowell's hesitation, he earned a yes from all of the Judges. 
Hometown: New Orleans, LA
Talent: 30-foot wire walk with fire
Age: 47
Auditioned in: Episode 2
Kindar-Martin had everyone on the edge of their seats with his 30-foot high-wire walk. With the cable on fire, the stuntman danced across the suspension and even rode a bike to show off his skill. "That was one of the most intense and inspiring acts I've seen here," Pastrana said. Cowell added, "Difficult to describe, unbelievable to watch."
Talent: Flying trapeze act on the world's only quad rig
Ages: 24-41
Auditioned in: Episode 2
Despite Cowell's no, the rest of the Judges were entertained by the group's criss-crossing flying trapeze act, the only one of its kind in the world.
Hometown: Wisconsin Dells, WI
Talent: Motorcycle smash through five walls of fire
Ages: 24 and 90
Auditioned in: Episode 2
With his 90-year-old grandmother, Lillian, hitching a ride on the back of his bike, Hunter drove through a series of planks (that were on fire), to the glee of the Judges.
Hometown: Las Vegas, NV
Talent: Motorcycle stunts
Ages: 24-55
Auditioned in: Episode 2
Alfredo Silva's Cage Riders wowed the crowd and Judges with a performance that was the epitome of extreme. In addition to their dangerous cage riding stunt, the group also performed bike tricks simultaneously. It was so impressive that Host Terry Crews interrupted the Judges to award the stuntmen a Golden Buzzer. 
Hometown: Milwaukee, WI
Talent: Extreme parkour and freerunning
Age: 33
Auditioned in: Episode 1
The parkourist opened up the show with a bang, earning three yeses from the Judges after flipping over three moving cars driving at him at 30 mph. "I can jump over any and everything," Evans said. "Just put it in my way, and I'm gonna get over it."
Hometown: Clearwater, FL
Talent: Homegrown extreme stunts
Ages: 27-35
Auditioned in: Episode 1
Though Bella and Cowell weren't completely sold on the beginning of the Joogsquad's Act—which involved trampolines lit on fire, mouse traps, and plastic blocks—in the end all three Judges approved after lead Jack Tenney surfed through a pool of fire.
Hometown: Philadelphia, PA
Talent: Aerial drone shows
Ages: 30-56
Auditioned in: Episode 1
An unassuming group of engineers—who've dubbed themselves Verge Aero—scored Cowell's very first Extreme Golden Buzzer of the season with their mesmerizing 300 to 350-foot tall drone light show. "There's so many ways to define the word 'extreme' and this, for me, falls under spectacular," Cowell said. "That's what we look for certainly on this show."
Hometown: Salem, OR
Talent: Human cannon ball
Age: 44
Auditioned in: Episode 1
Guinness World Record holder Smith (whose father is the greatest human cannon ball of all time) successfully carried on the family legacy after being shot out of a cannon at 74 mph into a 90-foot tall ring of fire.
Hometown: Thousand Oaks, CA
Talent: Farthest football thrown into a target by a woman
Age: 28
Auditioned in: Episode 1
After several attempts, unfortunately, Bandy didn't quite complete her goal of breaking her own Guinness World Record for farthest football thrown into a target by a woman. Despite her enthusiastic efforts, it was a no for each of the Judges, with Cowell pushing his first Red Buzzer of the season.
Hometown: Queens, NY
Talent: Street motocross
Age: 31
Auditioned in: Episode 1
The stunt dirt bike rider wowed the judges with his performance, as he weaved through a fleet of moving cars, all while executing gravity-defying stunts. Most noticeably he impressed Pastrana, the resident motorsport professional on the judging panel. "I have to say that's some of the most impressive stuff I've ever seen on stock motorcycle," Pastrana said. 
Hometown: Las Vegas
Talent: Ramp drop into 40-foot jump flip
Age: 29
Auditioned in: Episode 1
Wrapping up Episode 1 was Aaron Wheelz's inspirational performance in which the stuntman, whose lived with Spina Bifida since birth, completed a nail-biting ramp drop and 40-foot jump flip—twice. "Growing up with a disability, there's always this push that you should walk...you should be using crutches," he said, "almost as if using a wheelchair means you gave up. But the wheelchair for me was freedom."
The 29-year-old scored Bella's first-ever Golden Buzzer, advancing straight to the Finals.