NBC Insider Exclusive
Create a free profile to get unlimited access to exclusive show news, updates, and more!
Sign Up For Free to View
Watch How D. Smooth's Sound Evolved Throughout The Voice Season 23
D.Smooth's silky vocals glided him all the way to The Voice Season 23 finale as Team Kelly's frontrunner.
Season 23 of The Voice brought sky-high levels of talent to the competition, and the finalists had fans on the edge of their seats during the nail-biting finale on May 23. Team Niall's Gina Miles was crowned champion in the closest call in the history of the show, with each finalist delivering show-stopping performances throughout the stages of the competition. 
We also bid farewell to Blake Shelton and saw iconic Season 1 Coaches CeeLo Green and Adam Levine return to The Voice stage for some electrifying performances. There were numerous legacy Team Blake Artists who returned to give Shelton his much-deserved send-off. All of this is to say, it was an emotional night. And it all came to a head as the winner was crowned and fans learned who finished in second (Grace West) and third place on The Voice Season 23. 
Who came in third on The Voice Season 23?
D. Smooth! 
The accurately-named Artist's silky vocals led him all the way to The Voice finale, where he won third place. His unique sound had the audience mesmerized as soon as he took the stage during the Blind Auditions. He was quickly snatched up for Team Kelly and poured passion into each of his performances, adding a little something extra with each passing stage. 
D. Smooth's journey has just begun, so we're looking back at his most unforgettable highlights from Season 23 below: 
D. Smooth's Blind Audition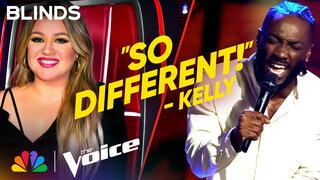 The audience first fell in love with D. Smooth's impressive riffs and flawless tone during his Blind Audition of Ed Sheeran's "Perfect." He earned a chair turn from Clarkson and Niall Horan. Clarkson couldn't stop gushing over the Team Kelly Artist's classic verve.
"I love D. Smooth's voice because it reminds me of the '90s," Clarkson exclaimed. "It just reminds me of those singers that can just really tell you a story and break your heart, do all the things. His voice is incredible."
D. Smooth's Battles performance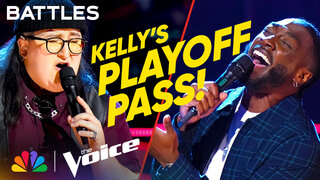 The Season 23 Battles brought the Coaches some of the toughest decisions yet, especially when Team Kelly's ALI and D. Smooth took the stage for a rousing rendition of "Unaware" by Allen Stone. The performance was incredible, leading Clarkson to make a history-making call: to send ALI to Knockouts and use her one-time Playoff Pass to send D. Smooth straight to the Playoff stage. 
"He's one of my favorite people I've ever had on my team, ever, and I had to use my Playoff Pass on him because I just want him to advance," Clarkson explained. "I just want him to be in the Playoffs, and I want to see what he's going to do. He's hungry for it, y'all. He wants it."
D. Smooth's Playoff performance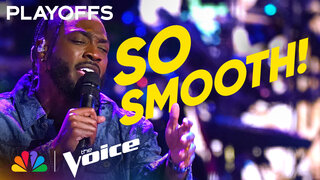 D. Smooth's glossy sound was perfect for Khalid's smash hit "Location" during the Playoff rounds. D. Smooth's performance blew the Coaches' minds, especially Chance the Rapper, who had tried to use his Steal on D. Smooth during the Battles. 
"This really is the first time I ever felt, like, smoke from any other team," Chance admitted to the Season 23 finalist. "Really, I've not been worried at all until right now."
"When we had that little moment towards the end, I could picture you in front of hundreds of thousands of fans screaming while you do your little improv runs," Chance concluded. "I see the vision."
D. Smooth's Live Semi-Finals performance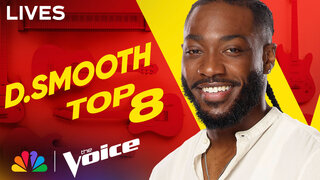 D. Smooth kept the beat rolling during his Live Top 8 performance of Sheeran's "Thinking Out Loud." His magnetic stage presence and powerful vocals had Clarkson beaming ear to ear and got him the nod to make it to the coveted Top 5. After learning he was going to The Voice Live Finale, D. Smooth took to Instagram to share his glee. 
"I haven't even really processed my feelings just yet. But I do know I have been the underdog for mostly all my life & God has allowed me to continue to beat the odds," D. Smooth's IG caption read. "Thank you Jesus that the Story continues.. WE IN THE FINALE!!"
D. Smooth's Live Top 5 Performance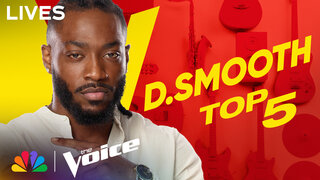 D. Smooth allowed his beautiful vocals to speak for themselves during the Live Finale when he delivered a stunning set of Bobby Caldwell's "What You Won't Do for Love." It was a hauntingly calming set, with D. Smooth hitting high and low notes across the board. 
D. Smooth's Live Finale Performance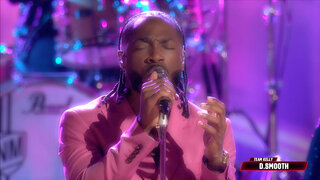 His performance of Johnny Gill's "My, My, My" during The Voice Live Finale left no room for disappointment. Clarkson always loved D. Smooth's seamless ability to bring us back to the '90s, so it was the perfect choice for the finale. Following the incredible set, D. Smooth shared on Instagram, "Smiling because God is good and song a 90s classic by @realjohnnygill22 on the Voice Finale." 
D. Smooth's Live Finale Performance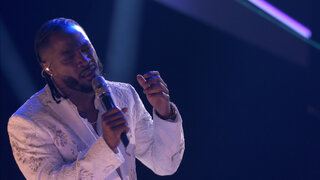 There are some seriously impressive Coach and Artist duets on The Voice, but D.Smooth and Coach Kelly Clarkson's performance of Joji's "SLOW DANCING IN THE DARK" was out-of-this-world. Literally, Clarkson hit a whistle note that basically sent the entire audience to the heavens. 
Clarkson's sound combined with D. Smooth's effortless harmonizing made for a truly jaw-dropping set from start to end. D. Smooth was a class act, and his final performance with Clarkson was a chef's kiss in rounding out his incredible Voice run. Clarkson took to Instagram to relish in their fantastic finale duet. 
"@dsmoothofficial! Any time, and I mean any time, you wanna sing w/me I will be there!" Clarkson shared on IG following the nail-biting finale. "What an honor it was to sing w/you last night you are incredible!!"