NBC Insider Exclusive
Create a free profile to get unlimited access to exclusive show news, updates, and more!
Sign Up For Free to View
Everything You Need to Know About Raymond Lee From Quantum Leap
Lee's already proven his rising talent is here to stay.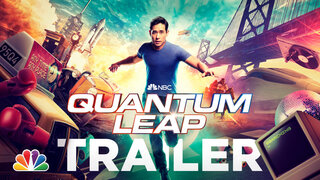 With the first season of NBC's Quantum Leap officially wrapped (stream the first season on Peacock now), and Season 2 on the way, it's never a bad time to get to know the star of NBC's latest time-travel series. So, who is Raymond Lee, who plays Dr. Ben Song, and why does he look so familiar? Well, it's likely because Lee's been in a wide range of high-profile, film, TV, and stage projects since his career began.
Here are the highlights of Lee's career before Quantum Leap. 
Stream the entire first season of 'Quantum Leap' on Peacock now
His life took him across the country at a young age. 
Lee was born in New York City but has spent a majority of his life in Los Angeles, attending California State University, Long Beach, where he sharpened his acting skills. He currently lives in L.A. 
His theater credits are impressive. 
Per his NBC bio, his theater credits include world-premiere productions of Vietgone at Manhattan Theatre Club. (He was given the Theatre World Award for Outstanding Off-Broadway Debut for this production.) He also performed in Office Hour, opposite Sandra Oh, and Cambodian Rock Band at the South Coast Repertory.
He's also been in some top-tier film and TV projects. 
Most recently, Lee was a series regular in the AMC's acclaimed dramedy series Kevin Can Go F**k Himself, where he played Sam. The genre-breaking AMC series followed a young woman (Annie Murphy) who tries to break free from her miserable sitcom life marriage into a more nuanced, gritty drama. Lee played a diner owner, but noted to Comic Book Resources that he's actually not much of a chef — despite his small screen counterpart.
"I can make pancakes, I've flipped a few burgers and steaks on the grill, but I'm nowhere near close enough to creating a menu," he said. "I did work as a barista at one point and I do have a little bit of bartending training, but no -- nowhere capable enough to own a diner."
You might also recognize him from his role in Top Gun: Maverick as Lieutenant Logan 'Yale' Lee. 
His relationship with Quantum Leap goes way back. 
Lee led the new Quantum Leap series as the hero traveling through time, taking on the same type of role as original Quantum Leap series star Scott Bakula, who played Sam Beckett in the original early 1990s series. Lee was a fan of the original series growing up, which made it all the more appealing to step into the center of the revival series. 
"I remember distinctly in sixth grade, it was my best friend's favorite show, and I thought he was such an adult watching something like Quantum Leap," Lee told EW about how he discovered the original Quantum Leap. "By watching with my friend, I became a fan." 
Season 2 of Quantum Leap is already in production, set to premiere this fall on NBC.
Watch Quantum Leap Mondays at 10/9c on NBC and next day on Peacock.