NBC Insider Exclusive
Create a free profile to get unlimited access to exclusive show news, updates, and more!
Sign Up For Free to View
Chrissy Metz Says Kate 'Went Off' on Toby in Cut Dialogue from the Breakup Episode
"I had, like, a whole monologue rebuttal to his remarks," Metz says about the newest This Is Us episode, which saw the end of Katoby.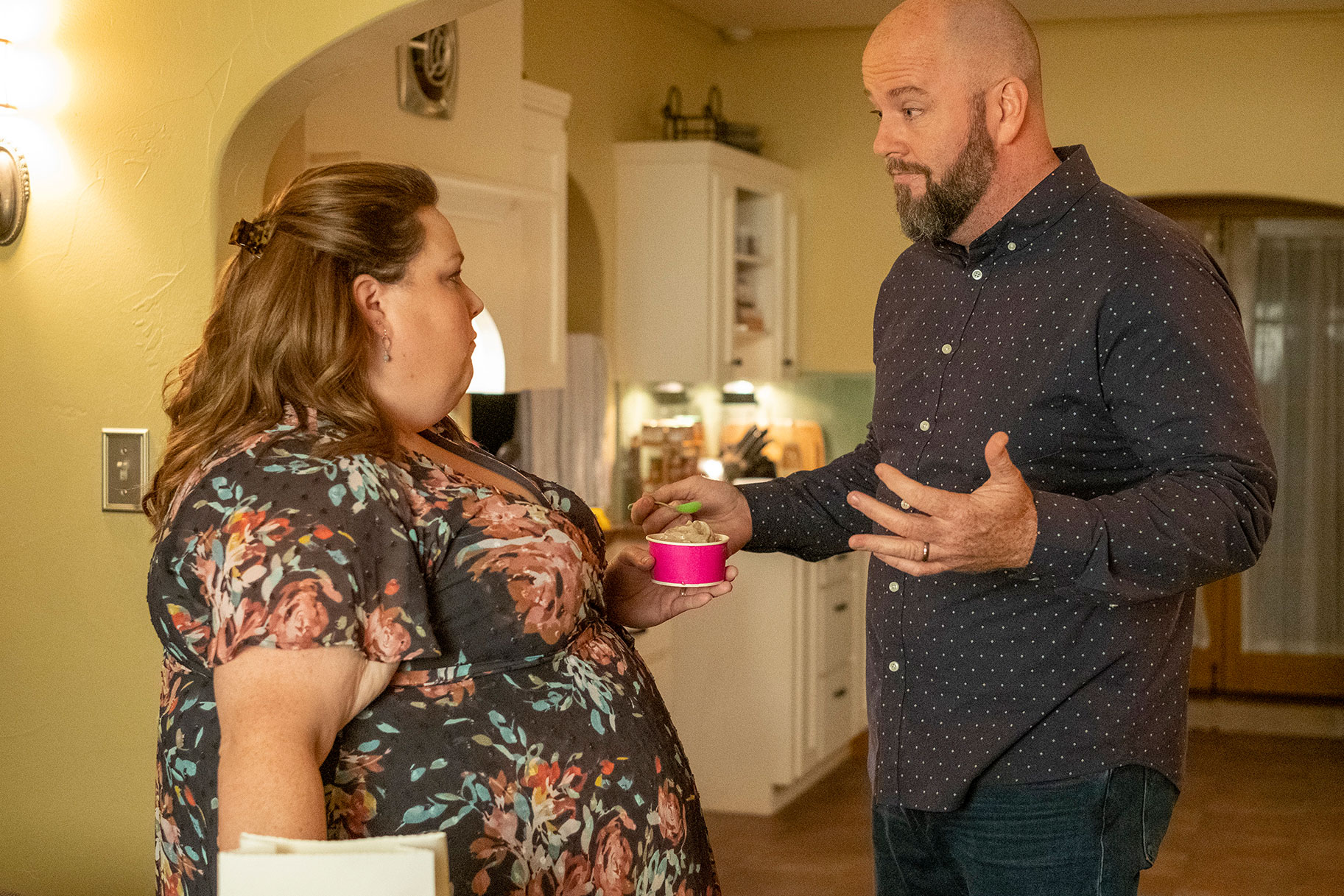 If you watched This Is Us Season 6, Episode 12, it's likely you're still trying to recover from the heartbreak—because Kate (Chrissy Metz) and Toby (Chris Sullivan) are officially over. 
Though the once-inseparable Katoby endured 16 months of therapy to make their marriage work, they ultimately decided to split. Things came to a head in the episode during a dinner scene where Toby screamed that he's "miserable" whenever Kate's in the room. Kate also slammed Toby's parenting—again. But there's one cutting remark from the exchange that hit deep: Toby told Kate their relationship was always doomed because he was never going to measure up to Kate's late father, Jack Pearson (Milo Ventimiglia).
"Toby having insecurity around that, and then throwing it back in her face, it feels like an easy jab, but it's also obviously very deep embedded," Metz told Variety.
Before she could respond to the dig in the scene, Kate left to check on their son, Jack. But Metz revealed to Variety that dialogue was cut from the intense argument.
"I had, like, a whole monologue rebuttal to his remarks. That dinner scene where they're both trying to rekindle the romance, and understand where each other's coming from—it's those little nicks that you cut into your significant other, and then eventually, just start to bleed out," Metz said. "She was just like, 'I was this person before. You could have blamed it on my dad and my relationship to him, but you can't do that anymore, and I won't allow it.' She went off on him, and I was like, 'Damn, I wish they would have kept that.' But it wasn't necessary because he said what he needed to say, but it's hard because you're unraveling and you can understand both sides."
The episode wasn't all anguish, thankfully. It also dove into Kate and Phillip's (Chris Geere) romance, and, ultimately, we see Kate and Toby in the future happy with other people. But that doesn't mean fans won't stop mourning Katoby.
"They really tried. I think that's the hardest part—knowing that," Metz said. "They never gave up on trying, whether it got really difficult, going through therapy and communicating and talking about their feelings. They really did try. She absolutely adored him and loved him, but she never really put herself first."
This Is Us airs Tuesdays at 9 p.m. ET on NBC. Catch up now on NBC.com.