NBC Insider Exclusive
Create a free profile to get unlimited access to exclusive show news, updates, and more!
Sign Up For Free to View
Sorelle and Chance the Rapper Just Did a Stunning Duet on The Voice Finale
Can they form a quartet?!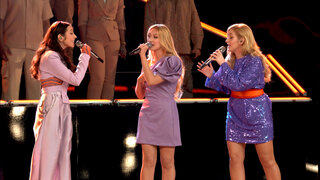 The Voice Season 23 finale on May 23 had many highlights, including Chance the Rapper and Sorelle's electrifying duet of Five Stairsteps' "O-o-h Child." 
It's custom for Coaches to perform with their remaining Artists in The Voice finales, and little did we know the slay that would emerge when this sister trio joined forces with Chance. In fact, we'd like to start a petition for them to become a quartet ASAP. 
With their stunning harmonies and magnetic stage presence, Sorelle quickly emerged as an Act to beat during The Voice Season 23. The praise they earned from all the Coaches across the Blind Auditions, Battles, Knockouts, and Playoffs is pretty extraordinary.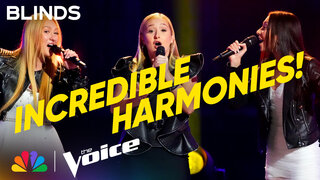 "Sorelle completely blew me away," Chance said after the group's Knockout performance. "They have beautiful blends, and have a stage presence that sucks the audience in every time they get up there."
Meanwhile Niall Horan said of the group, "They're unlike anything we have in the competition, and Chance has got Sorelle in his back pocket, and that could be dangerous."
But arguably the greatest compliment for Sorelle came from Blake Shelton during the Playoffs. Their performance of  "Something's Got a Hold On Me" (Christina Aguilera's version) got the cowboy to say, "Come on, this is cheating. It's too perfect. I loved the individual moments that you guys had. It was like, 'Oh, you think we all three can't do this separately, too? Watch this.'"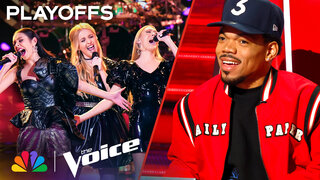 Kelly Clarkson was in complete agreement, too. "What you're doing is so fresh," she said. "It's just, like, unlike anyone else. That makes you stand out." And Chance said to the women after the Playoffs, "Every time you guys get on stage, it just blows everybody away. And you guys have just been so receptive to all the notes. You killed it."
"Sorelle is a really important part of my team," said Chance overall about the beloved group. "They're the only group on the whole show. They're incredibly experienced to be so young. They have the ability to make the most beautiful harmonics you've ever heard."