NBC Insider Exclusive
Create a free profile to get unlimited access to exclusive show news, updates, and more!
Sign Up For Free to View
Everything to Know About Nikki Bella, WWE Superstar and New AGT: Extreme Judge
She is the longest-reigning Divas Champion in WWE history.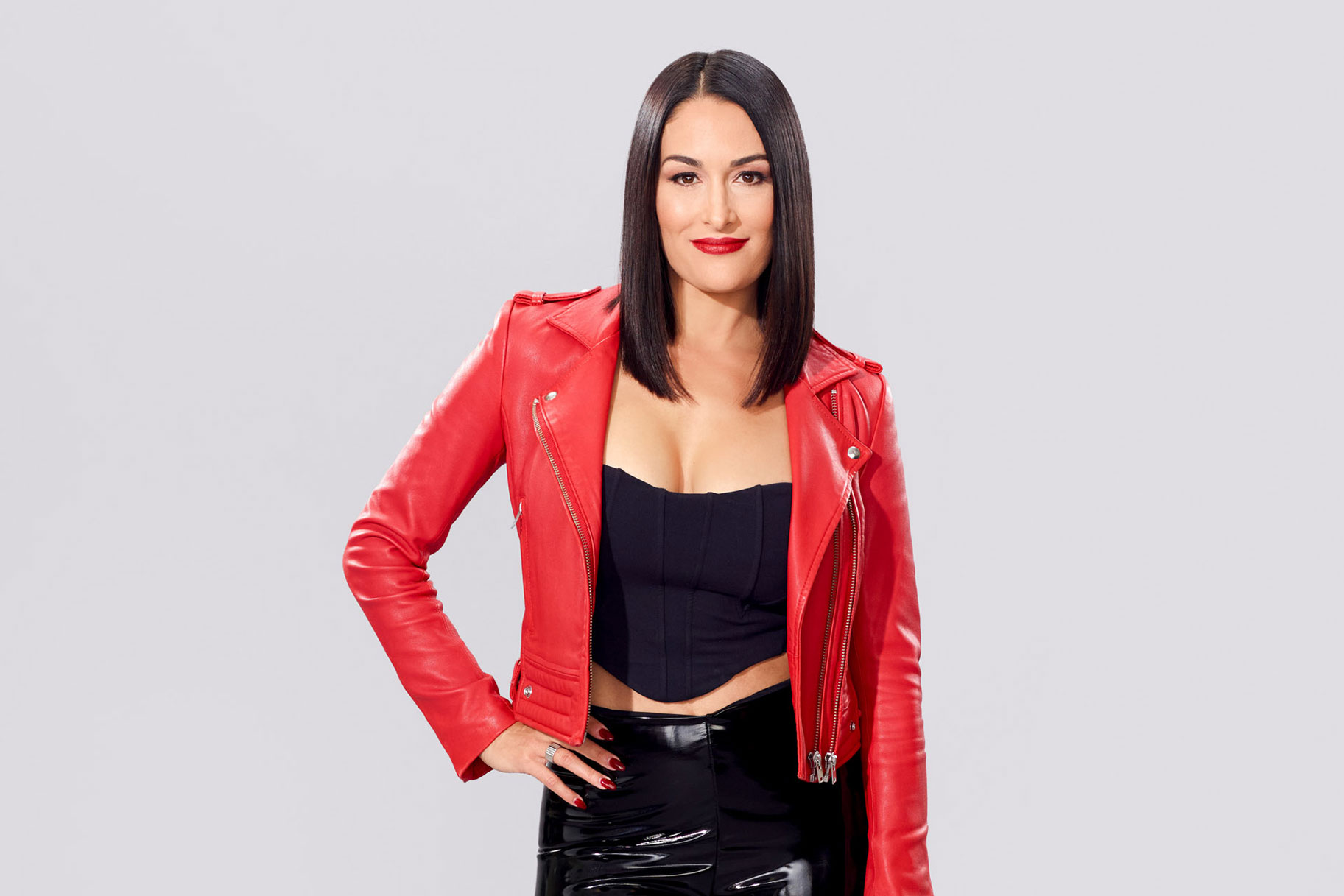 The premiere of America's Got Talent: Extreme came with a few familiar faces—and some new ones. In addition to veteran Host Terry Crews and AGT creator and Judge, Simon Cowell, we also welcomed motocross driver Travis Pastrana and WWE Superstar Nikki Bella to the judging panel. But who is Nikki Bella? As Bella helps decide who'll win the $500,000 AGT: Extreme grand prize, let's get to know her a little bit more. 
Who Is Nikki Bella?
Bella, 38, is no stranger to the world of extreme sports. She's known as one of the greatest female wrestlers in WWE history. "As a Judge, I know what it's like to do something different where either the world accepts it or doesn't," she told TV Insider. "I appreciate the hard work. When I watched these Contestants, I asked myself questions. How hard was it for them to get here? Do they have the heart of a champion? How perfectly did they do their act live in front of the Judges and the crowd behind us? I put all those ingredients together when I watch someone."
Bella is the longest-reigning Divas Champion in WWE history.
In 2021, she and her twin sister, Brie, were inducted into the WWE Hall of Fame. "Dreams do come true," Nikki Bella wrote in an Instagram post. "Never give up. Believe in yourself. Stay fearless. Stay humble. And empower and inspire along the way #halloffame."
She wants to return to the ring.
Though Bella announced her retirement in 2019, she and Brie have since returned to the ring twice. The first was at SmackDown in 2020, and most recently, they made an exciting appearance at 2022's Royal Rumble. Despite not advancing to WrestleMania, Bella told TV Insider it "felt amazing" to wrestle again.
"We really hope there's an opportunity to go after the tag titles," she said. "The show made me think about how we can come back and do more of a story. Unfortunately, where we are at in our lives, Brie and I can never be back full-time. We hope there is something soon or in the future that we can come back and do...Just getting the taste in the ring made us want more."
She's engaged to professional dancer Artem Chigvintsev.
Bella first met Artem Chigvinstev in 2017 when he was her pro-dance partner on Season 25 of Dancing With the Stars. However, the two didn't officially start dating until 2019. In November of that year, they got engaged after a romantic proposal in France, though Bella didn't reveal the news until two months later. "We have been trying to keep it a secret but really wanted to share our excitement for the New Year!" she wrote on Instagram at the time.
The couple welcomed their son, Matteo, in July 2020. In true twin fashion, Brie Bella gave birth to her second child just 22 hours later.
"I've been up since 3 a.m., but this is what I've wanted my whole life," Bella told People a month after Matteo's birth. "The fact that he's here—I'm just so in love and happy."
The Bellas starred in two hit reality shows.
Though the Bella twins were renowned for years amongst WWE fans, they welcomed a wider audience with E!'s Total Divas. The reality show premiered in 2013 and followed stars of the WWE's Women's Division. The twins' eventful professional and personal lives were chronicled for eight seasons—and then more on their spinoff series, Total Bellas. You can watch both shows now on Peacock.
Plus, they co-host The Bellas Podcast.
Since 2019, the twins have co-hosted The Bellas Podcast, where they dish about their personal lives, reflect on current events, and chat with celebrities, like Lindsey Vonn and Chigvinstev. 
Listen now on Apple Podcasts. New episodes stream every Wednesday.
Oh, and they're winemakers.
On top of her professional sports career, AGT: Extreme judging gig, and motherhood, Nikki Bella is also a winemaker. In partnership with Hill Family Estate, the Bella twins launched their wine collection, Bonita Bonita, in summer 2022. They told La Palme magazine the name, which means "pretty" in Spanish, is inspired by their stage name the Bellas. Though currently sold out, Bonita Bonita is teasing a new rosé to arrive in the coming months.
The sisters also own the haircare line Nicole + Brizee Beauty—sold at Walmart—and the lifestyle brand Birdiebee.
The Bellas have more than 3 million YouTube subscribers.
Since starting their YouTube channel in 2015—featuring personal vlogs, podcast clips, and more—the Bellas have amassed more than 3 millions subscribers. Nikki Bella recently celebrated the milestone on her Instagram. 
"On our birthday it was our 5 year anniversary on @youtube !!! This video made us so emotional!" she said. "We have experienced such special moments together and truly unforgettable memories!"
The Bellas' memoir, Incomparable, is a New York Times bestseller.
In 2020, the Bellas co-authored their very first memoir, Incomparable, and it quickly became a bestseller. The personal account details the ups and downs of their lives and the experiences that inspired them to not only become athletes but entertainers and entrepreneurs. 
"Though their early journey began with loss, abuse, and plenty of rough times, these challenges 'shined the diamond,'" the book's summary reads. "They resolved to be survivors and the heroes of their own stories, and to take control and responsibility for their lives. Eventually, they would come to show girls everywhere that they can do anything."
She calls her fans the Bella Army.
"Brie and I loved giving our life to the Bella Army and the E! viewers because we started to see that women were relating to us and our stories," she told La Palme. "And even though at times it was hard for us to put our lives out there, we did it knowing that somebody was watching who probably felt alone and misunderstood and then would watch our show, seeing what we're going through and how we got through it and then feeling more hopeful and a little less alone."
Bella says she and her fellow AGT: Extreme judges have "perfect chemistry."
"From the first day, it was perfect chemistry. Sometimes you don't know what you're going to get. We all clicked. We all had a lot of fun," she told TV Insider.
As for working alongside AGT alum Cowell? "I was, at first, very intimidated," she said. "He is the Judge of Judges. He is so iconic. From the moment I met him, he was so encouraging and gave great advice. He made Travis and I feel so comfortable."