NBC Insider Exclusive
Create a free profile to get unlimited access to exclusive show news, updates, and more!
Sign Up For Free to View
Where Was AGT: Extreme Filmed? And Other Burning Questions
The production secrets of NBC's most heart-pumping show, revealed.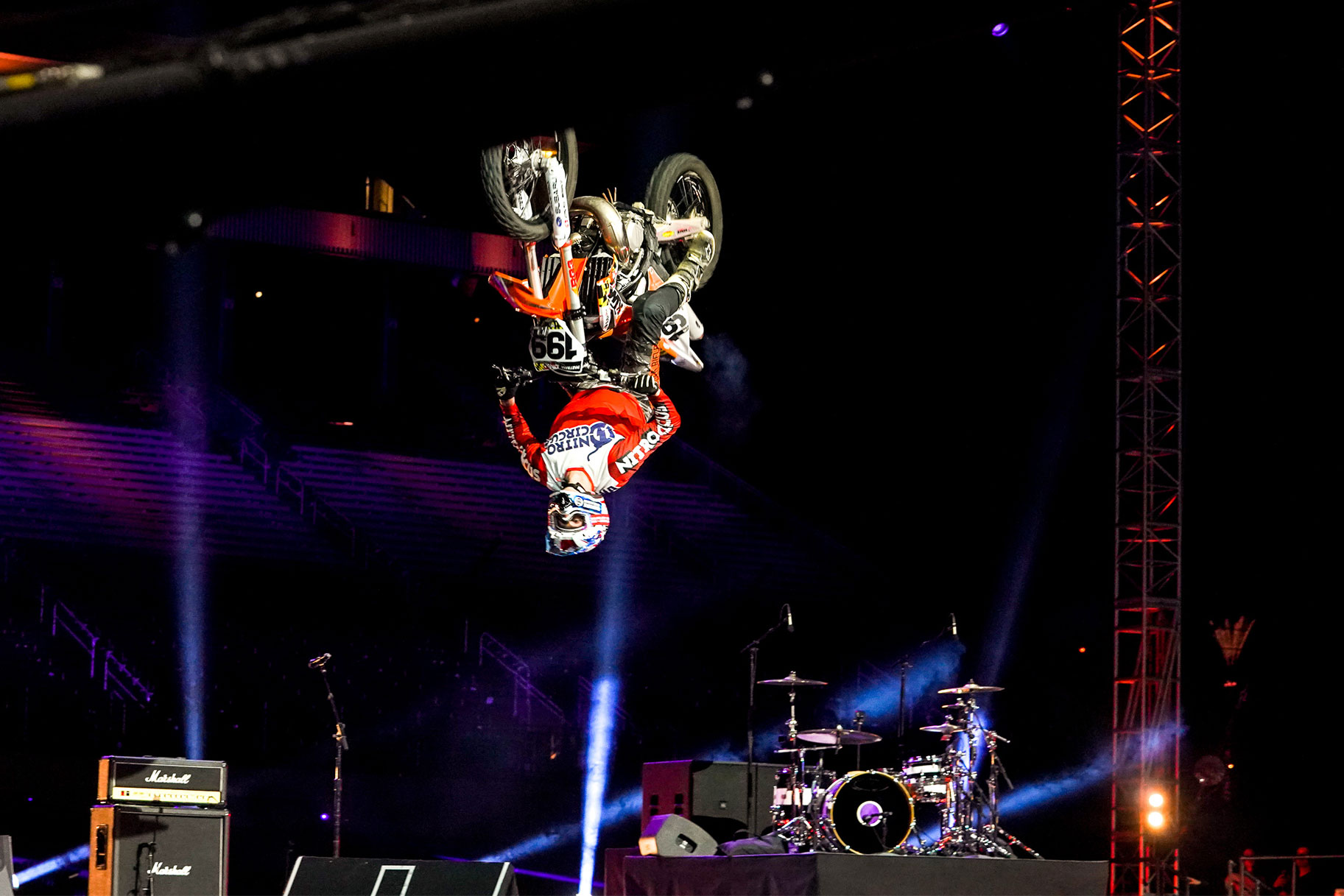 America's Got Talent: Extreme may have come and gone, but it's definitely not forgotten. Throughout the season, the show stayed true to its word of bringing fans the most heart-pumping Acts that could not exist on a regular stage.
Host Terry Crews and Judges Simon Cowell, Nikki Bella, and Travis Pastrana took us outside (literally), where the possibilities were limitless. From Verge Aero's Gold Buzzer light-filled audition to the expert motocross skills of winner Alfredo Silva's Cage Riders, we were amazed. So what, exactly, went into putting together such a unique, extreme show? Theresa Graham, NBC's Manager of Unscripted Formats, let us in on all the production secrets. Read on. 
NBC Insider: Where was AGT: Extreme filmed?
Theresa Graham: We were just outside of Atlanta at the Atlanta Motor Speedway for seven days of taping auditions, and then we had to pause production. Then, we resumed at the Irwindale Speedway in California for five more tape days.
What's the AGT: Extreme audition process like before Contestants are filmed?
What you see on TV is a true audition. They would have conversations with our casting team and with our producers about what, exactly, the act would be and how we could help them showcase it the best way to the Judges. But the first time you see them in front of the Judges is their audition.
What challenges came with filming AGT: Extreme outside?
It wasn't controlled, so we experienced all sorts of weather. It was just a lack of control, which was so much more challenging and harder for the Acts, too. We even had sway poles, and the people who do the sway poles had to be cautious of the weather, the wind, all of the elements. 
The light was even a factor. Some acts needed to perform in daylight versus evening and vice-versa. Then, even having an audience and having the audience stand outside for hours or sit outside. Even they were subject to the weather, so we were just very glad that we had a lot of people who were willing to come out and put up with the extremes for such incredible Acts.
How did you find such unique Acts from across the country?
We actually had a casting team who was scouring the country virtually. We didn't have any in-person casting sessions for Extreme, and they were looking at videos, they were asking for submissions; even reaching out to some local areas and asking who's there or who's doing these crazy, larger-than-life things.
We also have quite a Rolodex from almost 17 seasons of AGT. So, they're also able to lean into some stunt people or some large Acts that they've done on AGT in the past.  Also, having Travis Pastrana was really great as well because he is such a figure in the extreme world that he had a lot of connections, too, who were willing to share these amazing up-and-comers, some from Nitro Circus.
I noticed Travis couldn't judge some of the AGT: Extreme acts because of his connection.
Exactly. Obviously, we were very fair with it. But it's hard because he is such a figure in the extreme world and he knows everybody. He was bound to know some of them.